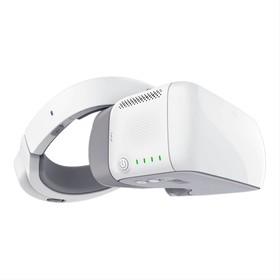 Highlights
Comfortable and flexible
A unique solid headband design balances and spreads the weight of DJI Goggles around the head evenly, minimizing pressure on the face and keeping them comfortable to wear for hours. People who wear glasses are also able to wear them comfortably.
Intelligent Flight
DJI Goggles are a perfect pair with DJI's new Intelligent Flight Mode: Fixed-Wing Mode. In this mode, the aircraft doesnt turn left or right but instead flies forward with enough rotational movement for realistic flight simulation. Combined with Head Tracking Mode, you can use your head to control the Mavic Pro for a fully realized flight experience.An AR trajectory prediction feature in Fixed-Wing Mode makes using this mode in complex environments safer.
Head Tracking
Your head movements control both aircraft yaw and camera tilt in Head Tracking Flight mode as with remote controller sticks. All you need to do is turn left or right to yaw left or right, and straighten your head to stop turning. In Head Tracking Gimbal mode only the gimbal will move without affecting yaw.
High Resolution
Typical 2K screens inside the goggles are split into two 1280×1440 sections, one for each eye. When viewing a 16:9 image, some sections are further cut off,leaving only a quarter of the available pixels. DJI Goggles have two 1920×1080 screens providing more than twice the amount of pixels of a typical 2K single screen.
Optical Design
DJI Goggles use a beam splitter to display an image in front of each eye, as well as polarization to prevent any image overlap. This allows it to create genuine Full HD 1920×1080 resolution per eye.
Low Lag Transmission
DJI Goggles are able to offer both 720p/60fps and close range 1080p/30fps viewing [2] with an extremely low latency of just 110ms. [3] Through DJIs OcuSync wireless transmission system, up to four devices can be connected to the Mavic Pro simultaneously. [4] Antennas built into the headband ensure 360° of coverage, offering a reliable connection even if the aircraft is flying behind you.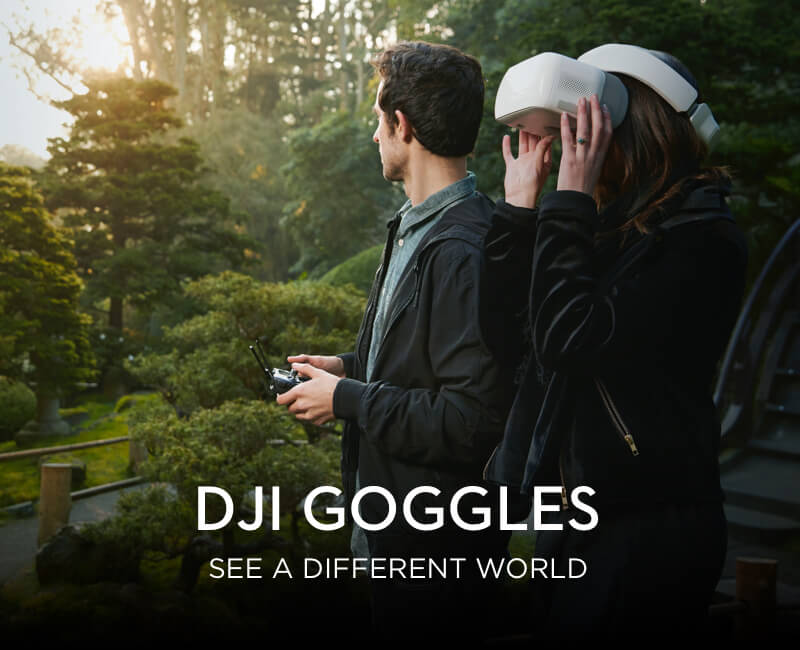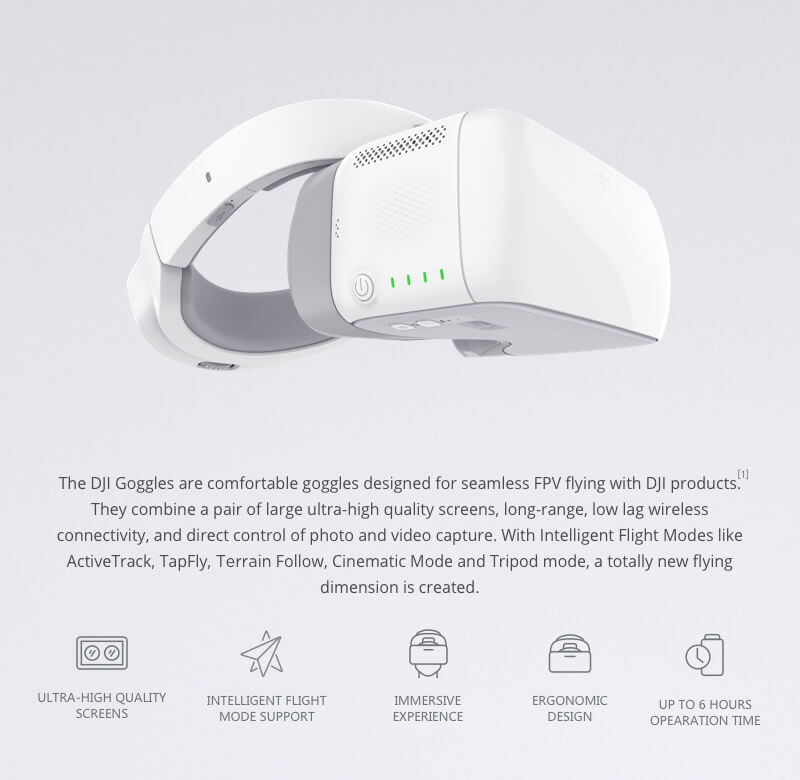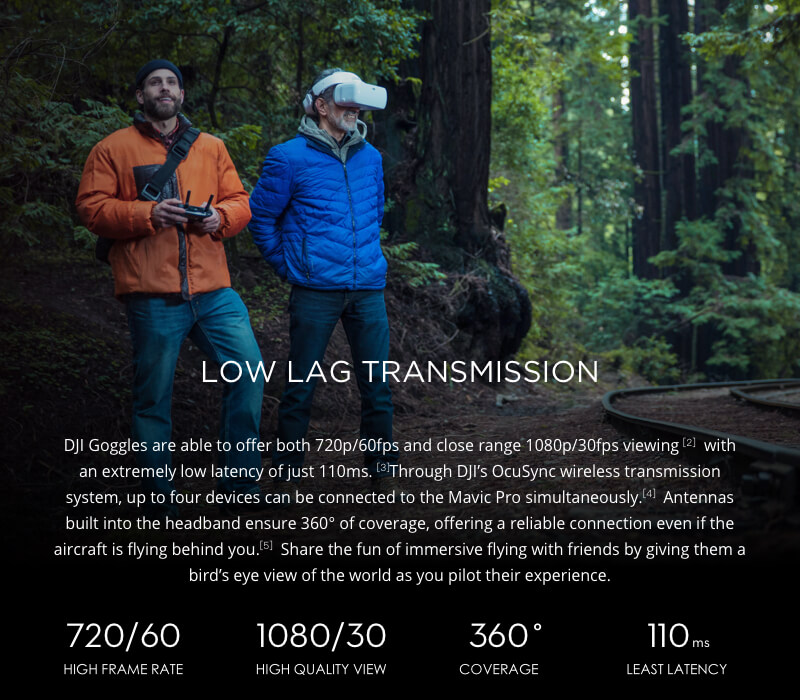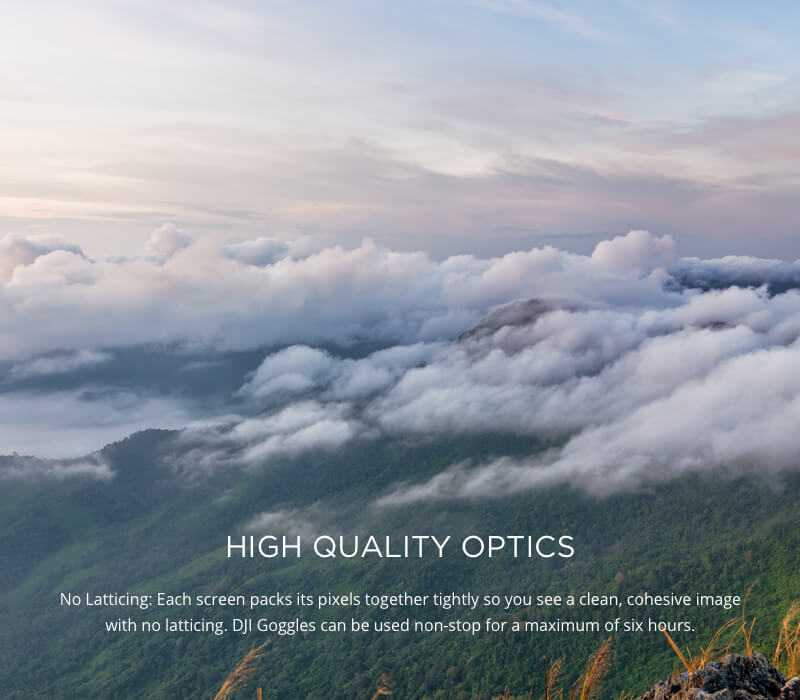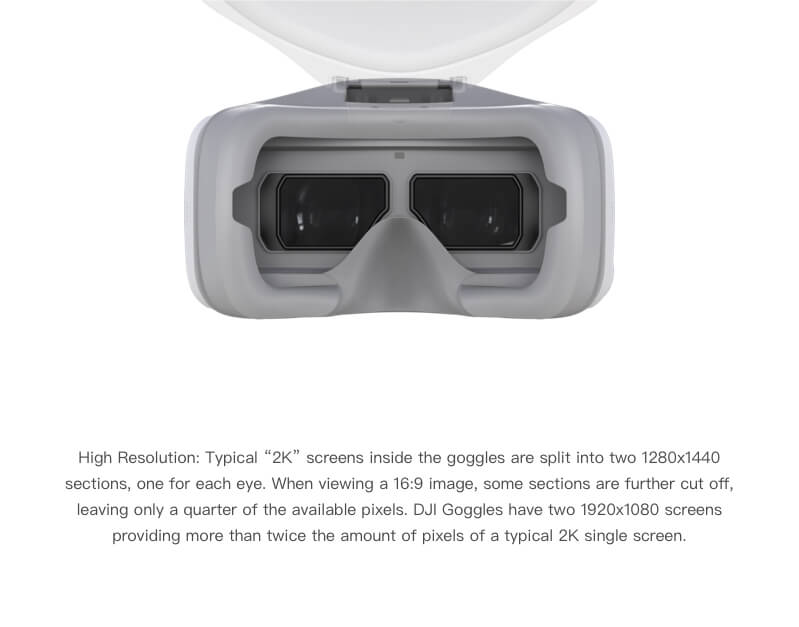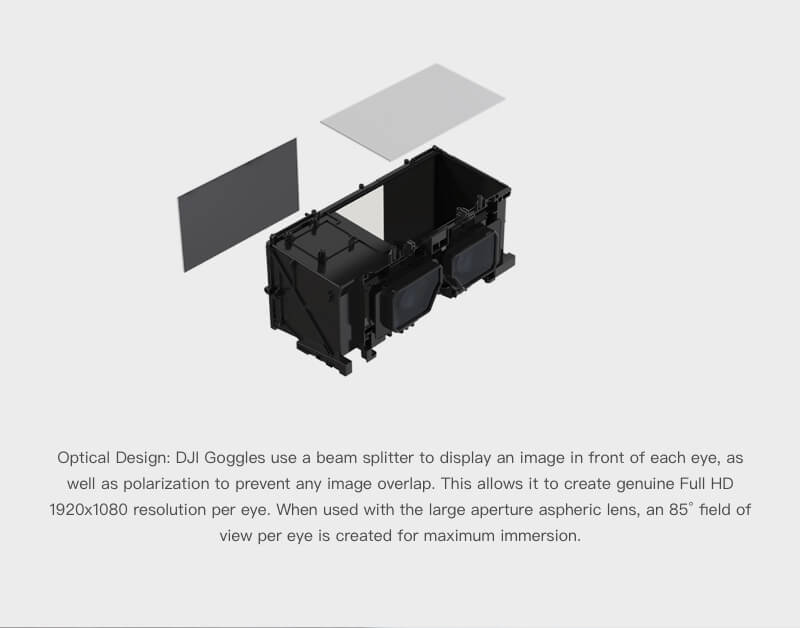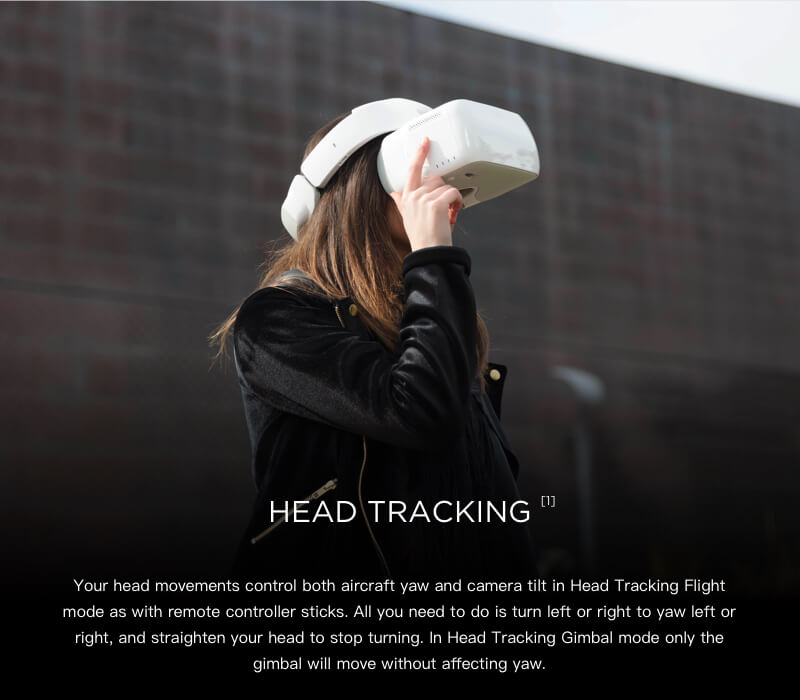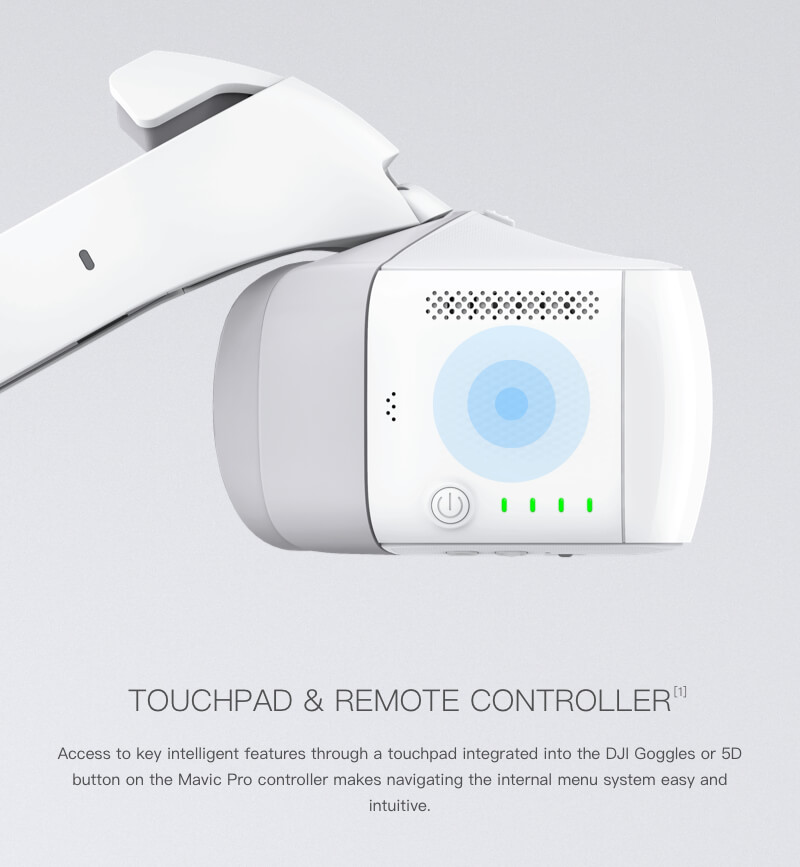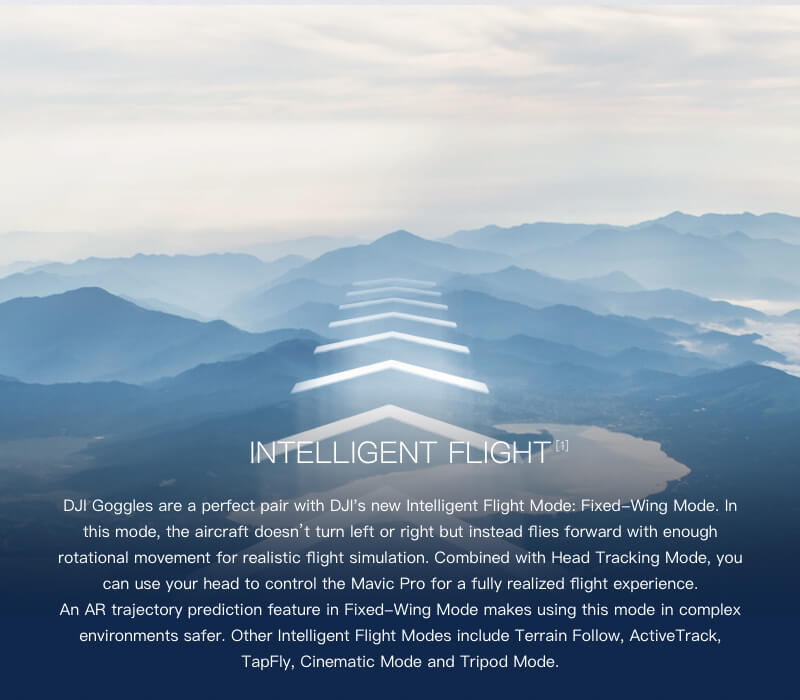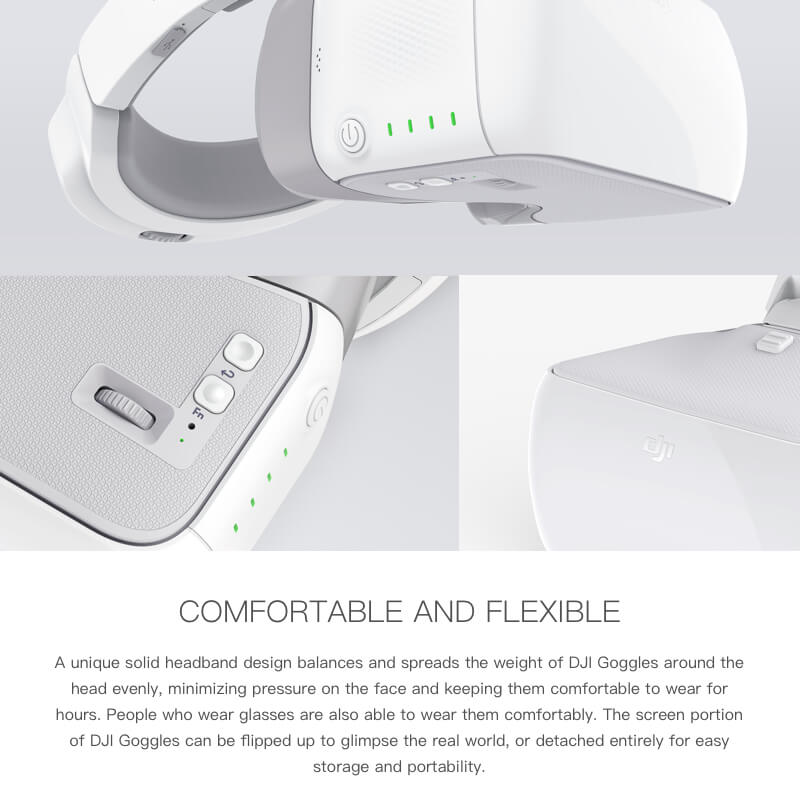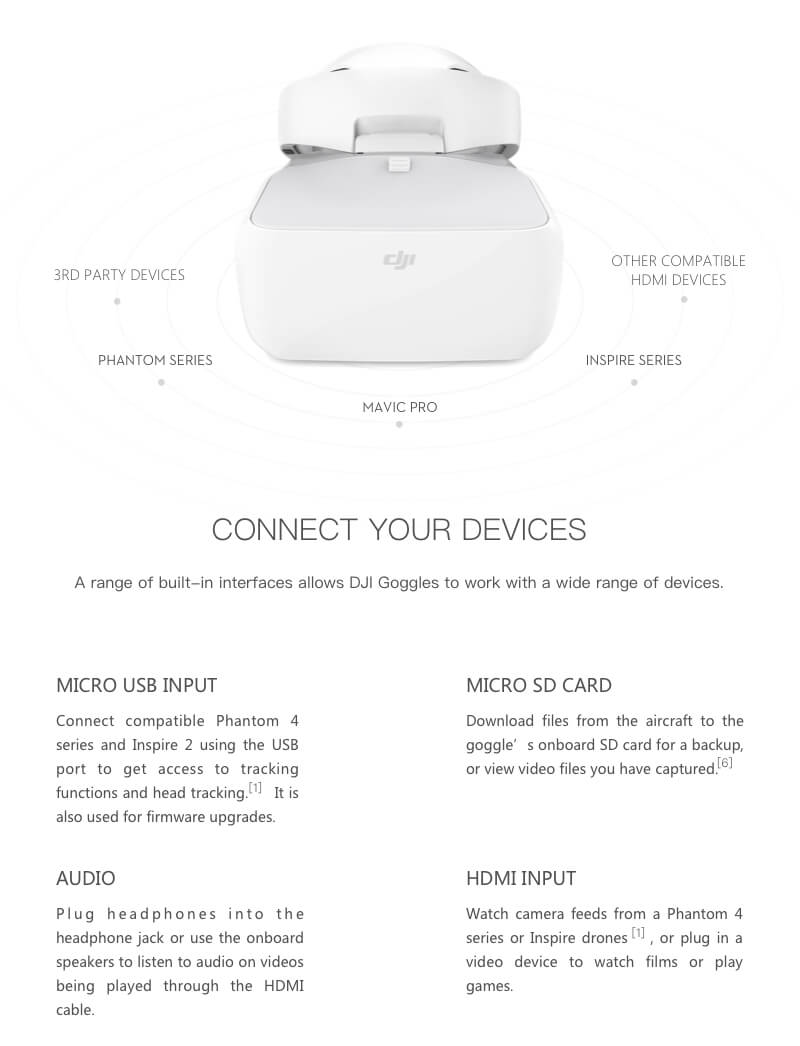 Specification
General

Brand: DJI
Item Name: Goggles
Weight: 
Goggles: 495g
Headband: 500g
Dimensions:  
Goggles: 195 x 155 x 110 mm
Headband(Folded): 255 x 205 x 92 mm
FOV: 85°(single screen)
Screen Size: 5 inch x 2
Interpupillary Distance Range: 58–70 mm
Refresh rate: 60 Hz
Screen Resolution: 3840×1080 (single screen: 1920×1080)
Operating Frequency: 2.4 GHz
Max.Transmission Distance: Same as the aircraft connected
Video Downlink Resolution: 1080p 30, 720p 60, 720p 30
Video Downlink Latency at least
(Near field and free of interference)    110 ms (Mavic Pro, 720p60, video format: 720p120) 
                                        150 ms (Phantom 4 series, 720p60, video format: 720p60/720p120)
                                        140 ms (Inspire 2+X5S, 720p60, video format: 1080p120)
                                        190 ms (Inspire 2+X4S, 720p60, video format: 1080p60)
Battery Capacity: 9440 mAh
Battery Energy: 35.44 Wh
Max Operating Time: 6 hrs
Operating Temperature Range: 32°F (0°C) – 104°F (40°C)
I/O Interface: Micro USB, 3.5mm audio jack,                HDMI type-D, Micro SD card slot
HDMI Supported: HDMI 1.4b, HDCP 1.4
Sensors: Gyroscope, Accelerometer, Proximity sensor

Charger: 
Input: 100-240VAC, 50/60 Hz. 0.5A
Output: 5V,3A ; 9V,2A;12V,1.5A

Package content
1 x DJI Goggles Body
1 x Headband
1 x Micro USB Cable
1 x HDMI Cable
1 x Wire Clip
1 x Cleaning Cloth
1 x Charger
1 x Manual
$("#Description img.product_lazy").lazyload({
effect: "fadeIn",
threshold:240,
event: "scroll"
});