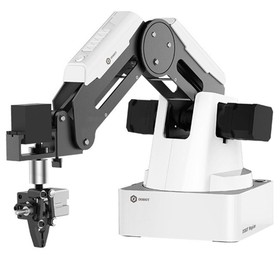 Highlights
WHAT IS DOBOT MAGICIAN
DOBOT Magician is a multifunctional desktop robotic arm for practical training education. Installed with different end-tools, DOBOT Magician can realize interesting functions such as 3D printing, laser engraving, writing and drawing. It supports secondary development by 13 extensible interfaces and over 20 programming languages, which really makes your creativity and imagination increase without any limitation. In recognition of its excellent performance in hardware design and software application, DOBOT Magician has received the CES 2018 Innovation Award and iF DESIGN AWARD 2018.
HIGH QUALIFICATION STANDARDS
DOBOT Magician applies to major international standards like CE, RoHS, ERP, FCC, KC, PSE, TELEC, etc.
HANDS-ON EXPERIENCE FOR EVERYONE
DOBOT Magician is low cost, small size, and easy operation, which allows every student to practice on their own. It improves the teaching efficiency dramatically. It can be controlled by Programming, APP, Bluetooth, WiFi, Mouse, and more.
SECONDARY DEVELOPMENT
DOBOT Magician is compatible to develop user applications with its 13 I/O ports, API, released protocols. It can be developed with several programming languages, ROS, PLC, Microcontroller and Arduino.
MULTI-ROBOT COLLABORATION
You can control several DOBOT Magician by the same device only, which allows Multi-Robot Collaboration.
FREE COMBINATION & TRAINING CURRICULUM
DOBOT Magician is compatible with multiple accessories such as linear rail kit, conveyor belt kit, visual kit, and crawler robot to apply different training projects. What's more, multiple applications and training curriculum are available. An open platform for robot education like Industrial 4.0, Automation, PLC, etc.
COST-EFFECTIVE ROBOTIC ARM IN TRAINING EDUCATION
With a fair and reasonable price, DOBOT Magician has 0.2mm repeatability which can simulate almost all real factory robot applications.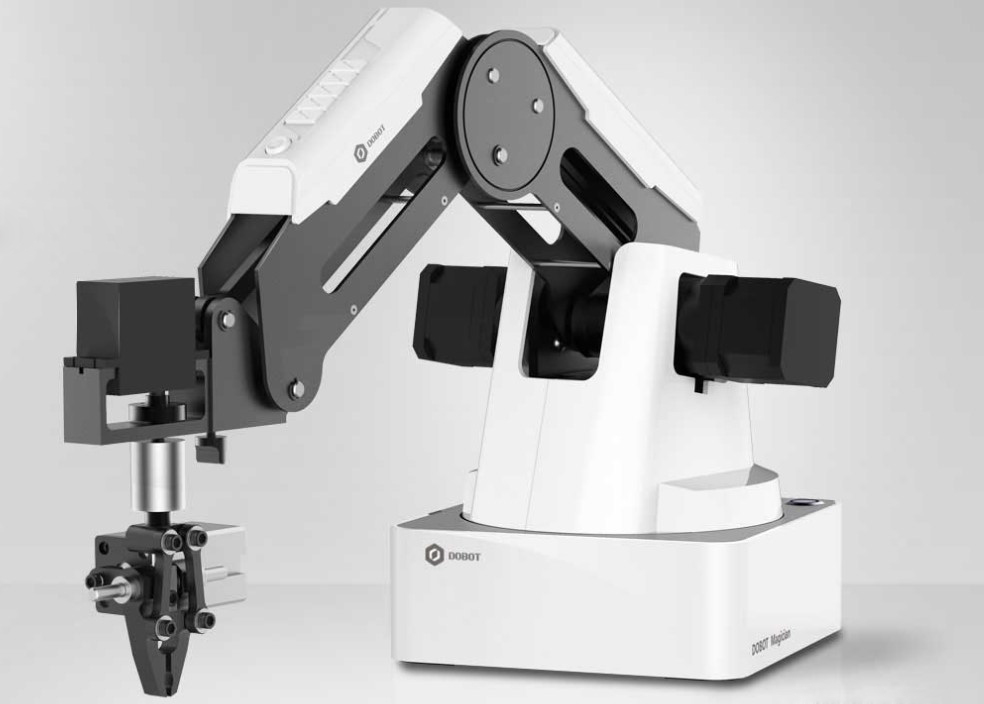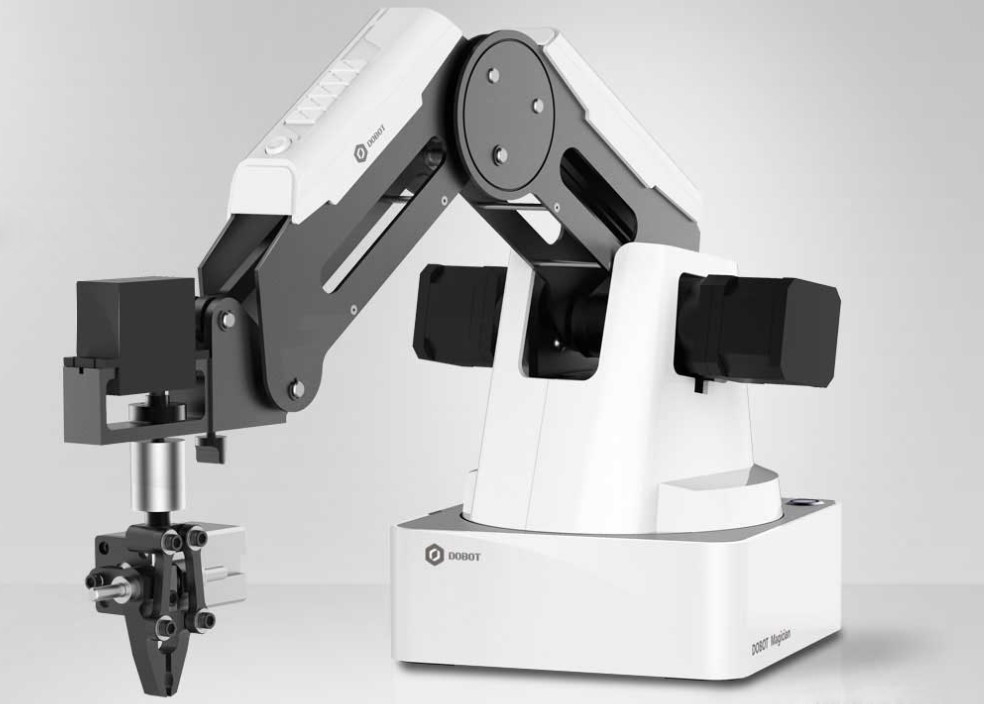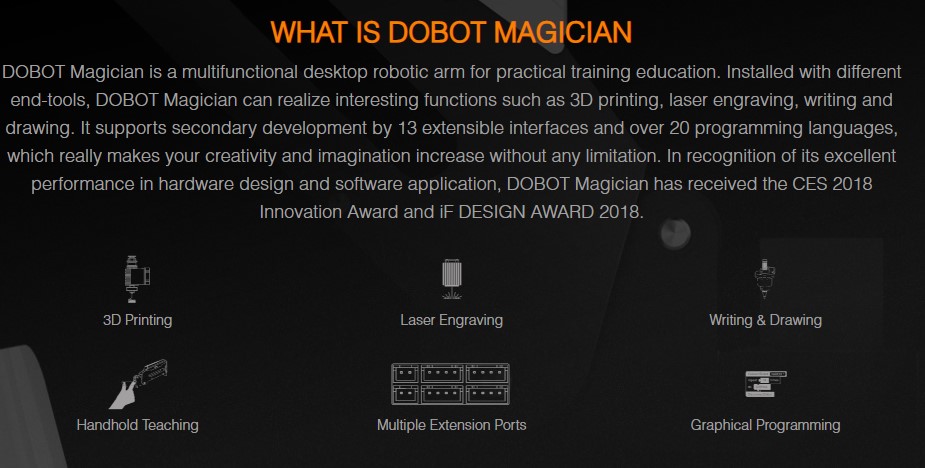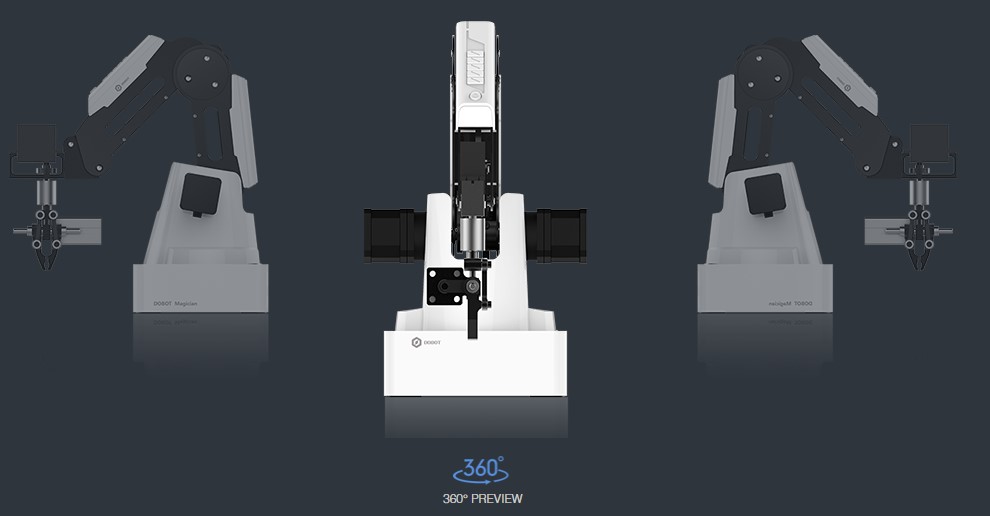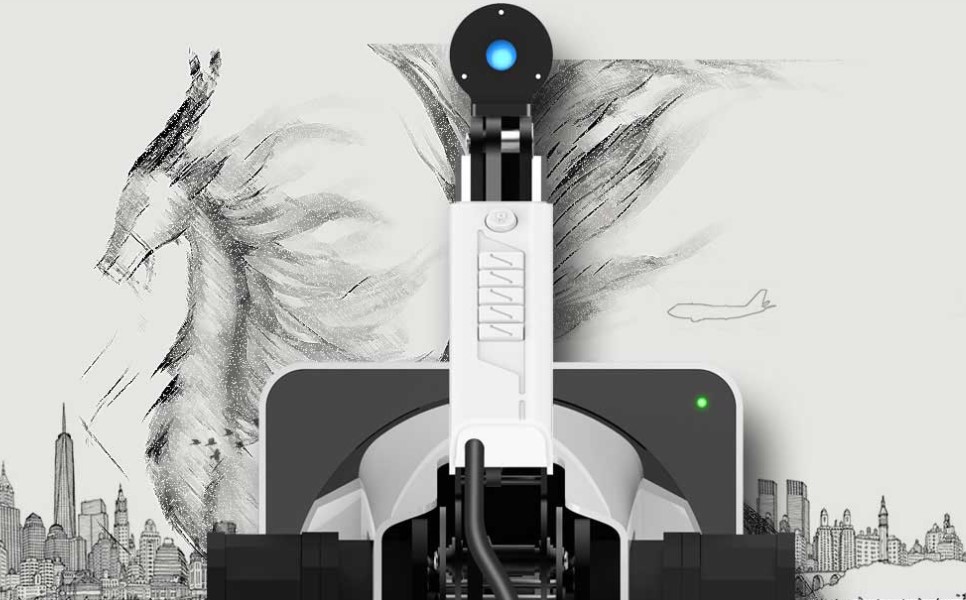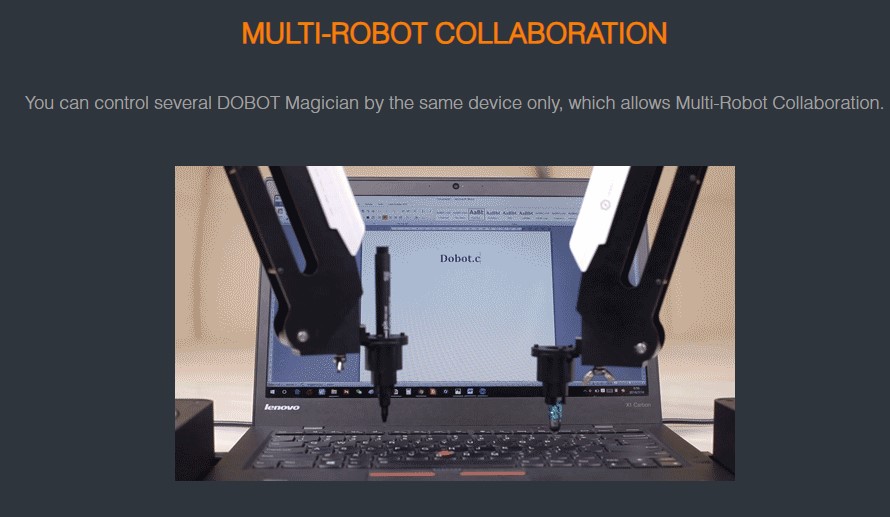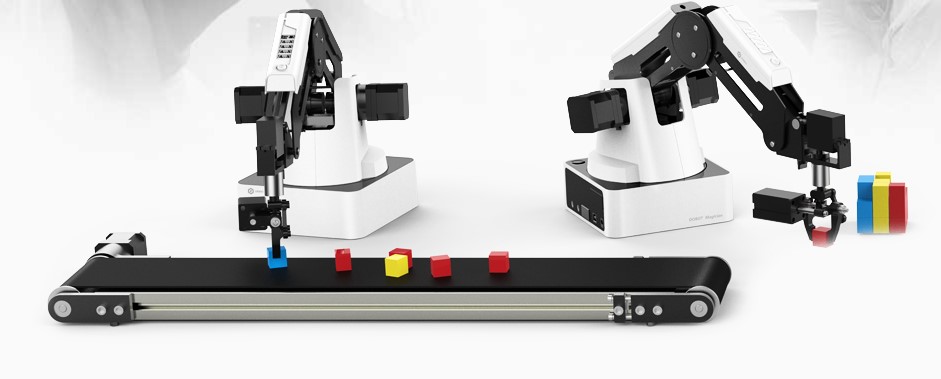 General

Brand: DOBOT
Model: Magician 

Specifications

 

Position Repeatability(Control): 0.2 mm

Communication: USB / WIFI / Bluetooth

Power Supply: 100 V – 240 V , 50/60 HZ

Working Temperature: -10 – 60 Degrees

Axis Movement

Joint 1 base: Range -90° to + 90°Max Speed 320° / s

Joint 2 rear arm: Range 0° to +85°Max Speed320° / s

Joint 3 forearm: Range -10° to +95°Max Speed320° / s

Joint 4 rotation servo: Range -90° to +90° Max Speed 480° / s

Physical

Gross weight ( Standard Version): 7.2KG

Gross weight ( Education Version): 8.0KG

Base Dimension(Footprint): 158mm × 158mm

Materials: Aluminum Alloy 6061, ABS Engineering Plastic

Controller Dobot: Integrated Controller

Packing Size (L × W × H): 380mm x 385mm x 480mm

Carton Size for Standard Version (L × W × H): 380mm x 385mm x 480mm

Carton Size for Education Version (L × W × H): 380mm x 385mm x 480mm

Applications

Software: DobotStudio, Repetier Host, GrblController3.6, DobotBlockly (Visual Programing editor)

SDK ( Software Develop Kit ): Communication Protocol, Dobot Program Library

Extensible I/O Interfaces: 1. I/O x 10 (Configurable as Analog Input or PWM Output)

2. Controllable 12V Power output x 4

3. Communication Interface (UART, Reset, Stop, 12V, 5V and two I/O included)

Endeffectors
3D Printer Kit

Maximum Print Size (L × W × H): 150 mm ×150 mm × 150mm (MAX)

3D printing material: PLA

 

Type: 405nm ( Blue laser )

Power: 12V , TTL trigger ( With PWM Driver )

 

 

Suction Cup Diameter: 20mm

 

Package Contents

1. Dobot Magician: Robot Arm | USB Cable | Power Adapter

2. Vacuum pump Kit ( Share JOINT 4 ): Air Pump Kit | M1 Hexagon Wrench

4. Writing and Drawing Kit: Writing and Drawing Kit ( Pen holder & Pen )

5. 3D Printing Kit: Extruder | Hot End | Printing Filament : PLA ( 100g/35m ) |

Aluminiumlplate / Glass | Masking Tape

6. Bluetooth Module: Bluetooth Module ( with cables )

7. Other Accessories: Kraft Linner Paper 20g*5/pc | User Manual | Pamphlets | Calibration Paper

8. WIFI Module: WIFI Module

9. Laser Engraving Kit (Laser Engraving & Gray Engraving): Laser Kit | Laser Protective Glasses

10. Joystick Control Kit: SB Connector Host | Joystick
$("#Description img.product_lazy").lazyload({
effect: "fadeIn",
threshold: 240,
event: "scroll"
});