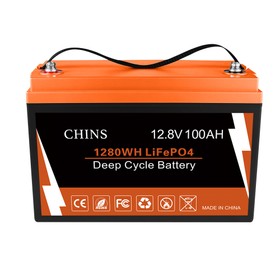 Highlights
Mobile APP to Read Battery Data
CHINS smart lithium battery can directly communicate with the battery management system (BMS) and obtain various data (SOC) of the lithium iron phosphate battery. Customers can connect to the battery through the mobile phone APP, and read the battery voltage, current, battery capacity and other important information at any time. Wireless connection range: within 5-10 meters from the battery.
Heating Function
When the ambient temperature is lower than 32°F (0°C), the charging current will only supply power to the heating film inside the battery. When the internal temperature of the battery reaches 50°F (10°C), BMS will immediately turn off the heating function, all the charging current charges the battery. The charging current of the low temperature heating battery is at least 5A.
Deep Cycle Battery
CHINS LiFePO4 battery provides 4500+ cycles, the service life of LiFePO4 batteries is 7 to 10 times than the standard lead-acid batteries, can perfectly replace the traditional lead acid battery.
Built-In BMS
Our LiFePO4 battery has built-in BMS (Battery Management System) to protect it from overcharge, over-discharge, over-current, and short circuit with excellent self-discharge rate. Built-in high temp cut off prevents charging over 122 °F (50 °C). Plus, Li-Ion batteries can be safer than Lead Acid batteries, which have no protection against ground faults. 
Capacity Expansion
This Lifepo4 battery can be connected in parallels and in series for larger capacity and voltage. Max connection in series: Up to 4 identical batteries for up to 48V connecting in series. Connection in parallels: it can connect multiple batteries, suggest no more than 4pcs in parallel. Allow to be extended up to 4 in series and 4 in parallel (Max 4S4P) to get more capacity (Max 400Ah) and higher voltage (24V, 36V, 48V). Other installation methods: 4S2P, 2S2P, 3S2P, etc.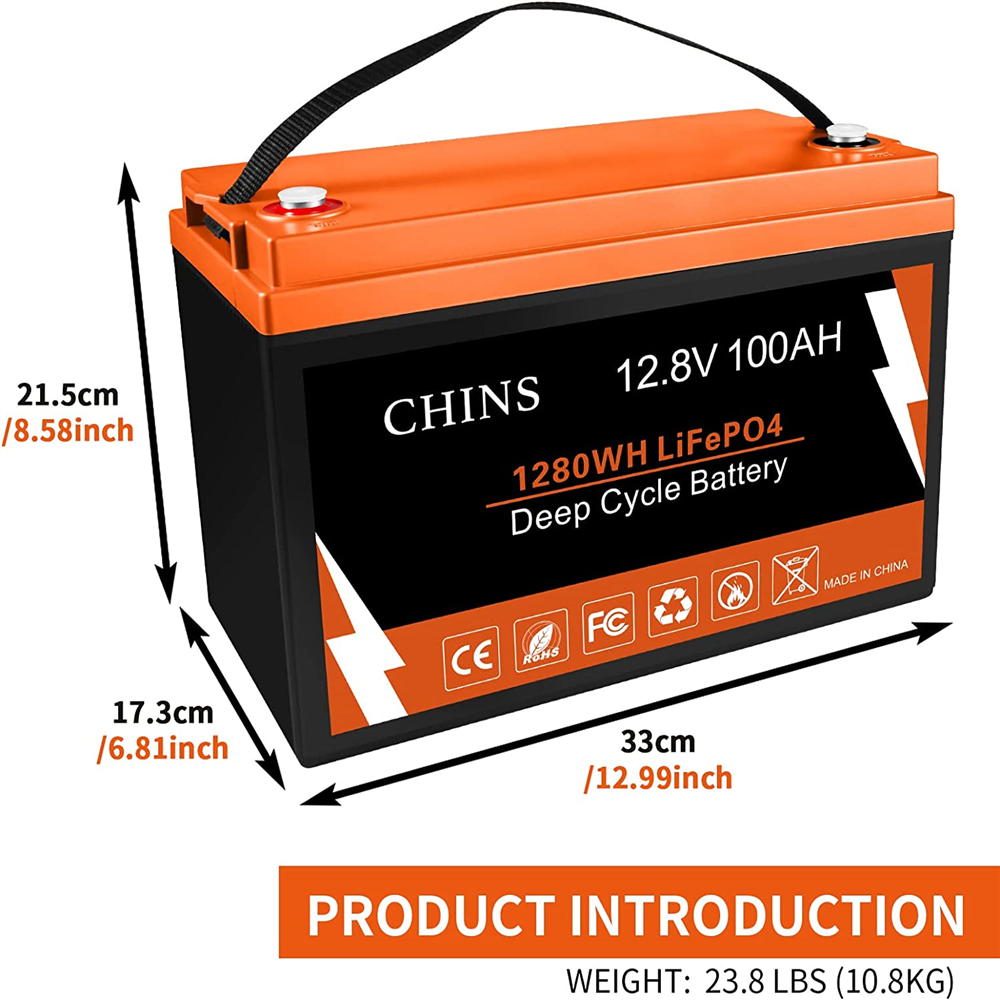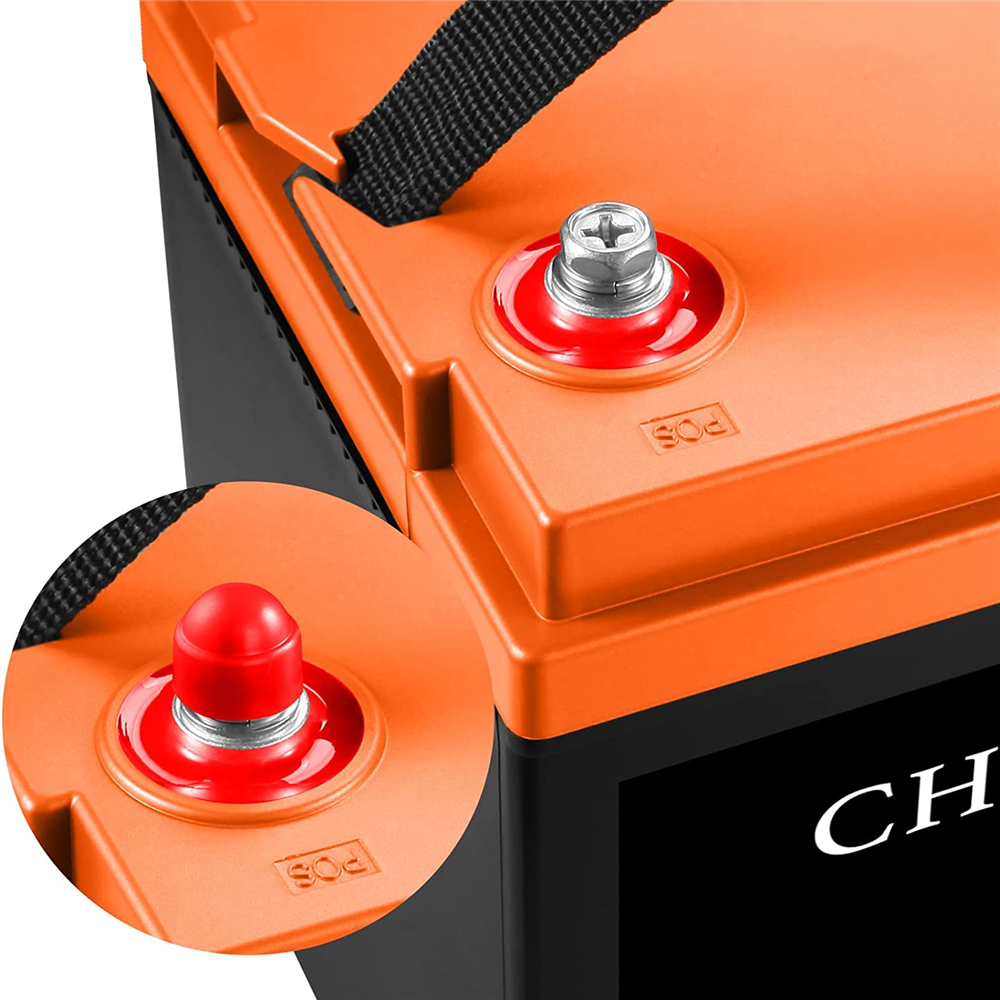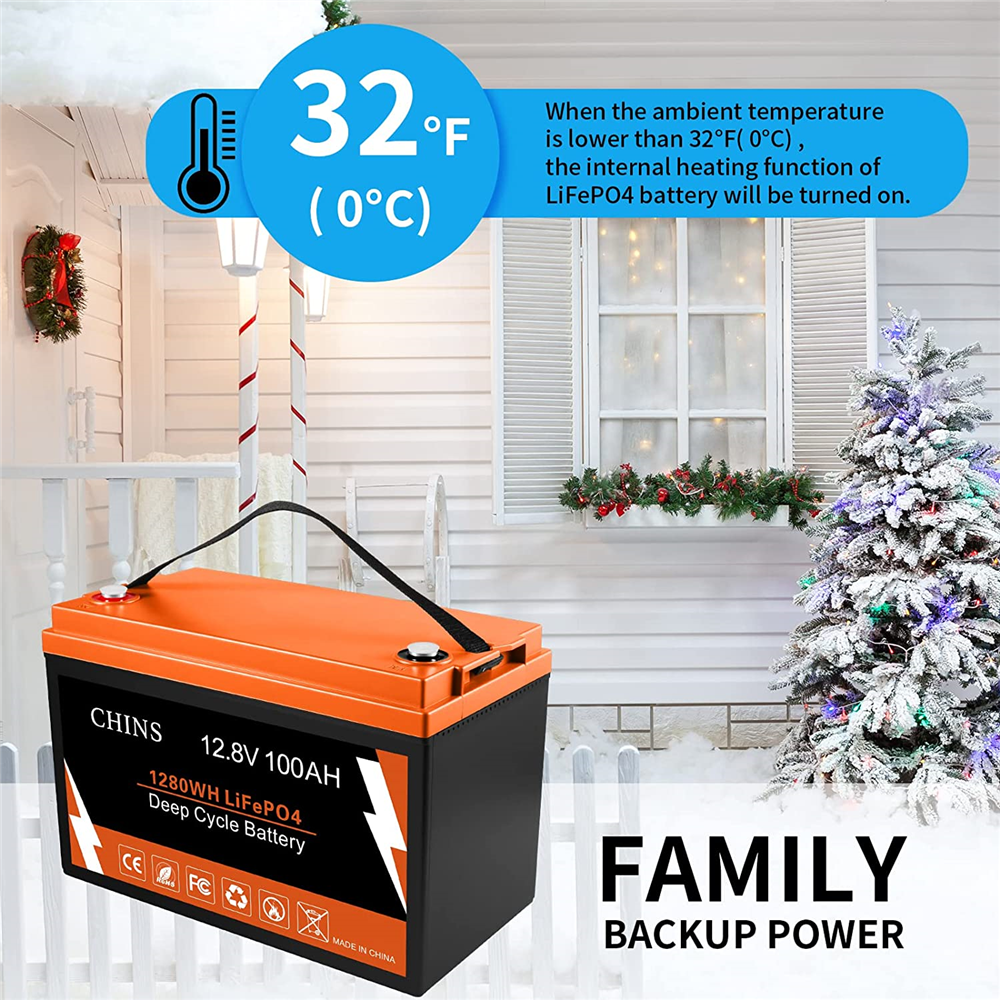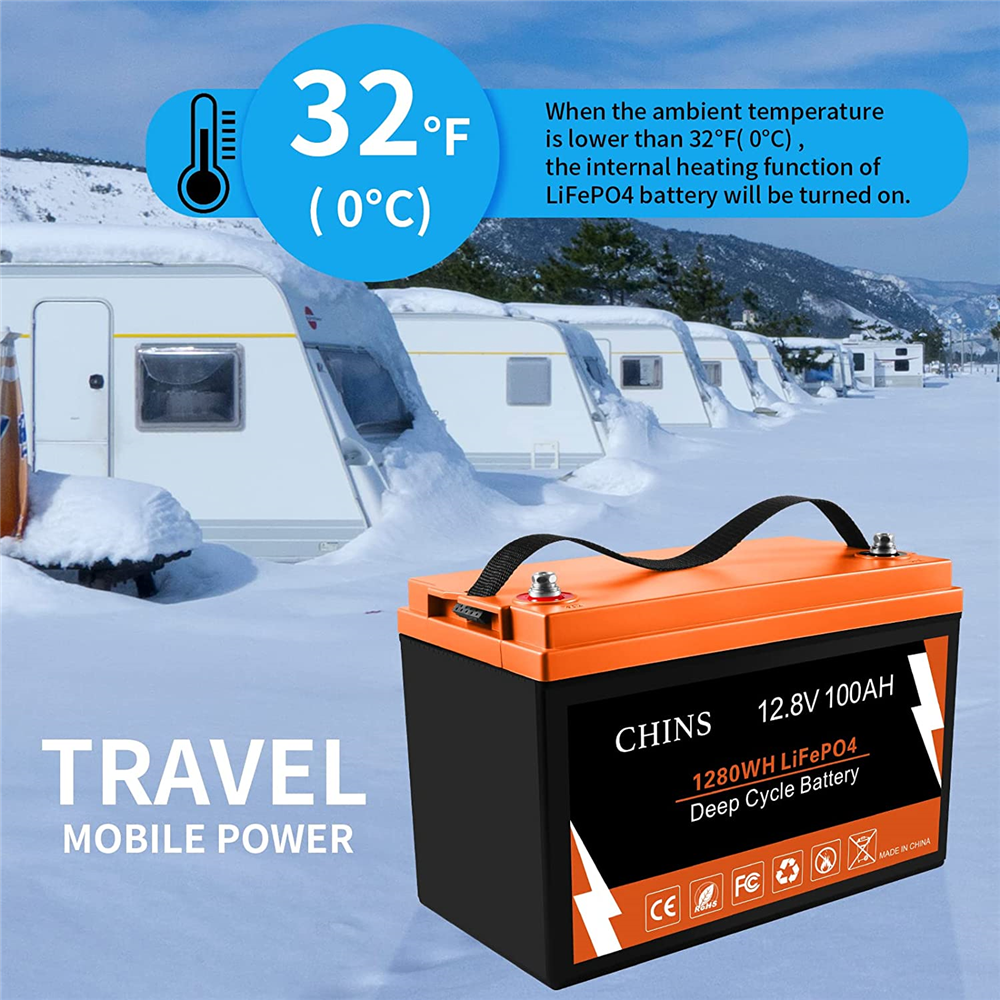 Specification
General

Brand: CHINS
Type: LiFePO4 Lithium Battery
Model: Gre10200
Color: Orange

Specification

Rated Capacity (0.2C): 100Ah / 1280Wh
Cycle life: 2000+ cycles at 80% discharge depth
Rated voltage: 12.8V
Charge voltage: 14.2 – 14.4V
Depth of Discharge (DoD): 100%
Standard charge current: 30A
Charging time: Approximately 4 hours
Max continuous charge current: 50A
Max continuous discharge current: 100A
Peak discharge current: 300A (Duration: less than 3 seconds)
Operating temperatures: Charge -35 -50 celsius (-31 -122 Fahrenheit),
Discharge -20-60 celsius (-4-140Fahrenheit), Storage -20-50 celsius (-4 -122 Fahrenheit)
Impedance: ≤ 10mΩ

Weight & Size

Product Weight: 11kg
Product Size: 329x172x214mm
Package Size: 405x250x295mm

Package Contents

1 x LiFePO4 Lithium Battery
1 x User Manual
$("#Description img.product_lazy").lazyload({
effect: "fadeIn",
threshold: 240,
event: "scroll"
});