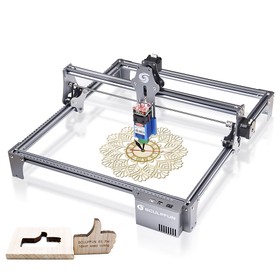 Highlights
1. 60W effect unique spot compression laser: S6 pro uses the latest 5.5W diode spot compression laser. It has an ultra-fine square laser focus, and has twice cutting penetration and accuracy of ordinary lasers. Even in the field of spot compression lasers, S6 pro has thinner engraving marks and stronger cutting and penetration capabilities. It can cut 10mm thick wooden boards and engrave ceramics and metals, which is almost beyond the effect of a 60W CO2 laser.
2. Fast focusing design: S6 has the fastest focus design on the market. The S6 laser combines a fixed focus lens and a sliding design. You only need to slide the laser and tighten the screws to complete the focusing. This makes it very easy to use the laser .
3. Solid and easy-assembly structure design: The full-metal structure design makes the machine extremely solid, and it improves the accuracy of engraving. The whole structure is designed for easy-assembly, and the assembly can be completed in 10-20 minutes. The structural frame is very durable and remains open to upgrade. During use, you can keep the frame and replace with other new lasers. Or replace longer metal beams to expand the engraving area.
4. New eye protection design: The laser filter cover filters 98% of the ultraviolet light to the eyes. You and the people around you can watch laser engraving without wearing goggles. At the same time it can prevent animals from catching the laser spot.
5. Wide compatibility: The machine is compatible with various mature engraving software, such as LaserGRBL, LightBurn, Benbox, GrblController, LiteFire, supports PWM mode engraving, supports Windows system, MAC system (LightBurn), and engraving file format Support JPG, PNG, DXF, AI, SVG, G-code, NC, BMP, etc.
6. Safe design: The machine is equipped with a very convenient power switch, which is not available in other homes. Fixing holes are reserved on the four feet and the body structure to facilitate fixing the machine and the data cable.
7. A4 steel pad: The free A4 size steel pad can protect the table from laser damage. Isolate fire hazards.
8. Right-angle measuring ruler: X-axis and Y-axis contain precise scale lines, which is convenient for you to measure the size of engraving objects quickly. The 410x420mm large-area engraving interval can meet your various engraving needs.
Specification
General

Brand: SCULPFUN
Type: Laser Engraver
Model: S6 Pro
Color: Silver

Specification
Engraving size: 410*420mm
Engraving/cutting material:
Engraving materials: wood, paper, cardboard, plastic, white, PCB board, aluminum oxide,  black-painted metal, dark ceramic
Cutting material: 6mm wood& acrylic, cardboard,  fabric, bamboo, plastic board;
Laser effect power: 60W (cutting effect compared to 60W CO2 laser)
Max Machine Electricity Power: 30W   (It has nothing to do with cutting or engraving performance,just electricity consumes)
Diode laser power: 5.5-6W  (Please note that this is light energy and not electric energy)
Laser wave length 455±5nm
Engraving accuracy: 0.01mm
Focusing method: fixed focus laser + sliding device
Laser protective cover: The light filter cover on the laser protects the user's eyes and prevents animals grabing the laser spot.
Operating software: LaserGRBL, LightBurn, LaserGRBL, LightBurn, Benbox, GrblController, LiteFire, support Windows system, support MAC system. Supported file formats NC, BMP, JPG, PNG, DXF and other image formats.
Data transmission method: USB connection
Power supply: International universal standard power input: 100-240V AC, 50/60HZ output: 12V 5A
Certification: CE FCC RoHS FDA IEC
Weight & Size
Product Weight: 3.0Kg
Package Weight: 4.4Kg


Package Size(L x W x H): 

61.5*34.5*13cm
Package Contents

1× X axis assembly
2× X shaft
2× Y shaft
1× control box module set
3× support feet
1× laser module set
1× 12V 5A power adapter
1× power adapter
1×USB cable
Step 1~5 Screw installation package
2× belt
1× T-shaped M5 screwdriver
1× L-shaped M4 screwdriver
1× L-shaped M3 screwdriver
10× Tie
1×  8-10mm nut wrench
1× brush
1× Laser goggles
2× 10x10cm  wood chip 3mm thickness
1× A4 size steel desktop protection pad
$("#Description img.product_lazy").lazyload({
effect: "fadeIn",
threshold: 240,
event: "scroll"
});