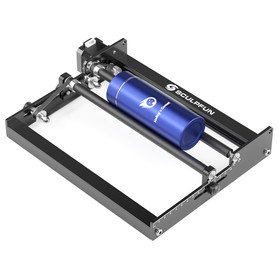 Highlights
1. 100% installed, plug and play: the machine is 100% installed in the package, equipped with an adapter cable, and only needs to be connected to the Y-axis wiring of the laser engraving machine to engrave Cylindrical objects, such as pens, water bottle, etc.
2. Huge engraving space and 4 raising feet: SCULPFUN roller base design is lower and stable, and equipped with 4 sturdy metal raising feet, so that it has a larger engraving diameter of 6-150mm, which can meet more engravings. need. Metal feet are more solid than plastic feet, and the machine is more stable when engraving.
3. Sliding adjustment of the shaft spacing: SCULPFUN roller adjusts the size of the space between the two shafts by sliding, and fixes the shaft by turning the knob by hand, which is simpler and faster than the traditional multi-stage fixing hole adjustment.
4. 100% original scale high-precision engraving: SCULPFUN roller adopts high friction 70A rubber shaft to prevent slipping, and the linear speed of the rotating surface has been precisely calculated. Directly plug in the engraving machine cable to engrave the original image in 100% proportion. Does not enlarge or reduce the image.
5. Extensive compatibility: SCULPFUN roller is suitable for multiple engraving software such as lightburn or laserGRBL, and it can be used directly , no need to set parameters. In addition, it can be applied to 95% of the engraving machines on the market such as SCULPFUN, NEJE, Ortur, ATOMSTACK, etc.
6. Free useful accessories: a free soft ruler to measure the size of object; 4 free raising feet, which can be used to increase the height of a variety of machines.
Specification
General

Brand: SCULPFUN
Type: Laser Rotary Roller
Model: Main unit
Color: Black

Specification

How to use: Disconnect the Y-axis motor wiring of the laser engraving machine, connect the SCULPFUN Rotary Roller to the Y-axis cable, and you can start using it. There is no need to set parameters in software because the surface linear speed of the roller is the same as the original Y-axis speed.

Available engraving space: cylinder diameter 6-150mm, cylinder length 0-230mm

Compatible software: Lightburn, LaserGRBL, Benbox, GrblController, LiteFire, etc. There is no need to set up software because the surface linear velocity of the roller is the same as the original Y-axis velocity.

Compatible machines: suitable for all GRBL motherboard types of engraving machines, including SCULPFUN, Ortur, NEJE, ATOMSTACK, and other engraving machines.

Adjustment of shaft spacing: The shaft spacing can be adjusted steplessly by sliding, and it can be fixed by hand-tightening screws.

Weight & Size

Package Weight: 

1.5kg


Product Size(L x W x H): 

27 x 22 x 5cm


Package Size(L x W x H): 

34 x 25 x 9cm
Package Contents

1 × Roller Device
1 × A Type Wiring
1 × B Type Wiring
4 × Raise Feet
1 × Screw Bag
1 × Soft Ruler
1 × User Manual
$("#Description img.product_lazy").lazyload({
effect: "fadeIn",
threshold: 240,
event: "scroll"
});