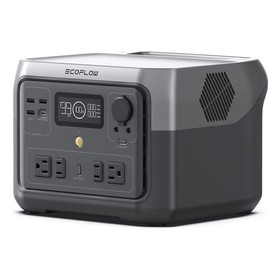 Highlights
Fully Charge in 1 Hour
RIVER 2 Max can be charged to 100% using an AC outlet in only 1 hour, which is 5x faster than other portable power stations on the market and 38% quicker than previous generations.
LiFePO4 Battery Chemistry
With over 3000+ battery 100% cycles, you can use RIVER 2 Max almost every day for pretty much ten years. LFP battery chemistry doesn't just offer long life. It's more reliable, efficient, and safe even in high temperatures.
Four Ways to Charge
There are four different ways to charge the RIVER 2 Max power station. You can use an AC outlet for ultra-fast 1-hour charging, charge on the go with car charging, and go off-grid or green with fast solar charging. Besides, RIVER 2 Max has an all-new charging option, USB-C. Just plug in and conveniently charge anywhere that has an outlet.
500W Output, X-Boost Up to 1000W
With a 500W output and 11 output ports, RIVER 2 Max has most of your essentials covered. Also, you can crank it up to 1000W with X-Boost mode to run up to 80% of essential appliances.
30ms EPS Auto-switch
With a switchover speed of less than 30ms, you won't even know the power was down. Use RIVER 2 Max as an emergency power supply for overnight outages to keep your must-have-power appliances running.
Smart Battery Protection System
The state-of-the-art Battery Management System (BMS) constantly monitors the voltage, current, and temperature of RIVER 2 Max with multiple aspects of protection, extending its life to the max.
Lightweight & Portable
With a lightweight of only 13.2 lbs and an easy-to-carry design, RIVER 2 Max is ready to power all your outdoorsy escapades, from boondocking to BBQs at the beach.
App Control
Use the EcoFlow app to control and monitor RIVER 2 Max from the convenience of your phone. Connect using Wi-Fi or Bluetooth to use nearby or remotely.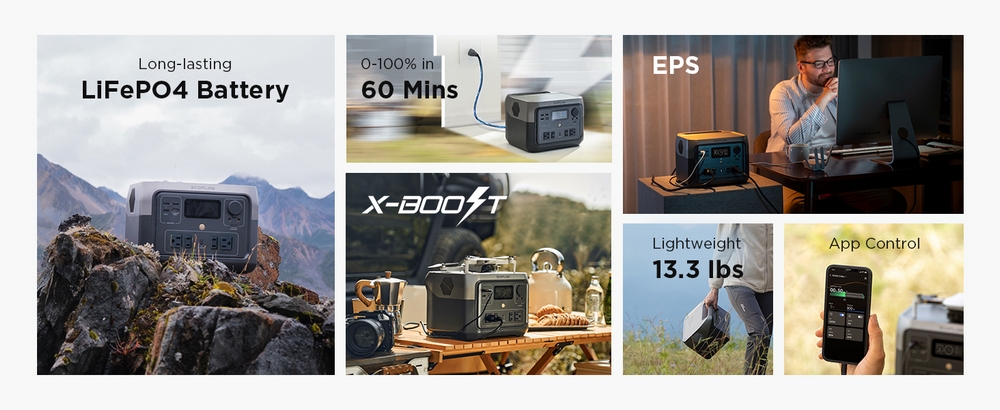 1H AC Recharge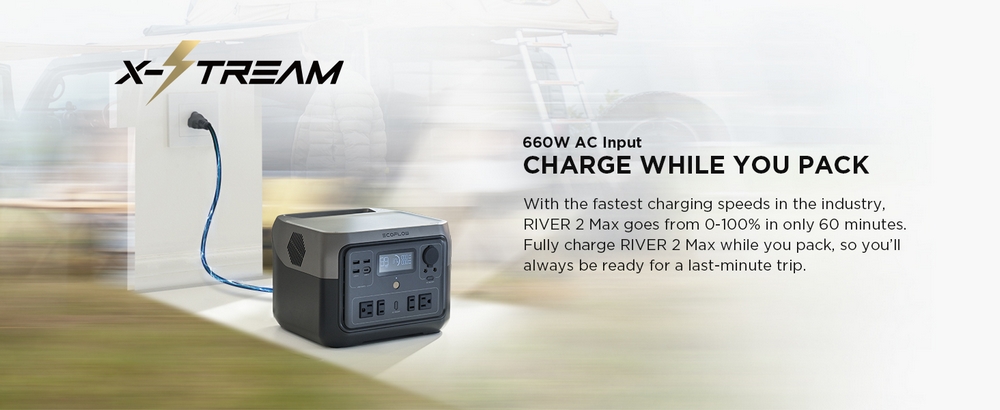 Solar/ Car Recharge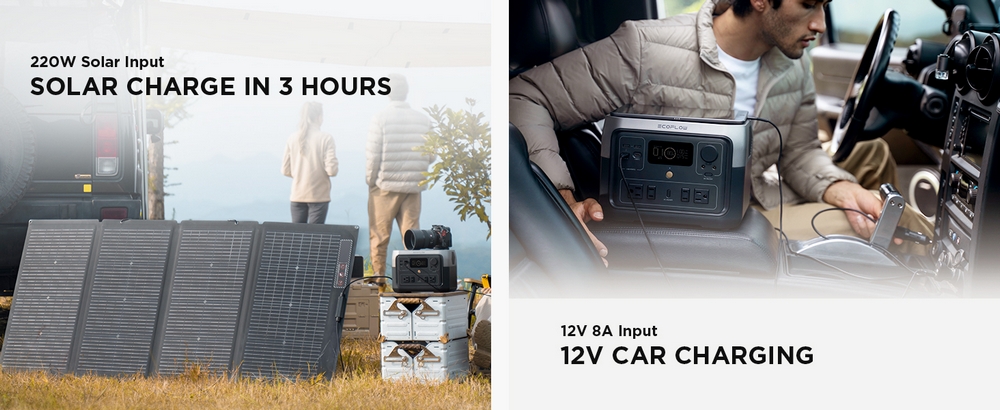 USB-C Recharge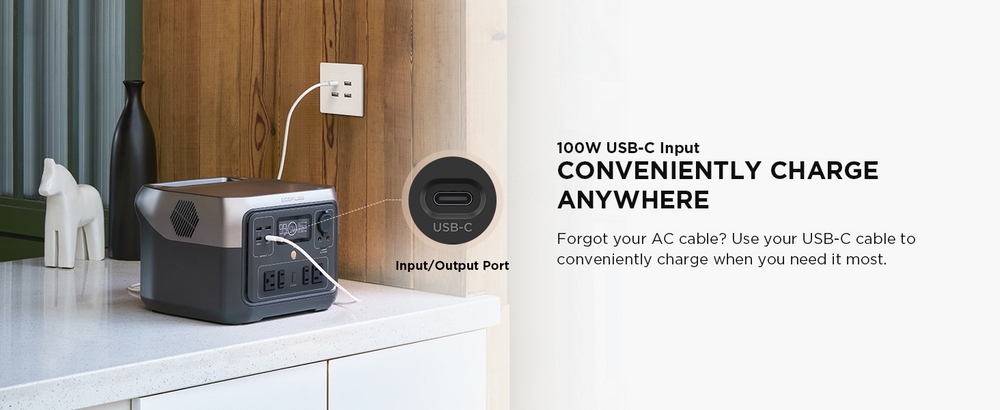 10-Year Lifespan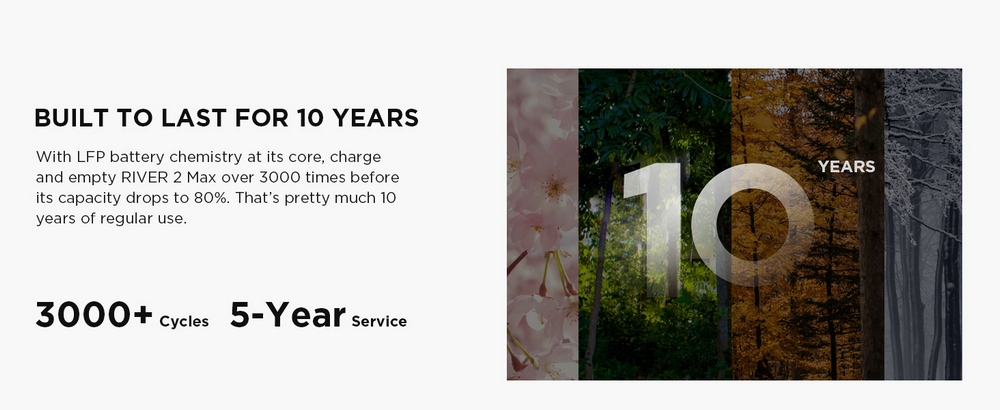 Ultra Safe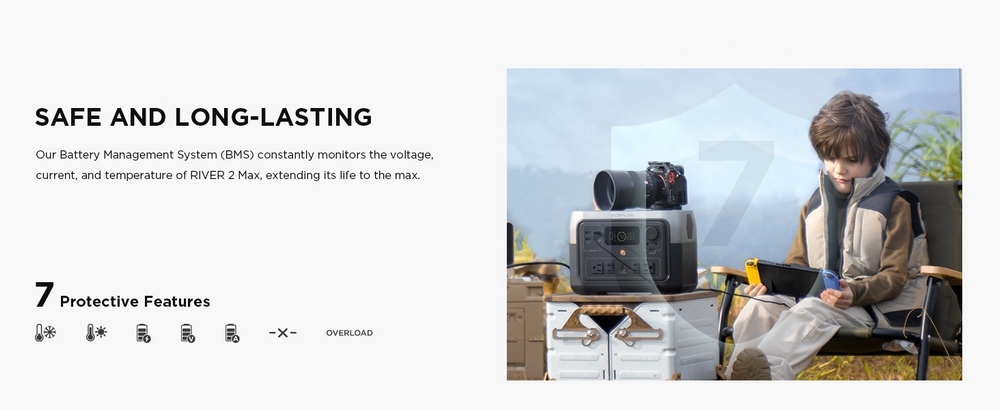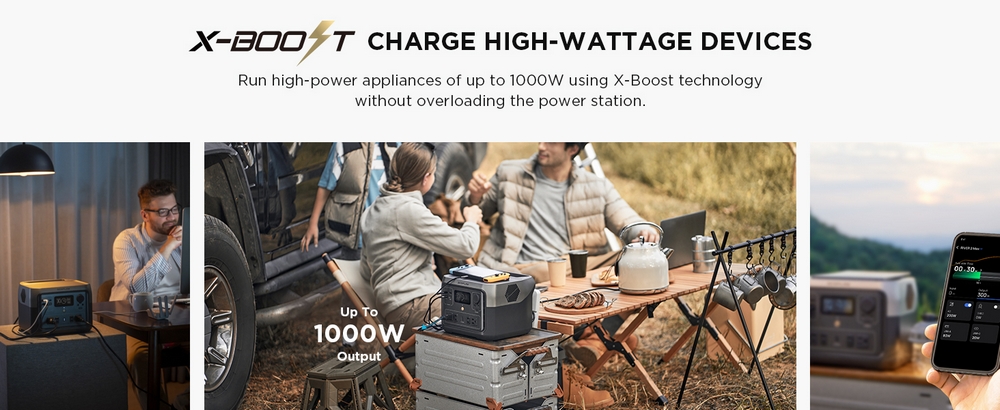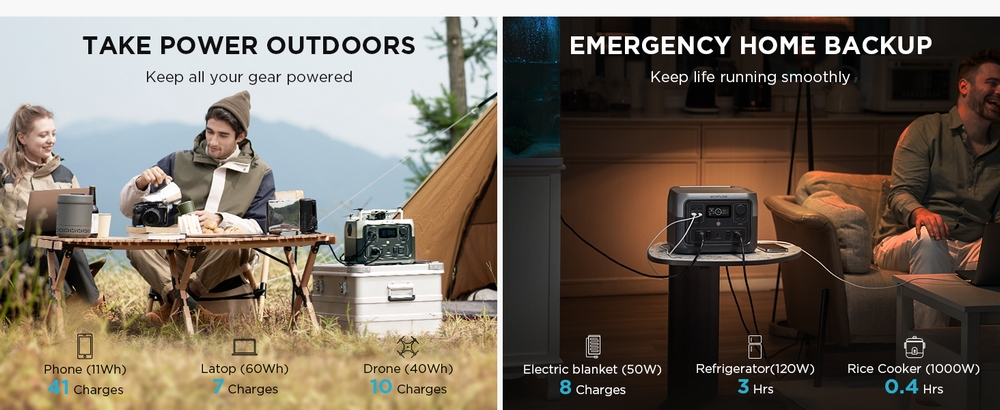 Specification
General
Brand: EcoFlow
Type: Portable Power Station
Model: RIVER 2 Max
Color: Black
Specification
Capacity: 512Wh
AC Input: 100-120V 50Hz/60Hz, 660W Max
Solar Input: 11-50V, 13A, 220W Max
Car Input: 12V/24V, 8A, 100W Max
USB-C Input/Output: 5/9/12/15/20V, 5A, 100W Max
AC Output: 120V 50Hz/60Hz, 500W (Surge 1000W)
DC Output: 12.6V, 10A/3A/3A, 126W Max
USB-A Output: 5V, 2.4A, 12W Max
DC5521 Output: 13.6V, 3A, 36W Max
Cell Chemistry: LiFePO4
Cycle Life: 80%+ capacity after 3000 cycles
App Control: Wi-Fi, Bluetooth
Discharge Temperature: -10 to 45 Celsius (14 to 113 Fahrenheit)
Charge Temperature: 0 to 45 Celsius (32 to 113 Fahrenheit)
Optimal Operating Temperature: 20 to 30 Celsius (68 to 86 Fahrenheit)
Storage Temperature: -10 to 45 Celsius (20 to 30 Celsius is best)/14 to 113 Fahrenheit (68 to 86 Fahrenheit is best)
Weight & Size
Product Weight: 6.12kg
Package Weight: 7.2kg
Product Size(L x W x H): 26.92×25.91×19.56cm
Package Size(L x W x H): 32x30x23.4cm
Package Contents
1 x RIVER 2 Max Portable Power Station
1 x AC Charging Cable
1 x Car Charging Cable
1 x User Manual
Q&A:
Q: How long can the RIVER 2 Max power my appliances?
A: Run time≈ 512Wh*0.85/operating wattage of your appliances.
Q: Can RIVER 2 Max be used as an uninterruptible power supply(UPS)?
A: When your RIVER 2 Max is plugged into the wall, anything plugged into it gets power from the grid, not its battery. If power from the grid stops, RIVER 2 Max automatically switches to its battery supply mode within 30 milliseconds.
Q: Can RIVER 2 Max handle high-wattage appliances?
A: Yes. RIVER 2 Max can power devices up to 1000W with our proprietary technology, X-Boost. *X-Boost can run devices that require up to 1000W, however, it's best to test before use.
$("#Description img.product_lazy").lazyload({
effect: "fadeIn",
threshold: 240,
event: "scroll"
});