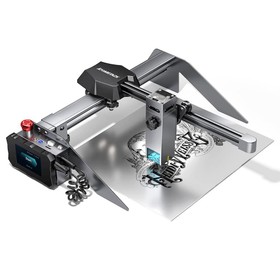 Highlights
The New Filter Panoramic Glass Eye Protection Design
The panoramic filter glass protective cover plays a very good role in protecting your eyes, filtering 97% of the ultraviolet light, you and the people around you do not need to wear goggles, you can also watch laser engraving. Reduce the cost of your goggles and the inconvenience of wearing goggles.
Robust and Easy-to-Install Structure Design
The all-aluminum alloy anodized structure design makes the machine more durable and improves the accuracy of engraving. The portable all-metal structure, 85% pre-assembly, can be installed in 5 minutes.
Upgraded High-Performance Fixed-Focus Laser
No need to adjust the focus before engraving; The focal spot area of the new laser is only 1/3 of the spot area of other ordinary lasers, new laser combines precision engraving and high energy cutting at the same time. The laser power of the fixed-focus laser is more stable than the zoom laser.
Wide Compatibility
The machine can be compatible with various mature engraving software, such as LaserGRBL, LightBurn, support Win XP / Win 7 / Win 8 / XP / Win 10, and also support MAcs system (LightBurn), engraving file format supports NC, BMP, JPG, PNG, DXF, etc.
Precise Scale Lines Axis
There are precise scale lines on the X-axis and Y-axis to facilitate quick length measurement. 410x400mm large area engraving interval can meet your various engraving needs.
Upgraded Dual Compression Spot Coupling Technology
The ultra-fine laser focus area is reduced to 0.06*0.06mm, the high-density laser can easily cut 20mm thick wood, 15mm thick black acrylic; can directly engrave mirror stainless steel metal, ceramics, glass, and engraving &The cutting speed is 40% higher than the ordinary model, which can be comparable to the effect of the 150W CO₂ laser engraving machine.
Integral Screw Rod
The machine uses an integrated screw rod instead of a combined coupling. The stepping motor and the screw rod are integrated, which makes the movement of the laser more precise and the coupling more durable.
New Laser with Knob
It is more convenient and quick to adjust the height of the laser.
Support Offline Engraving
P9 M50 configures the terminal control panel, supports offline engraving, you can carry out engraving work anytime and anywhere without being restricted by the computer.
The laser sintering temperature is up to 1200°C
Emergency Stop Button
In the event of an unexpected situation, stop the machine at any time to make the engraving safer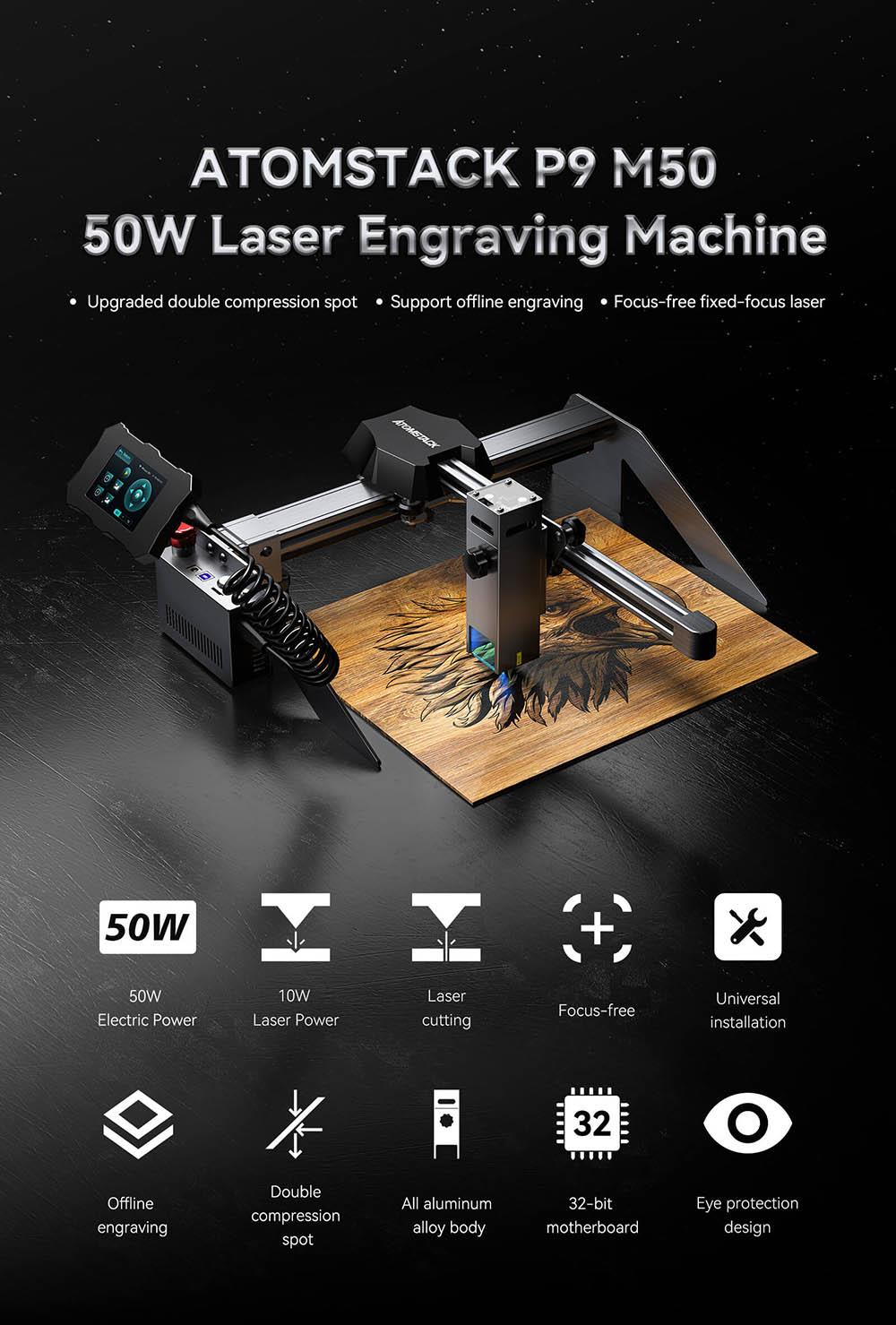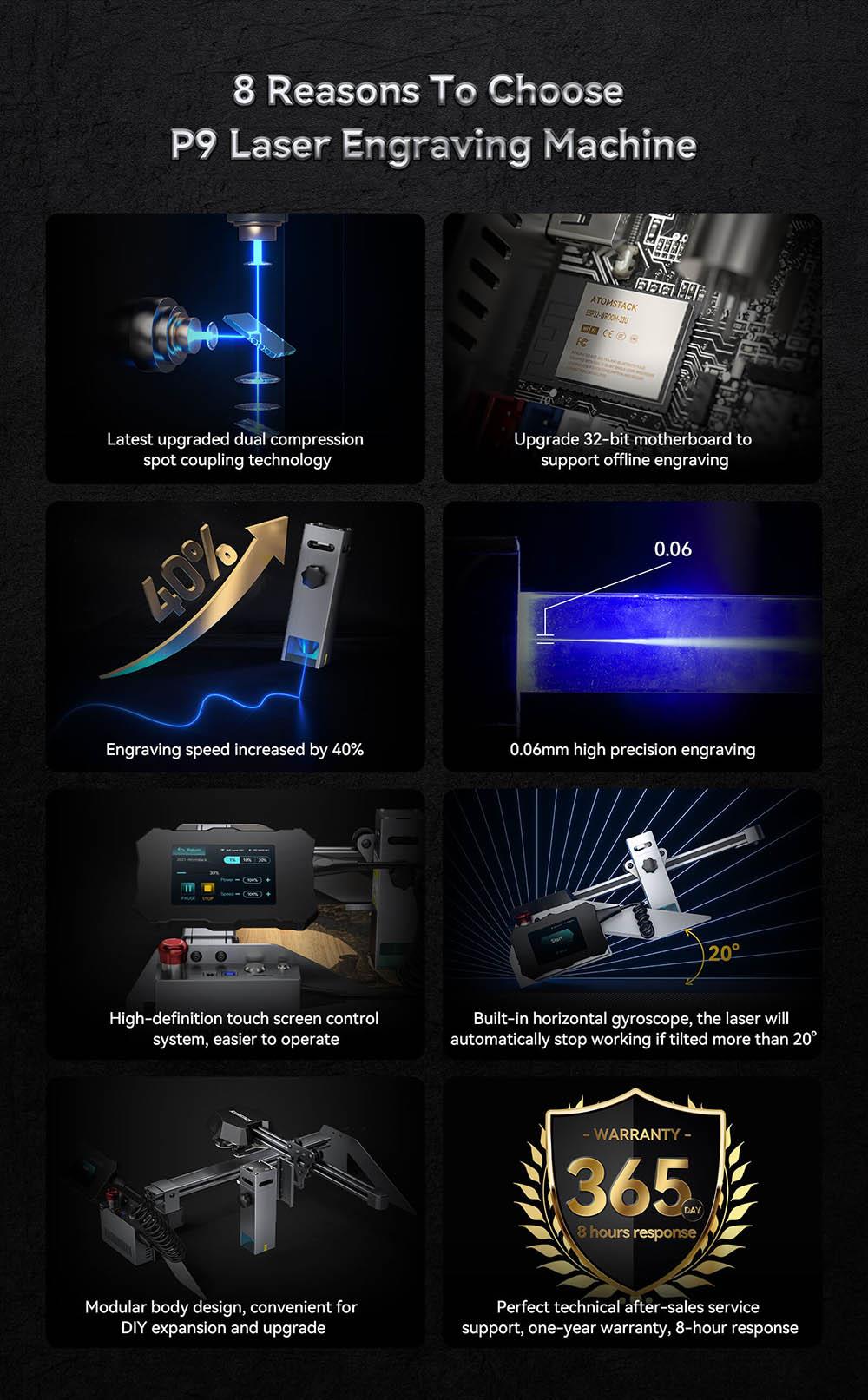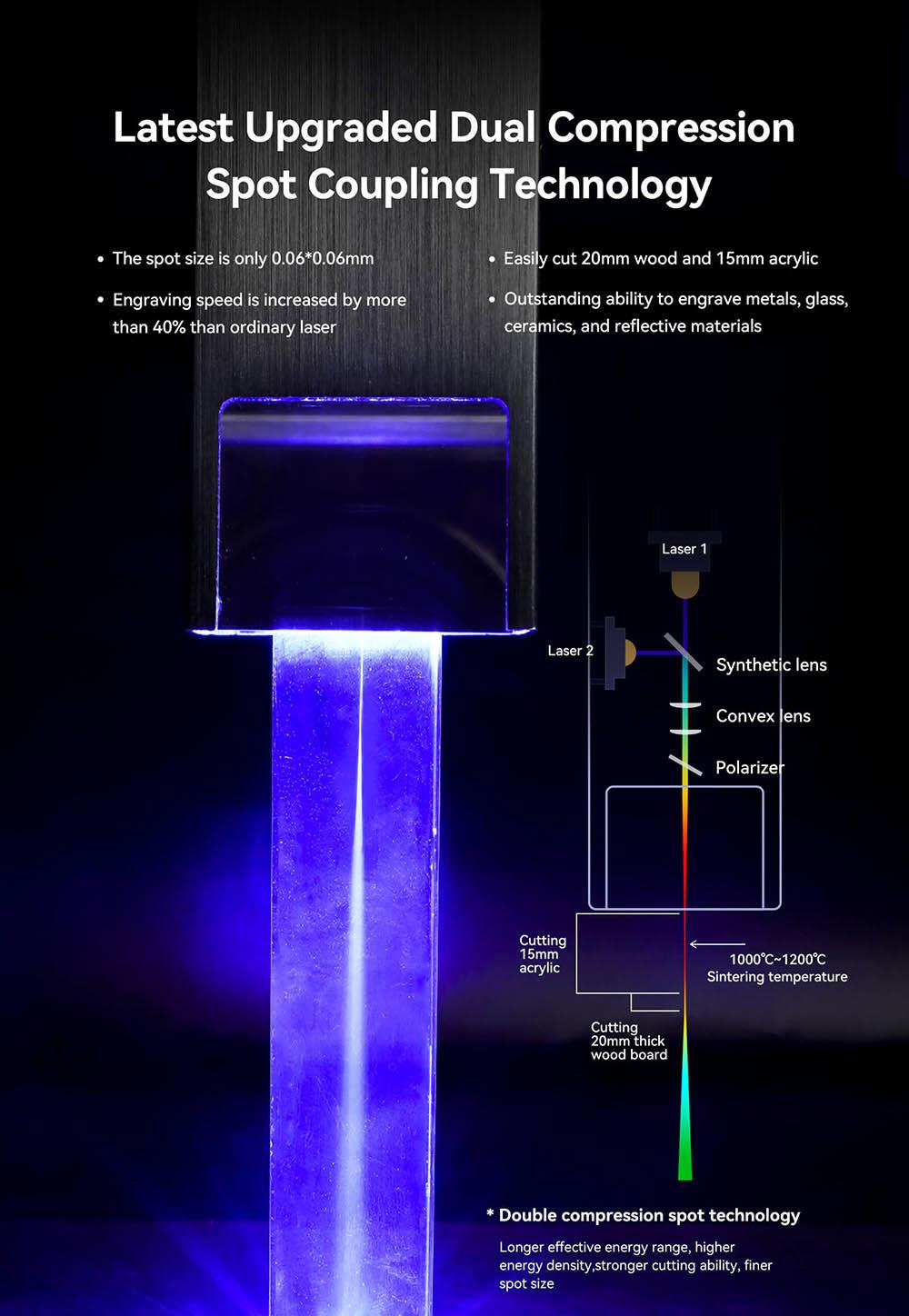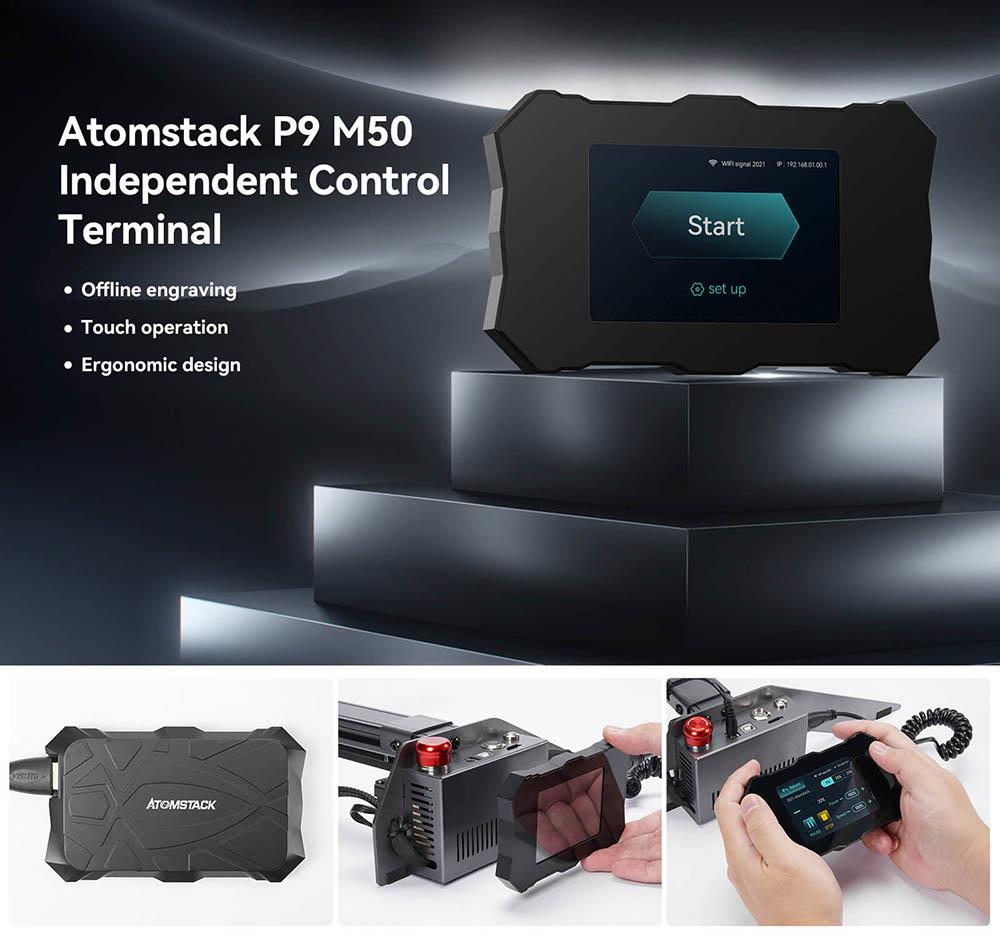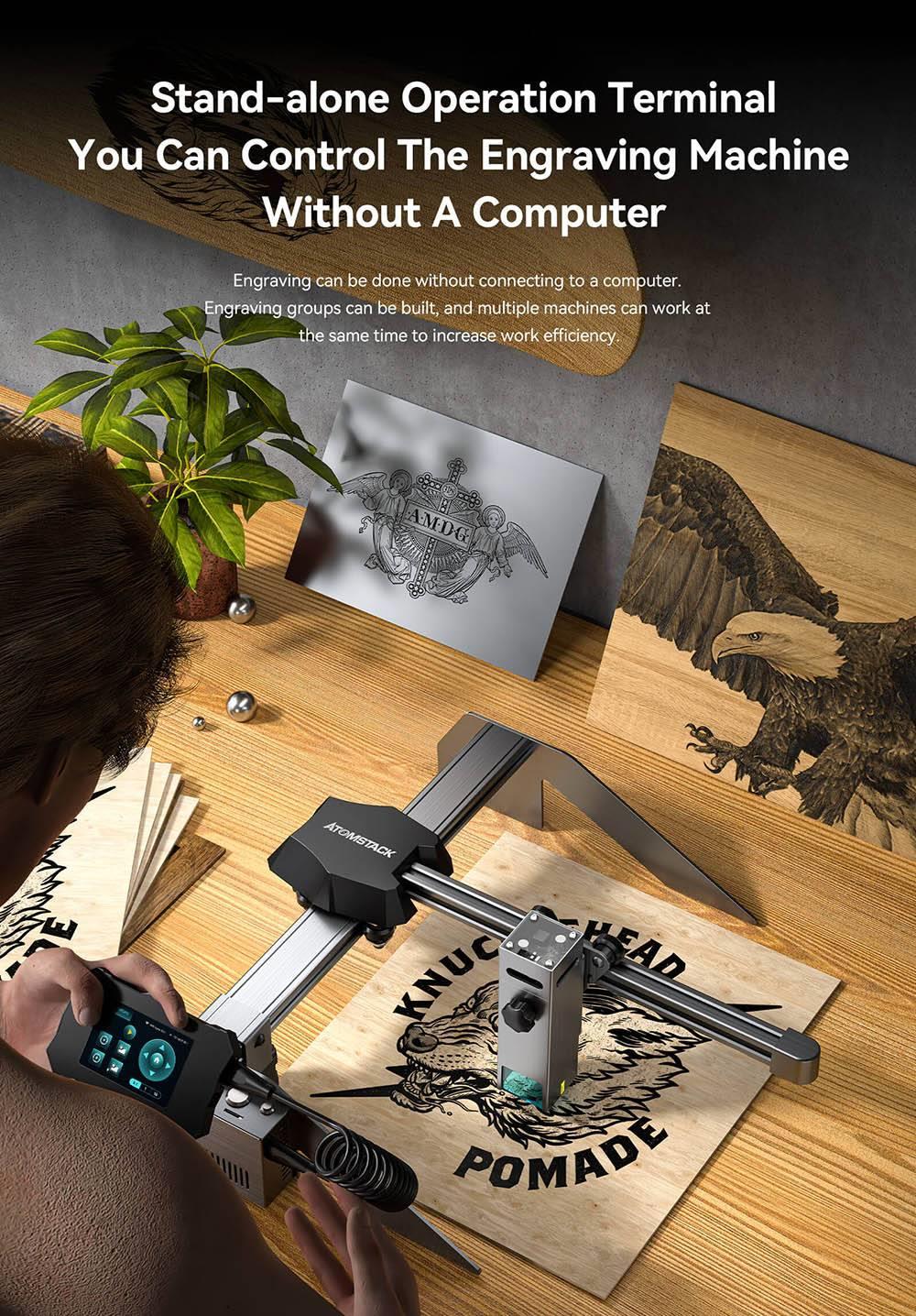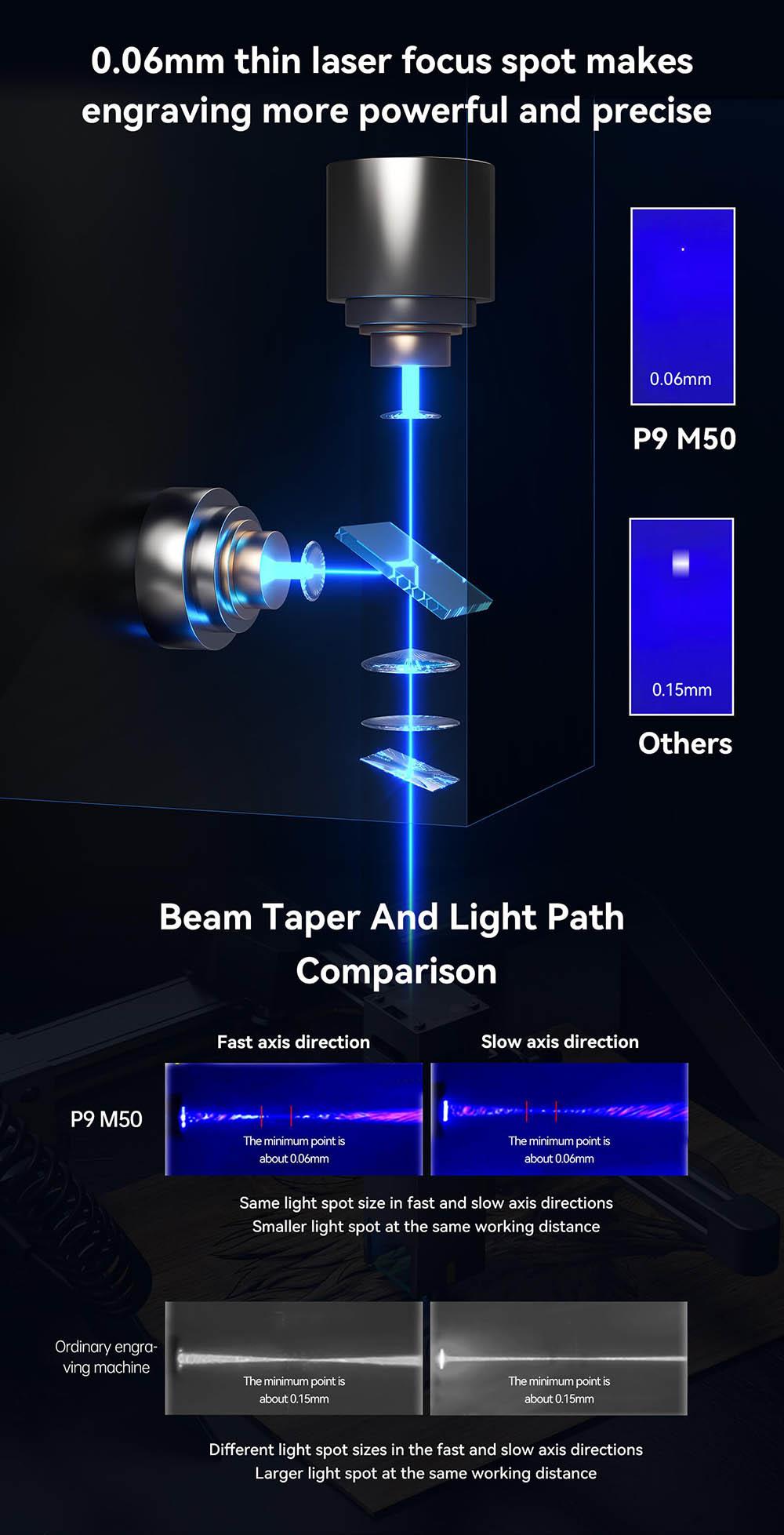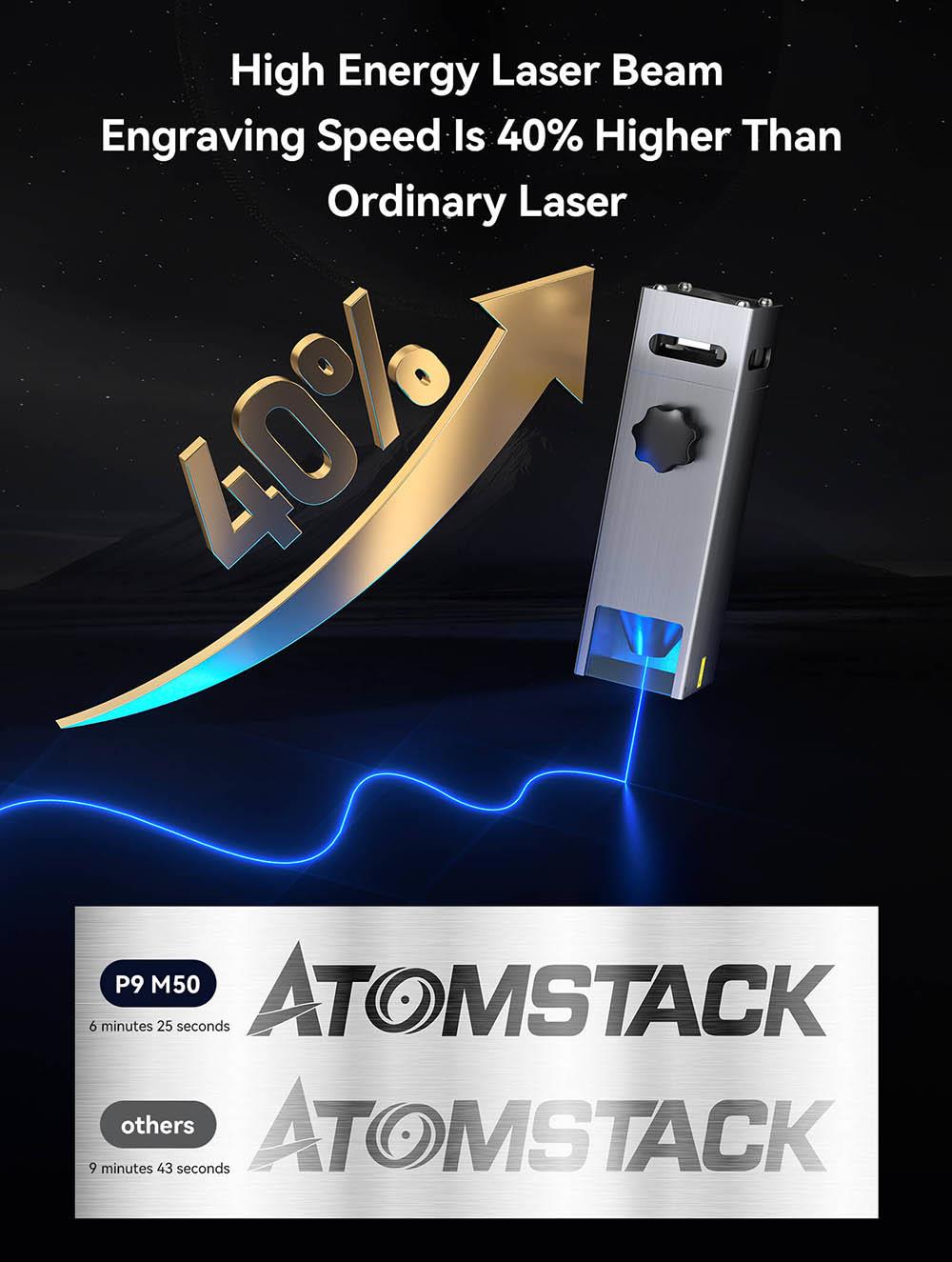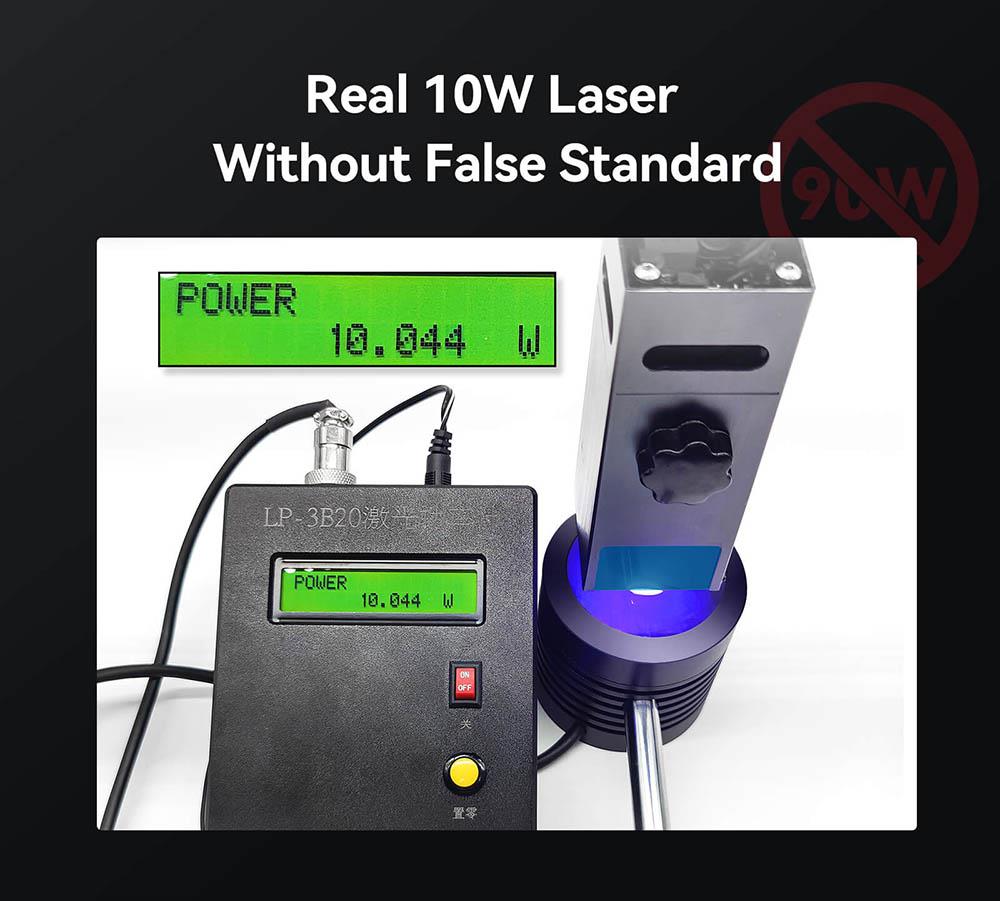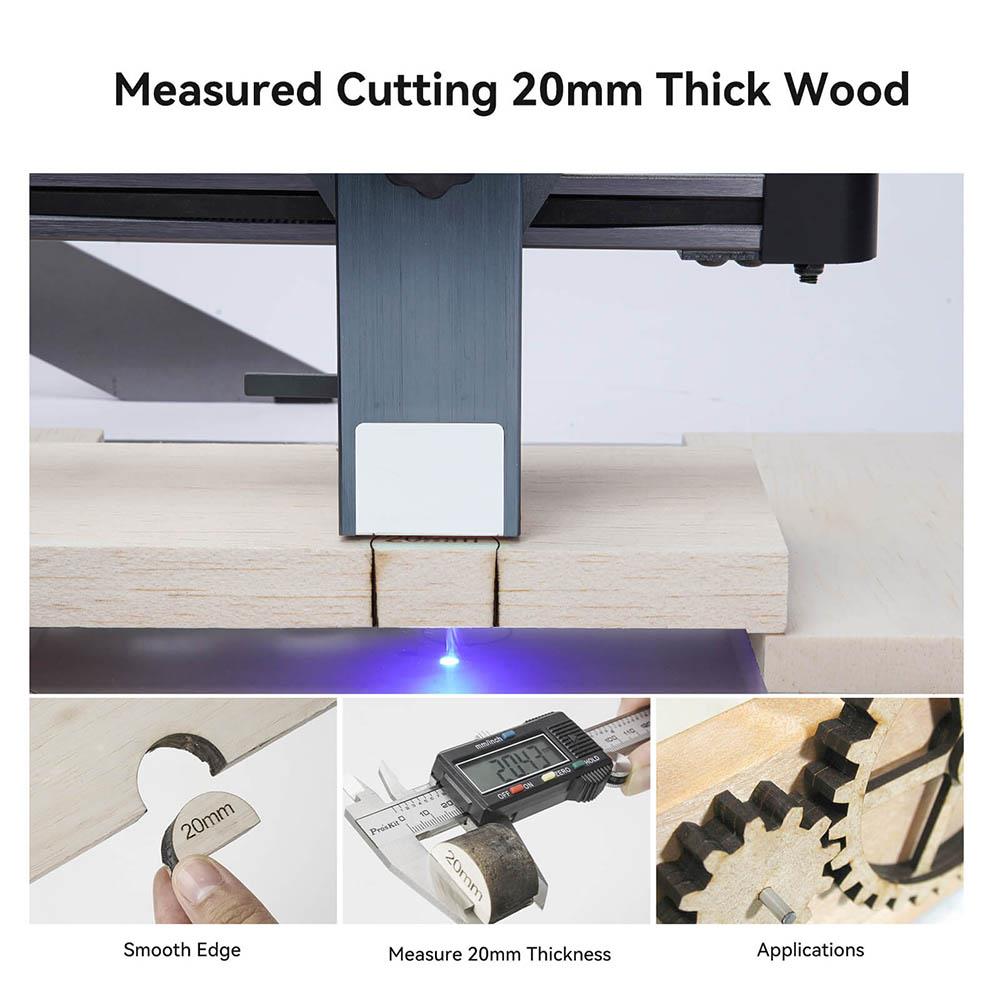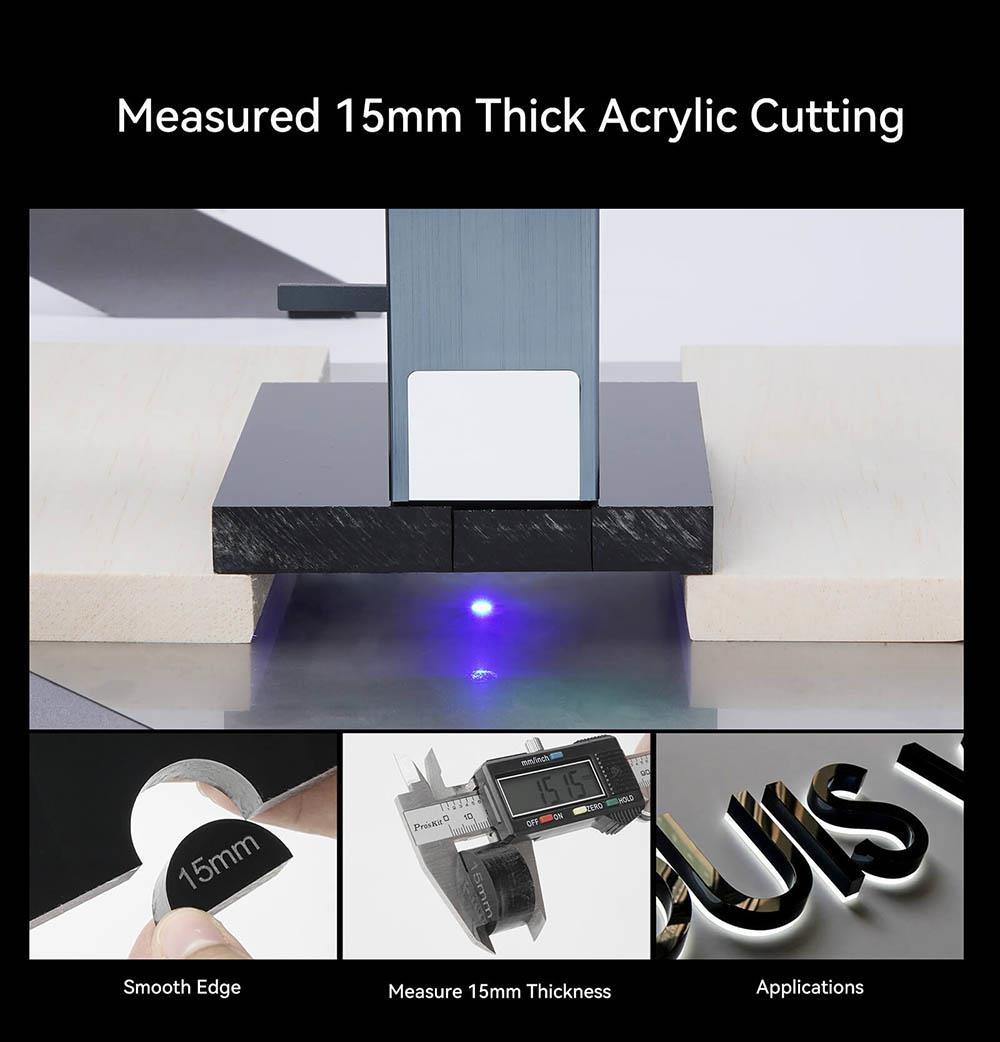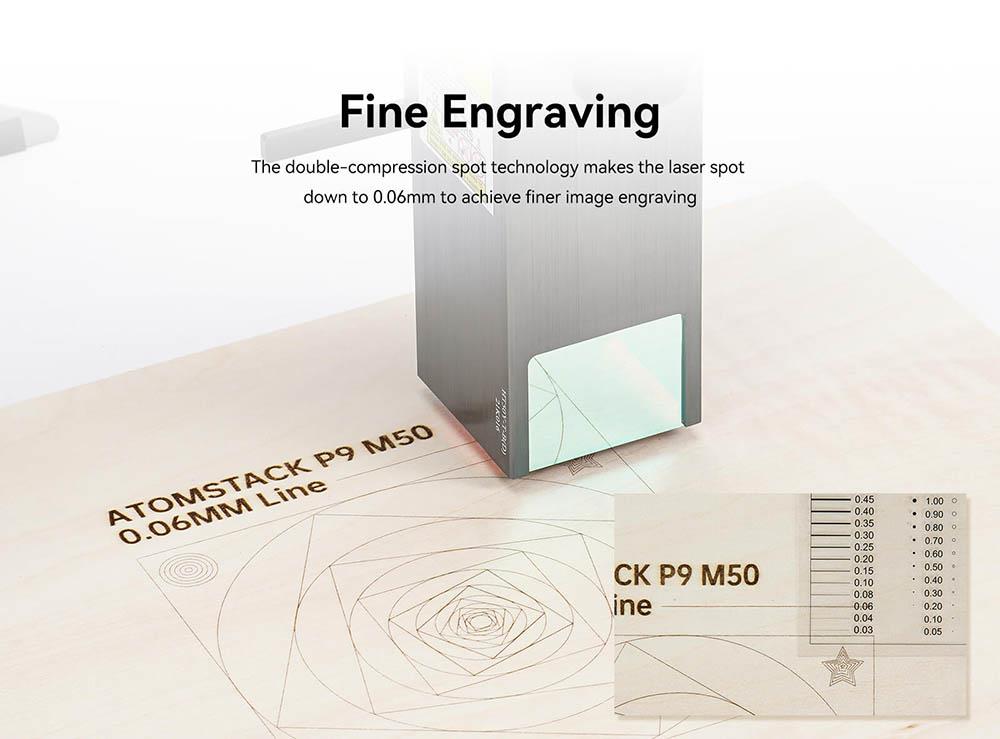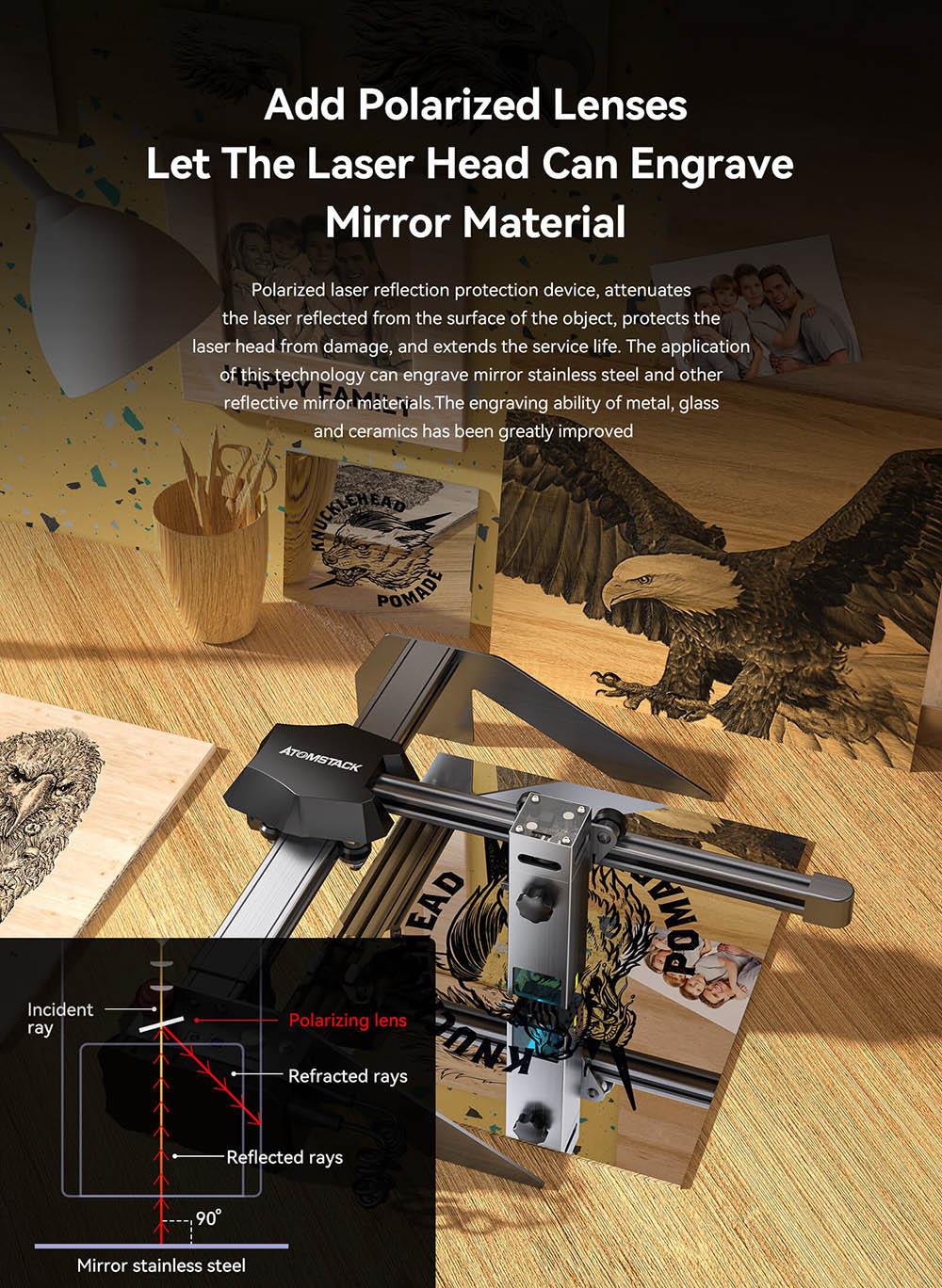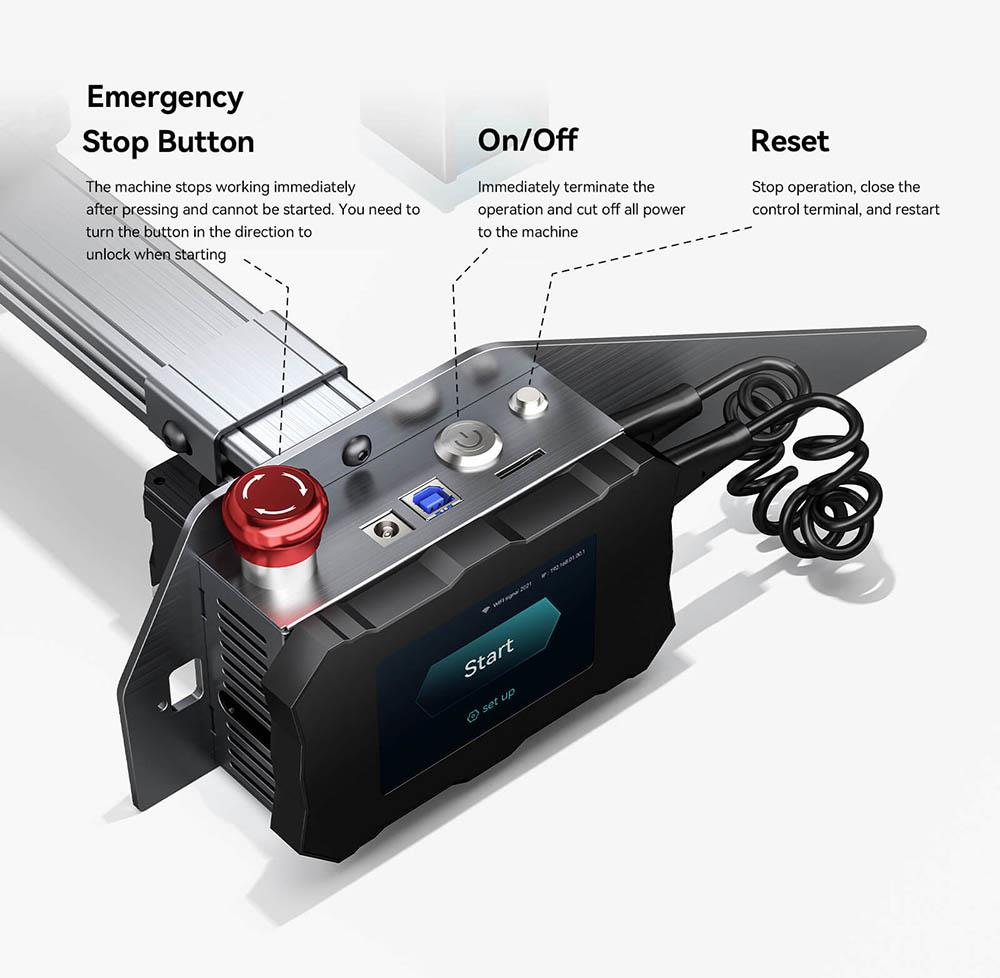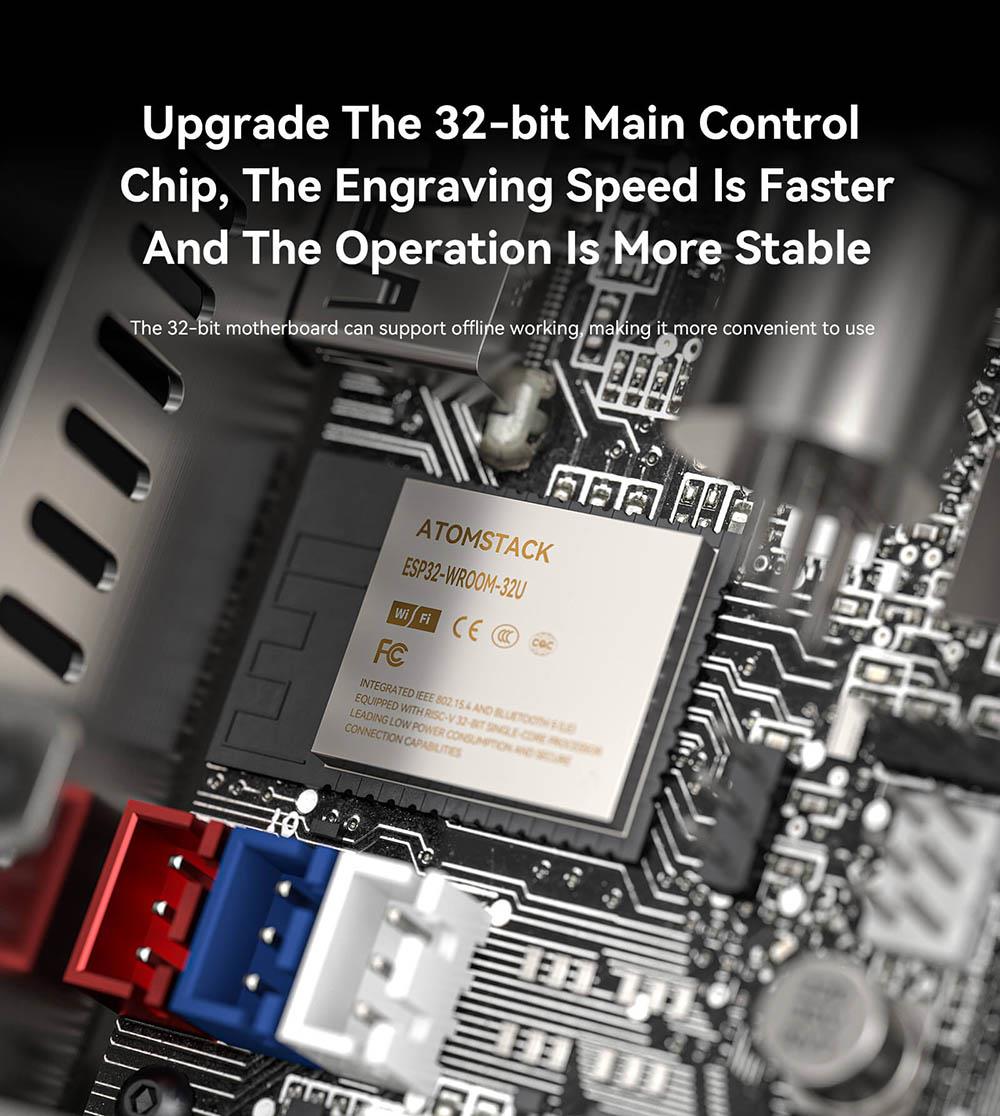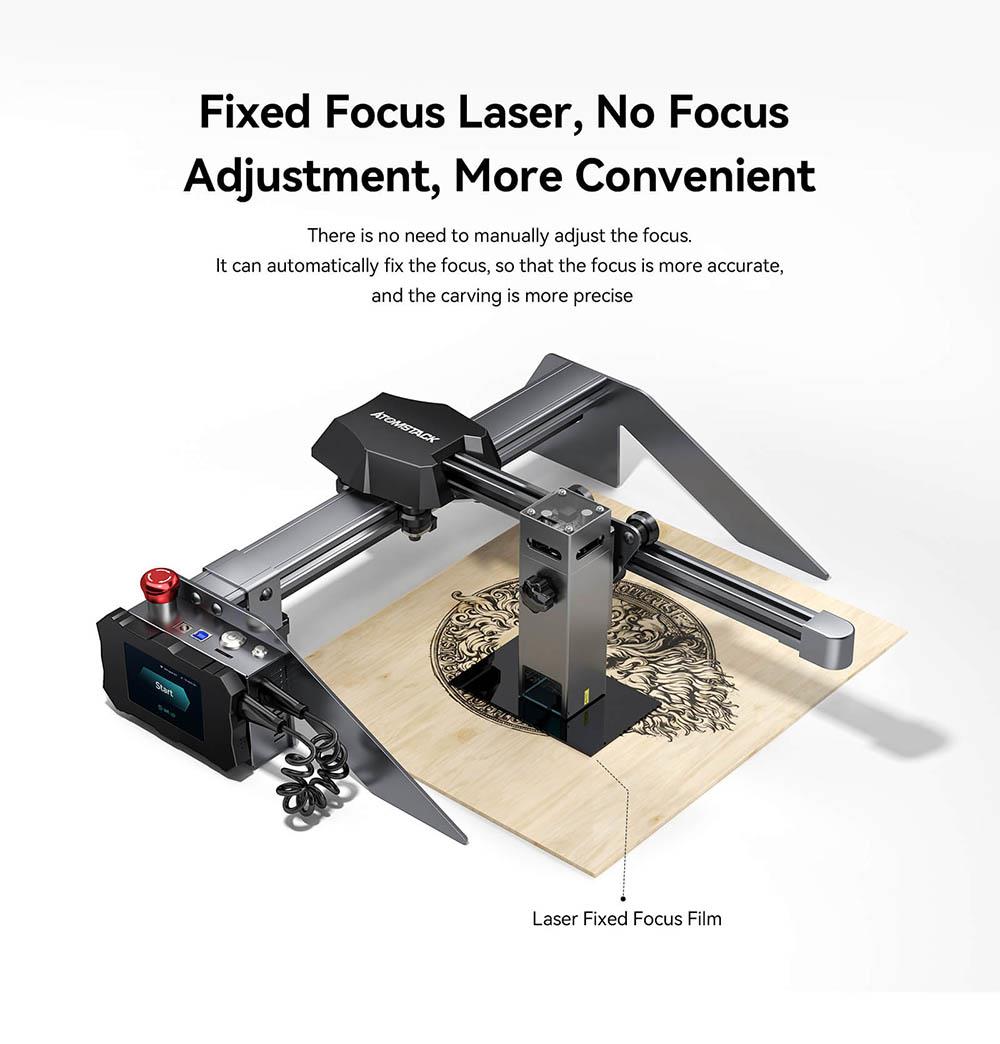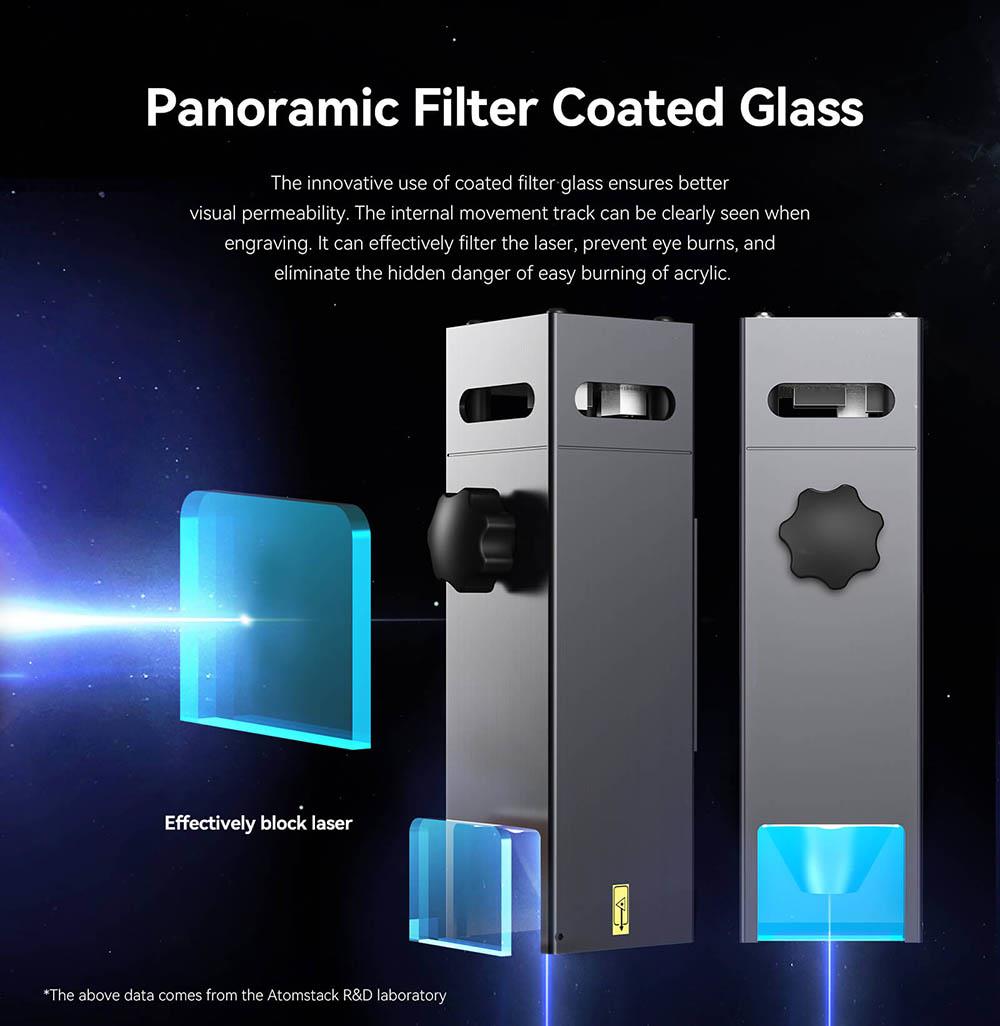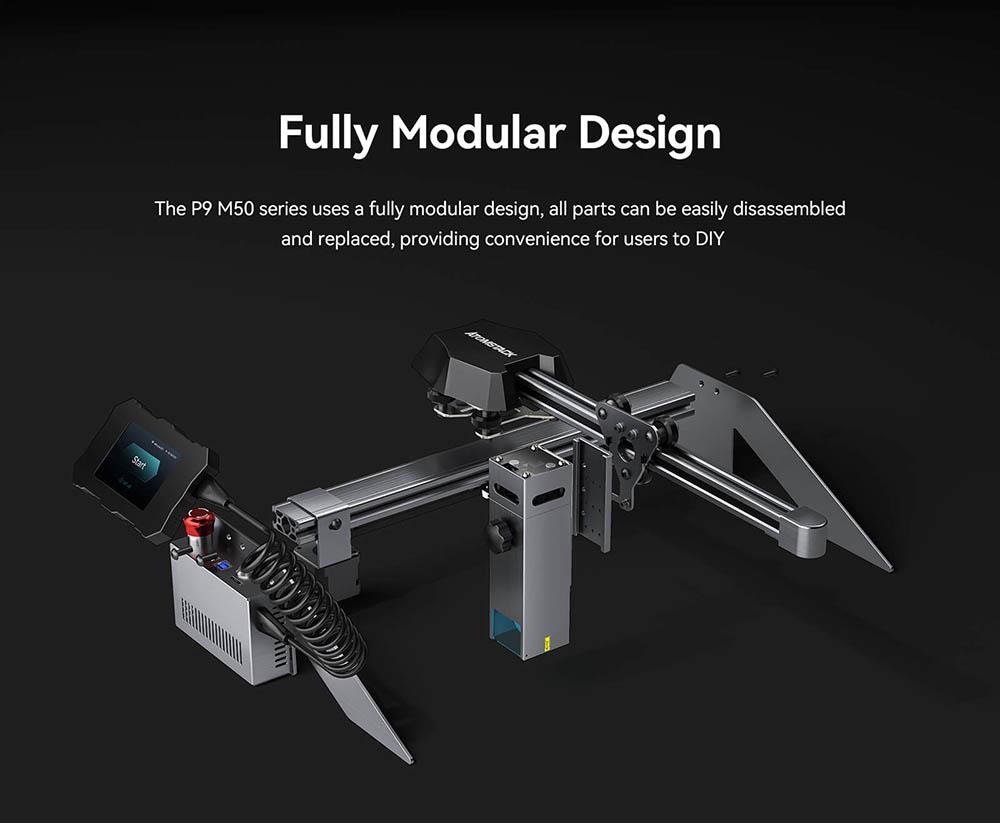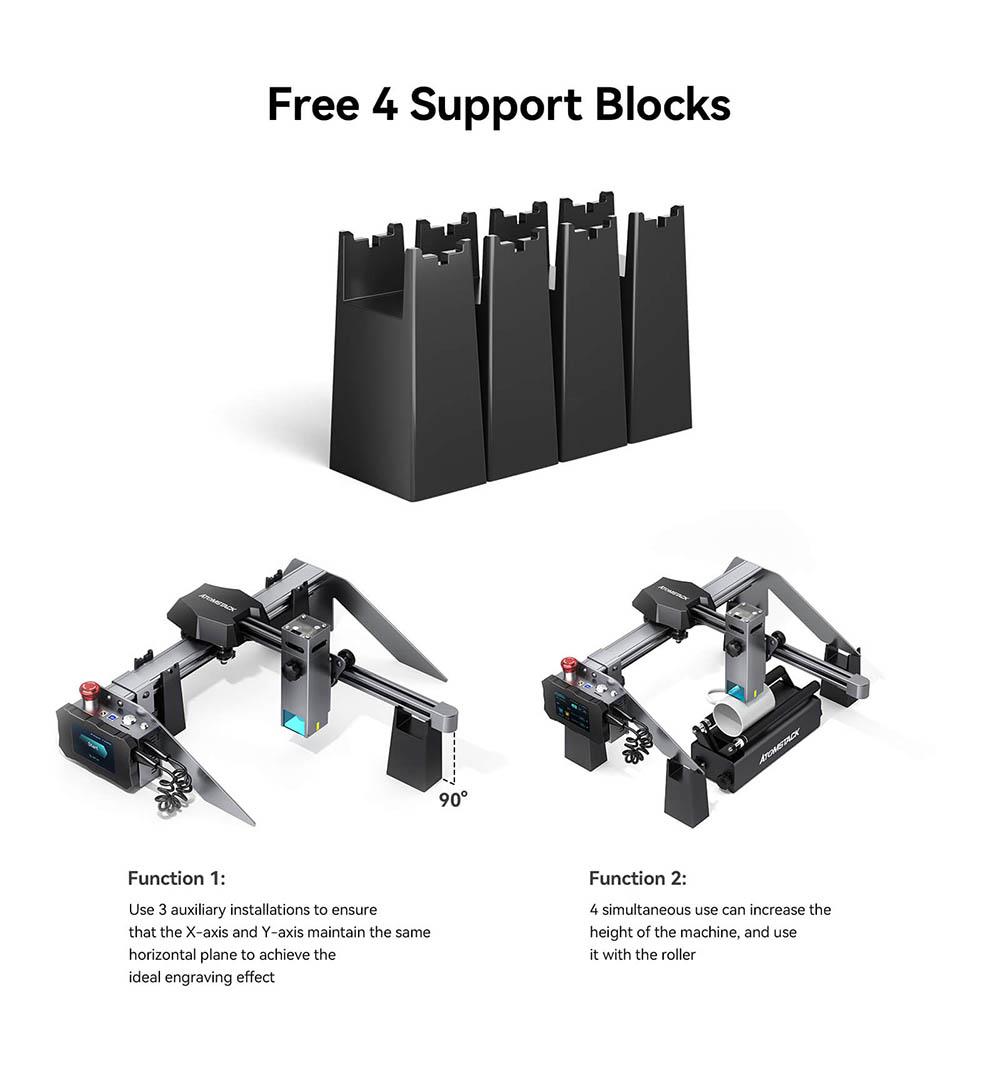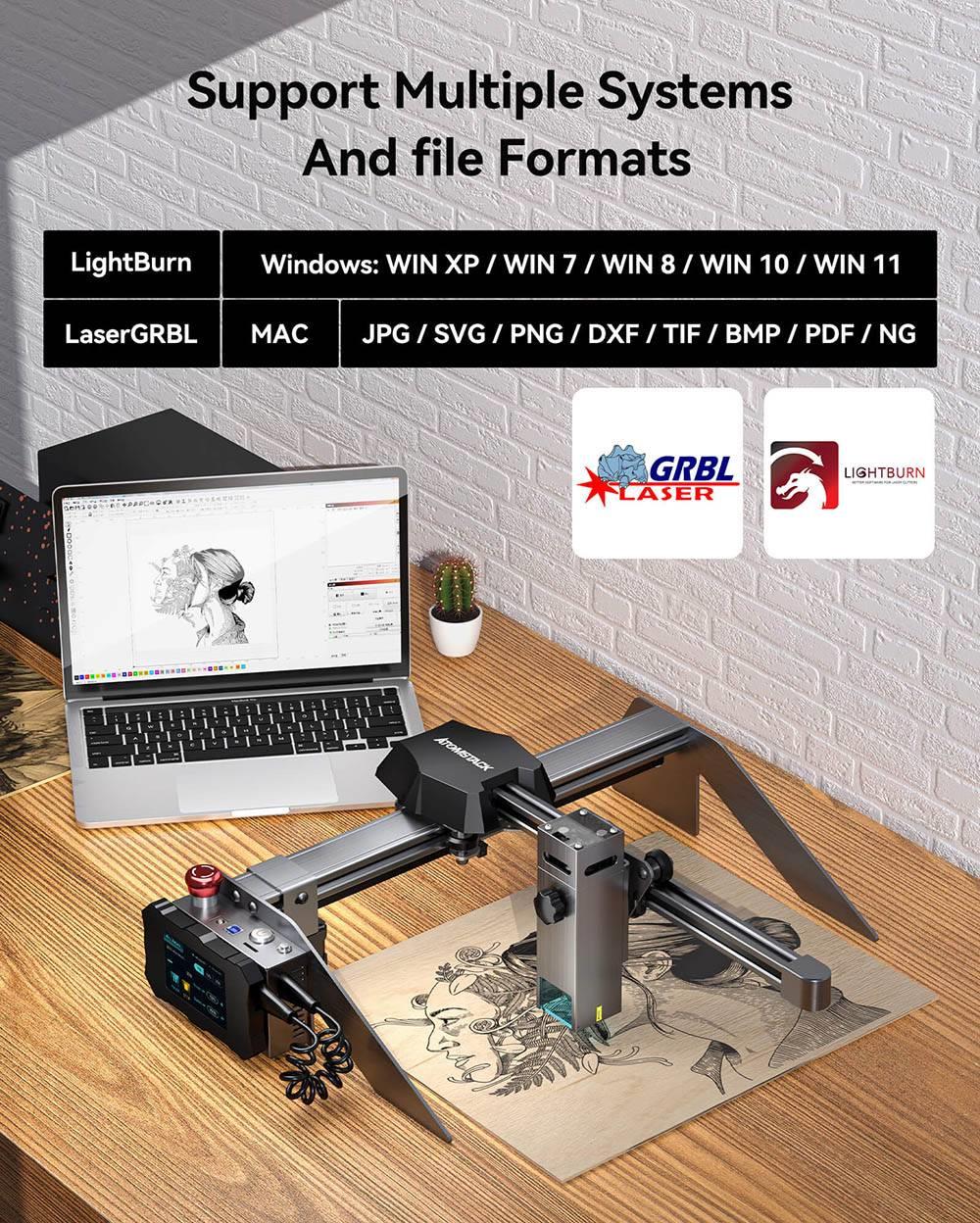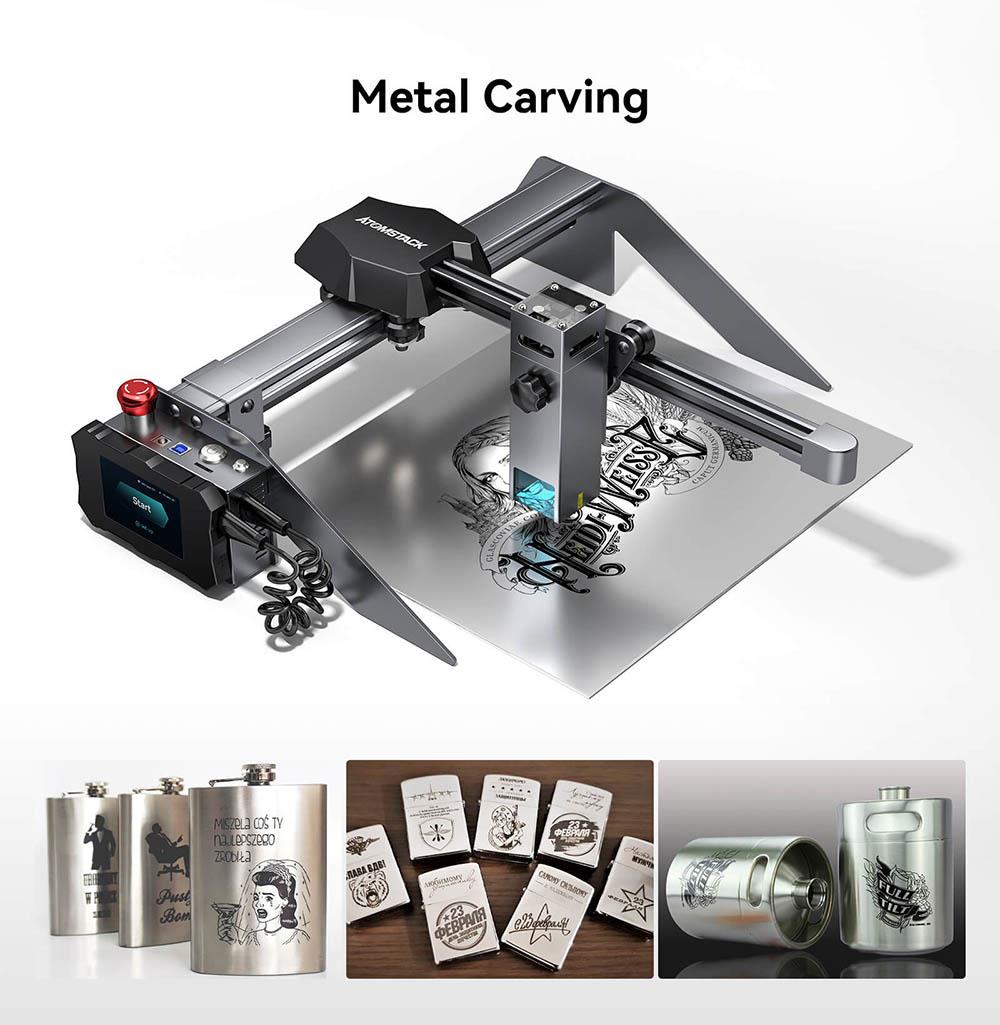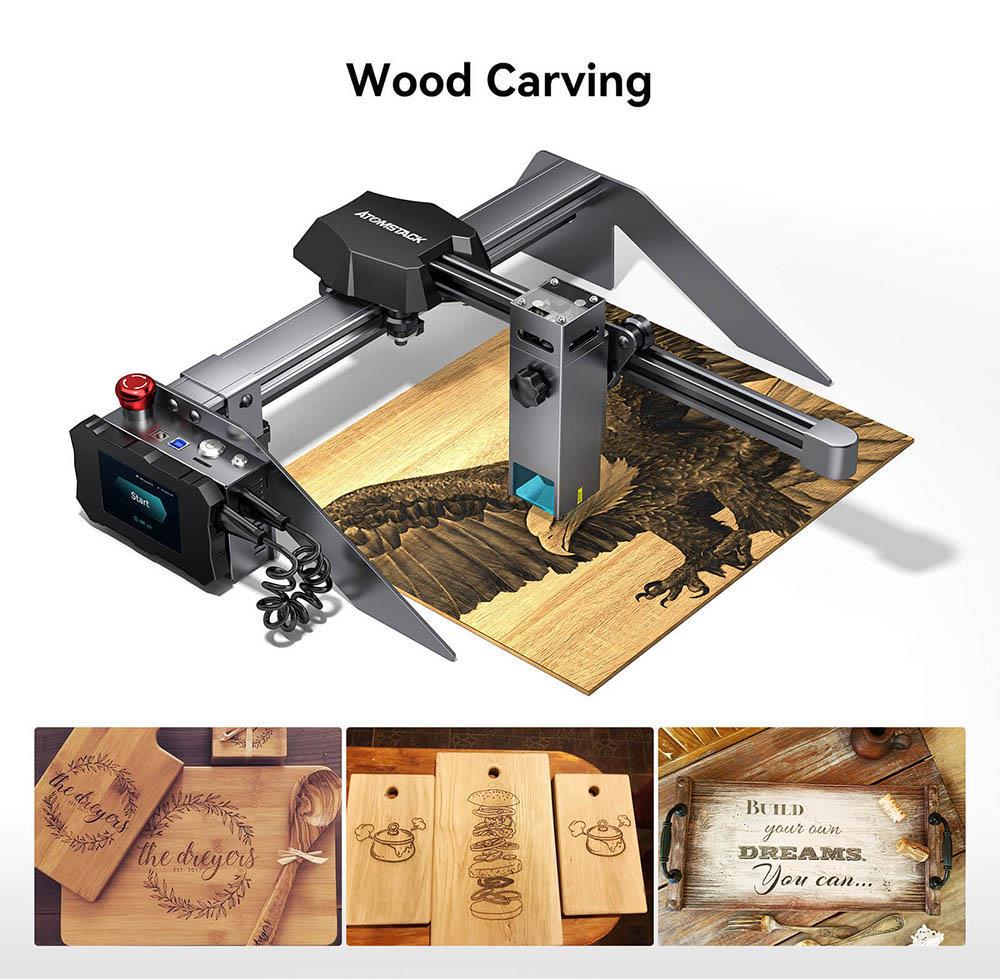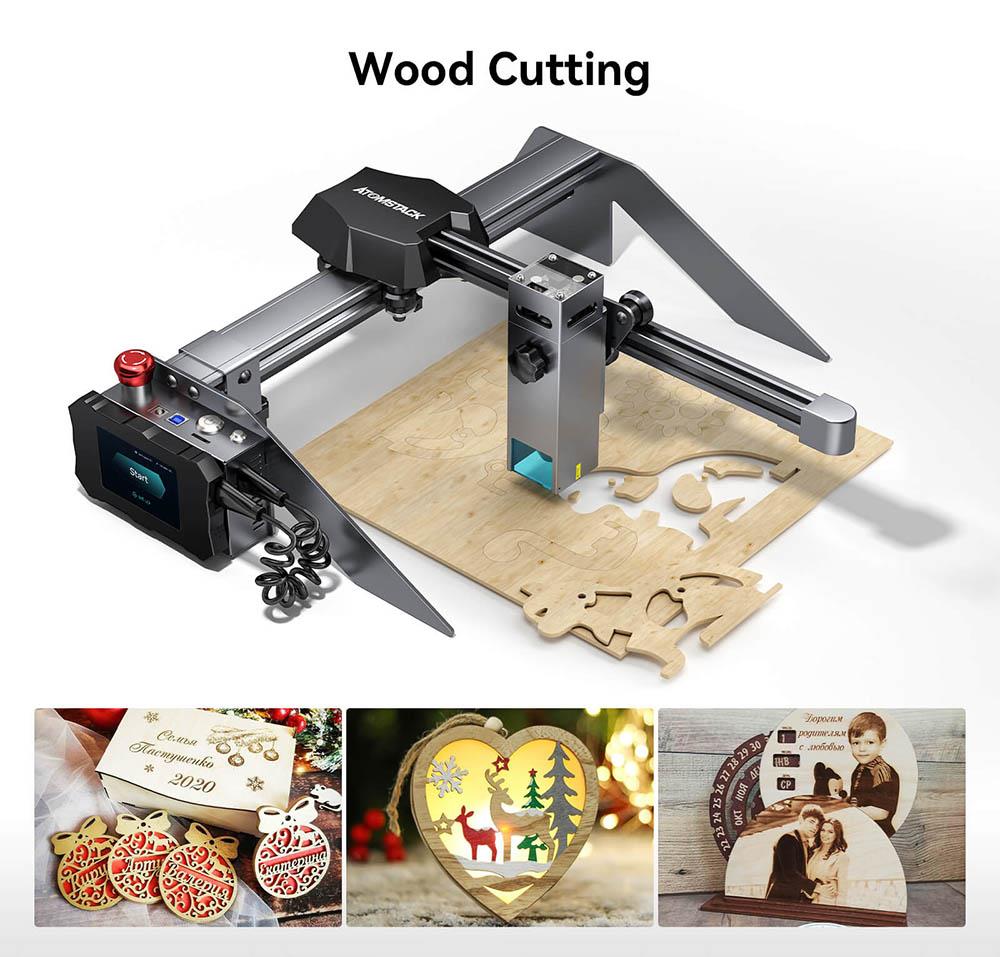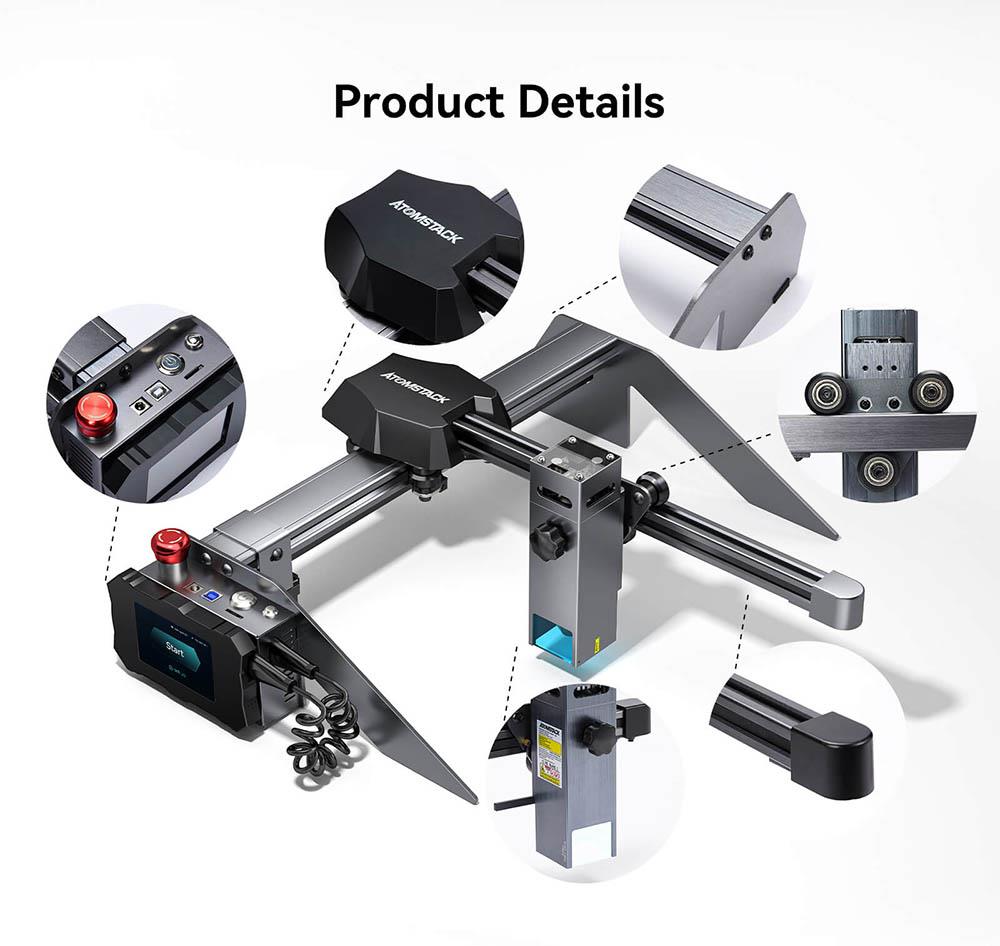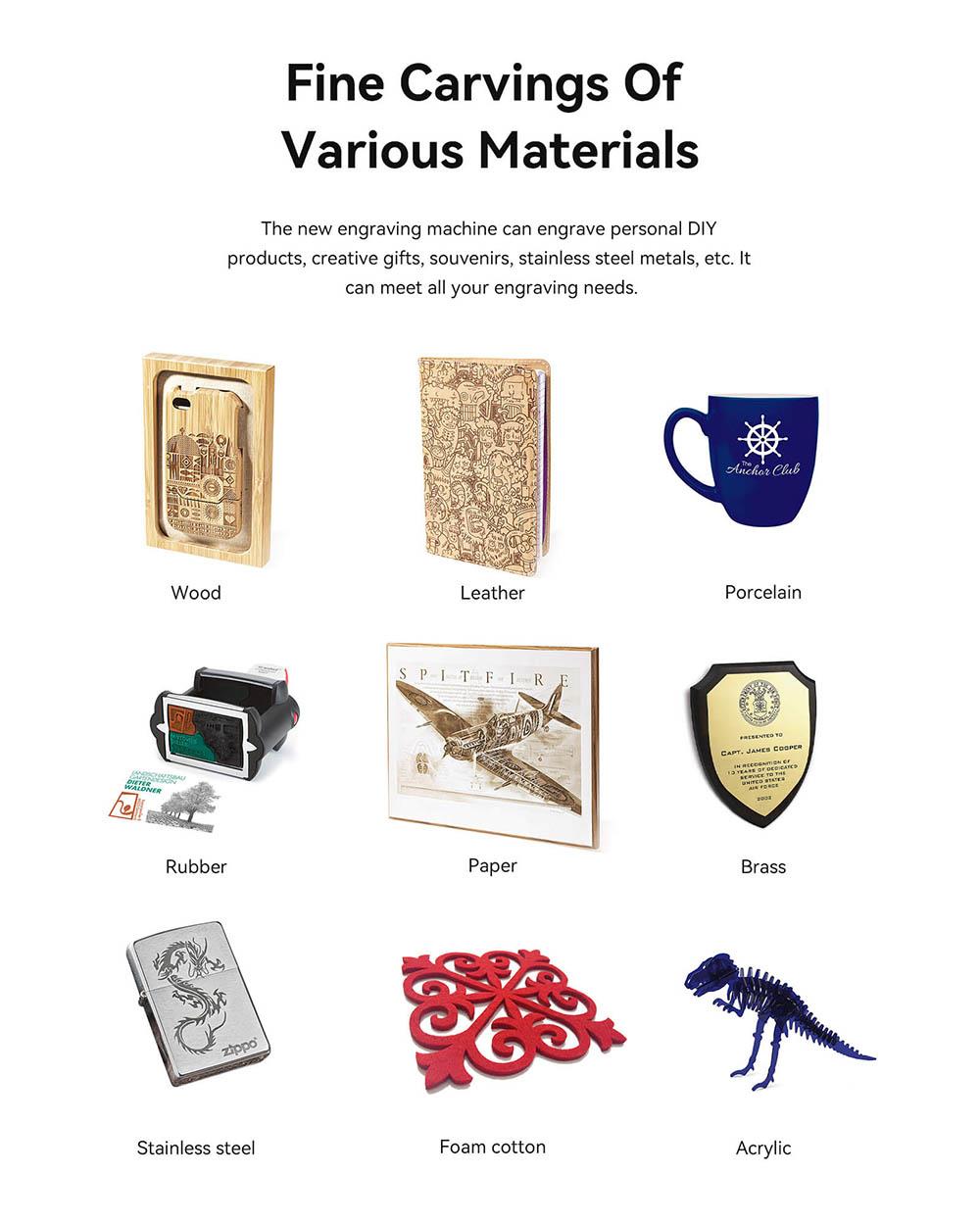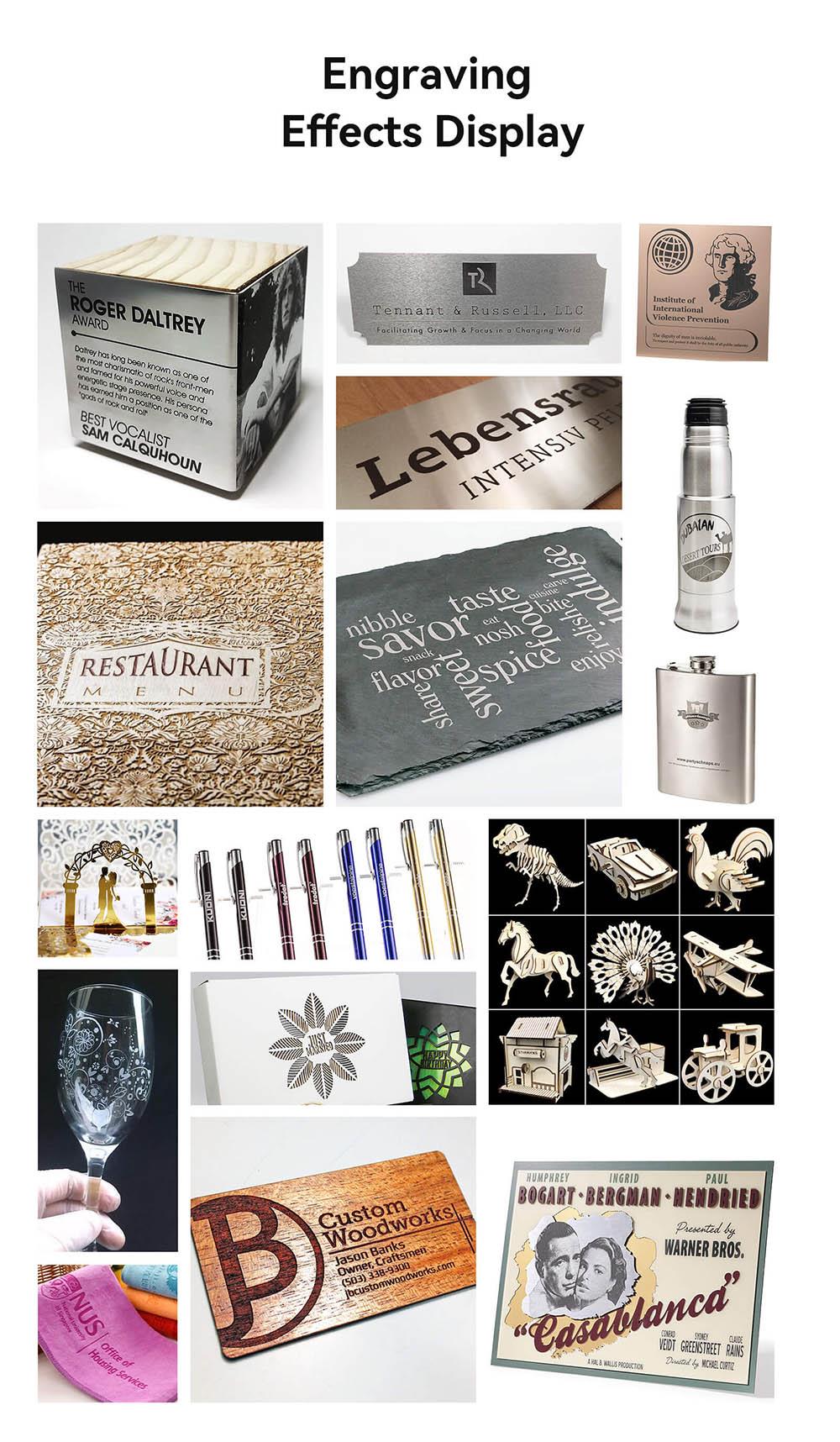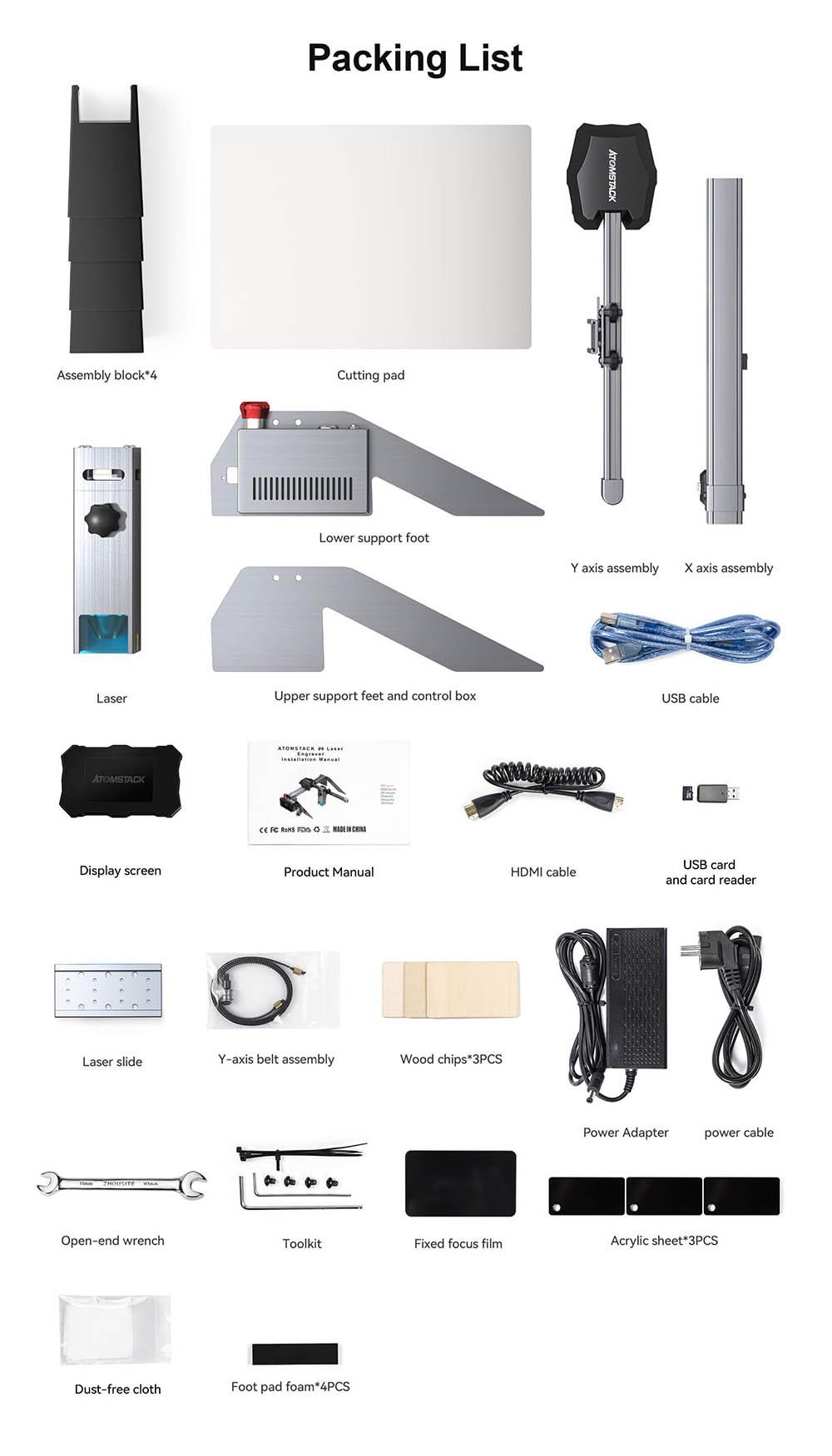 Specification
General

Brand: ATOMSTACK
Type:  Laser Engraving Machine
Model: P9 M50
Color: Black

Specification

Recommend Print Size: 220x250mm
Carving Objects: Wood, Bamboo, Cardboard, Plastic, Leather, PCB Board, Aluminum Oxide, Non-reflective, Electroplating Layer and Paint Surface Layer Metal, 304 Mirror Stainless Steel, Glass, Ceramics, Cotton Cloth, Slate;
Cutting Objects: Cardboard, Non-woven Fabric, Wood Board, Acrylic, Some Thin Plastic Board, Sponge;
Electric Power: 50W
Laser Output Power: 10-11W
Wave Length: 445 +/- 5nm
Engraving Accuracy: 0.01mm
Focusing Method: Fixed Focus Laser, No Need to Focus
Laser Protective Cover: Protect the user's eyes and prevent pets from grabbing the laser spot.
Operating Software: LaserGRBL, LightBurn, support Win XP / Win 7 / Win 8 / XP / Win 10 system.
Input Format: NC, BMP, JPG, PNG, DXF, etc.
Data Transmission Method: USB Connection/SD Card
Input Voltage: AC100-240V, 50/60Hz
Output Voltage: DC12V, 5A

Weight & Size

Product Weight: 3.5kg
Package Weight: 4.3kg
Product Size(L x W x H): 45.8×44.5×13.9cm
Package Size(L x W x H): 48.1×26.7×14.5cm

Package Contents                

1 x Screw parts (Step2/3/4/5)
1 x Dust-free cloth
1 x Tool kit
1 x Fixed focus film
3 x Acrylic sheet
3 x Wood chips
1 x Card reader
5 x Cable tie
1 x Accessories package
1 x Display assembly
1 x Display cable
1 x Power adapter
1 x Power cable
1 x Data line
1 x Metal cutting pad
1 x Laser assembly
1 x X-axis assembly
1 x Y-axis assembly
2 x Support tripod
4 x Assembly block
1 x Desiccant
1 x User Manual
$("#Description img.product_lazy").lazyload({
effect: "fadeIn",
threshold: 240,
event: "scroll"
});