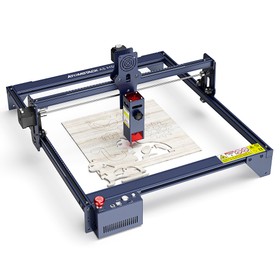 Highlights
Quadruple Lens Double Compression Spot
The A5 M50 laser cutter and engraver machine feature quadruple lens compression technology, 5-5.5W optical power, and fixed focus compressed spots. The spot is smaller and the energy is more concentrated, which can create more refined engraving products. It can not only engrave but also cut 0.8-inch wood and 0.6-inch acrylic.
Support Offline Engraving
A5 M50 laser cutter and engraver machine configures the terminal control panel, supports offline engraving, and with an emergency stop button. After you install the software and upload the file, you can carry out engraving work anytime and anywhere without being restricted by the computer.
Wide Applicable Materials
It can engrave on wood, bamboo, paper, plastic, leather, PCB board, aluminum oxide, non-reflective plating, lacquered metal, and ceramics. You can engrave your own logo for your favorite items.
Perfectly Compatible System
A5 M50 laser engraving machine can be compatible with LaserGRBL or LightBurn. You can also use the Atomstack APP to control it on your phone.
Smart Limit Switch Design
Limit switches are installed on both X-axis and Y-axis. When the engraving machine stroke is at its maximum, the limit switch will be automatically triggered to protect the laser and avoid collisions.
Eye-protection Flame-retardant Filter Panoramic Glass
The flame-retardant filter panoramic glass can filter 97% of the ultraviolet light, which plays a very good role in protecting your eyes. You and the people around you do not need to wear goggles, you can also clearly watch laser engraving.
Easy Assembly
Everything is neatly packaged and the smaller pieces are pre-separated into steps that match the instructions. Each assembly step has its own separate package of fittings used in that step. all parts are marked with steps so there is no confusion. The entire setup was about 30 minutes.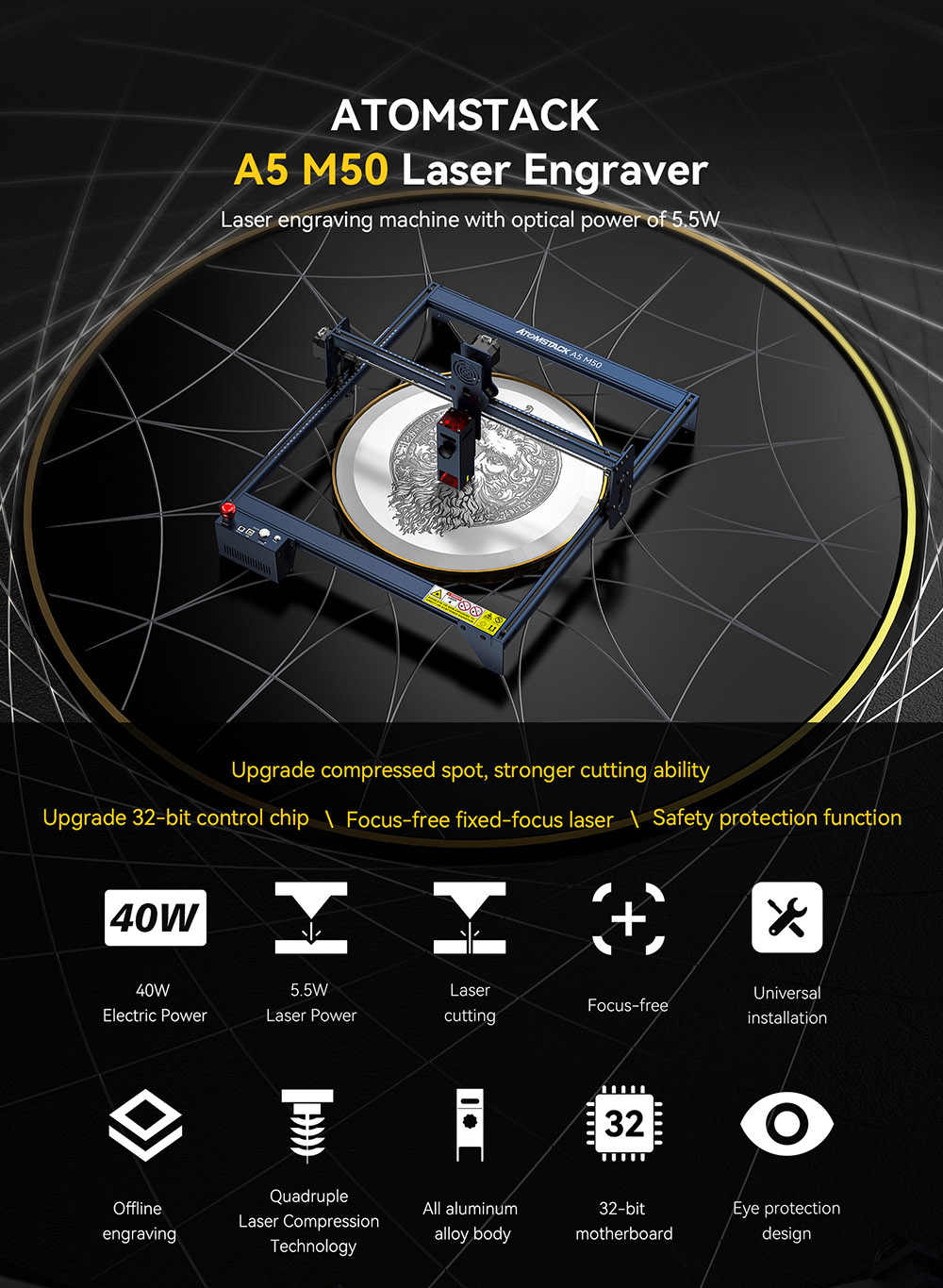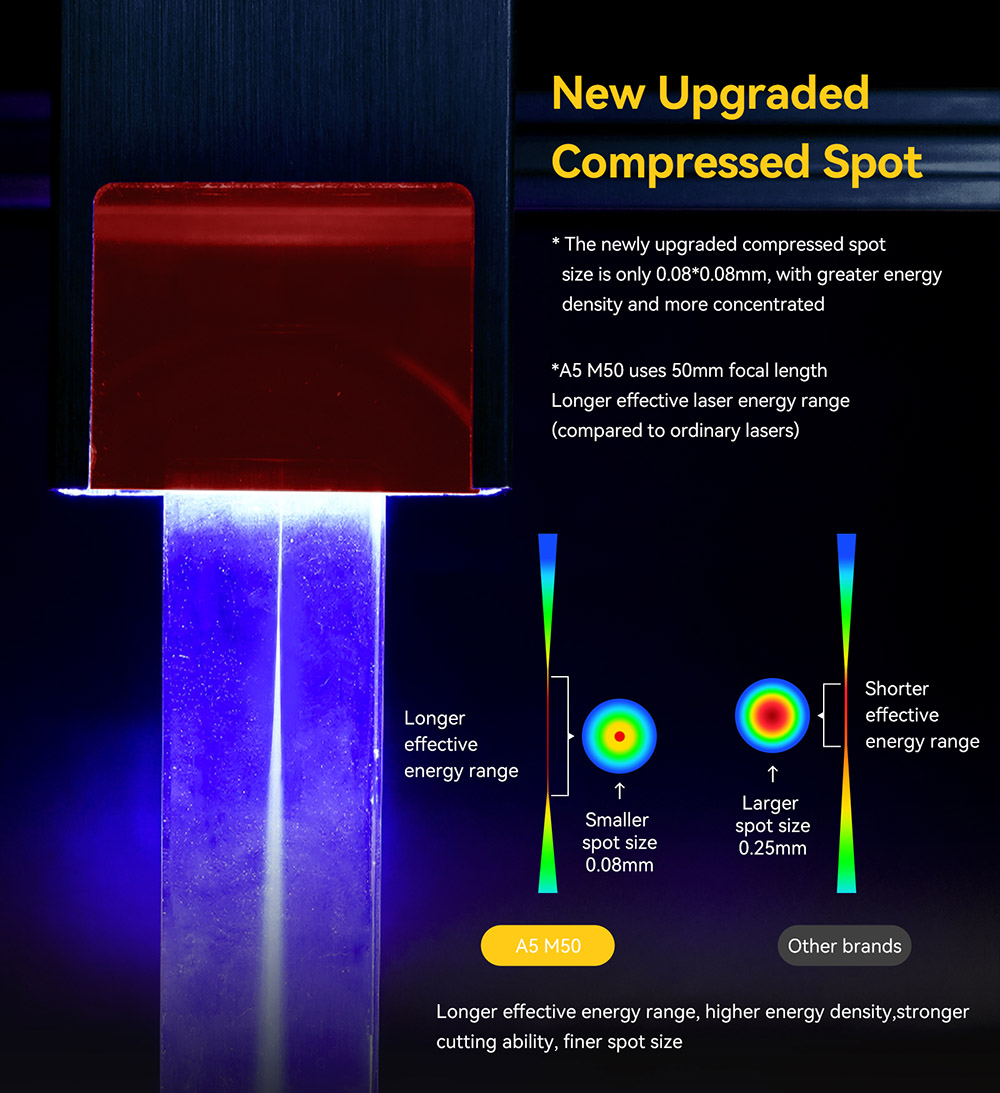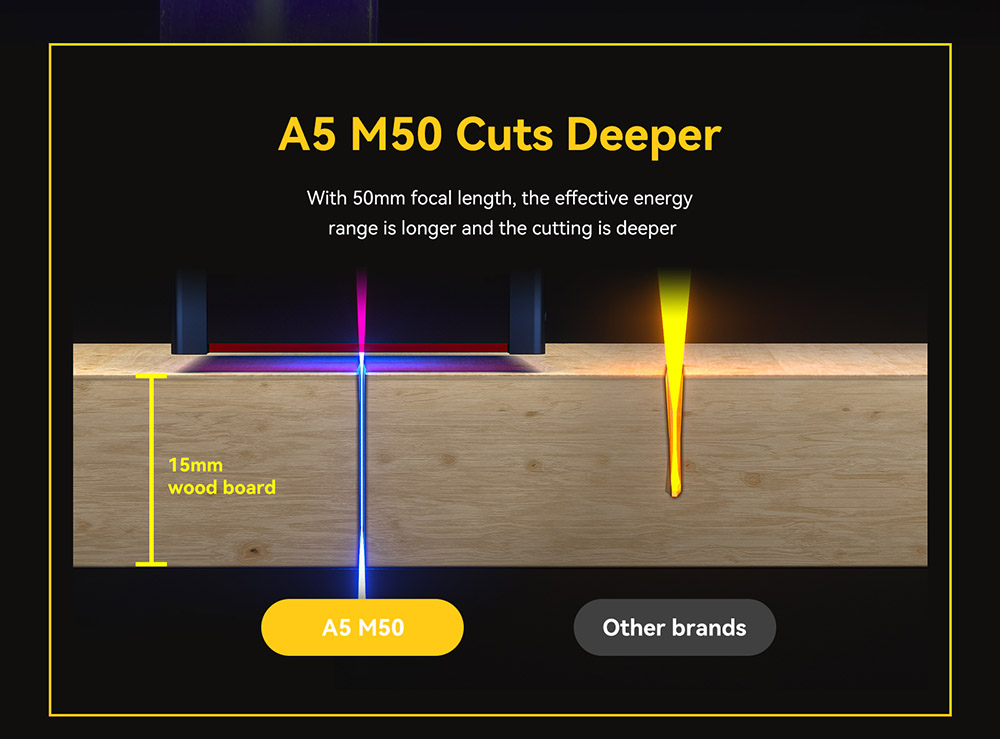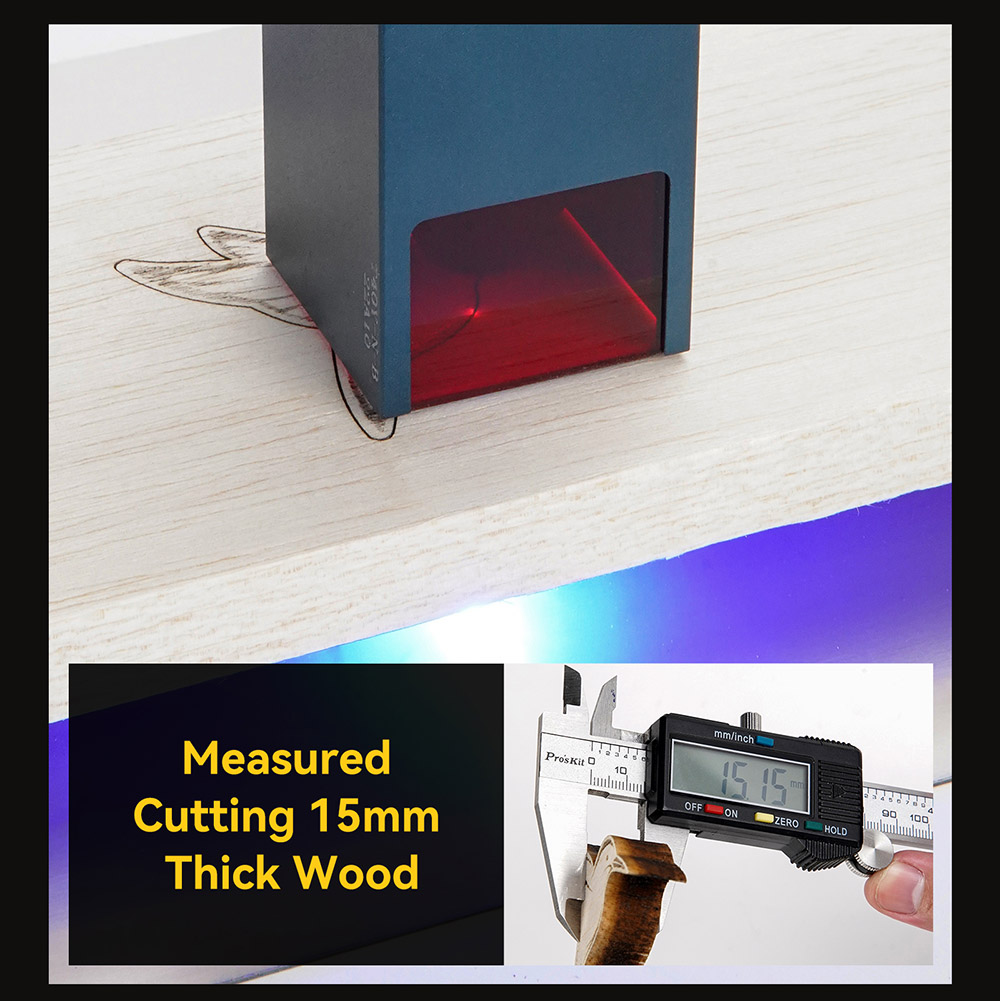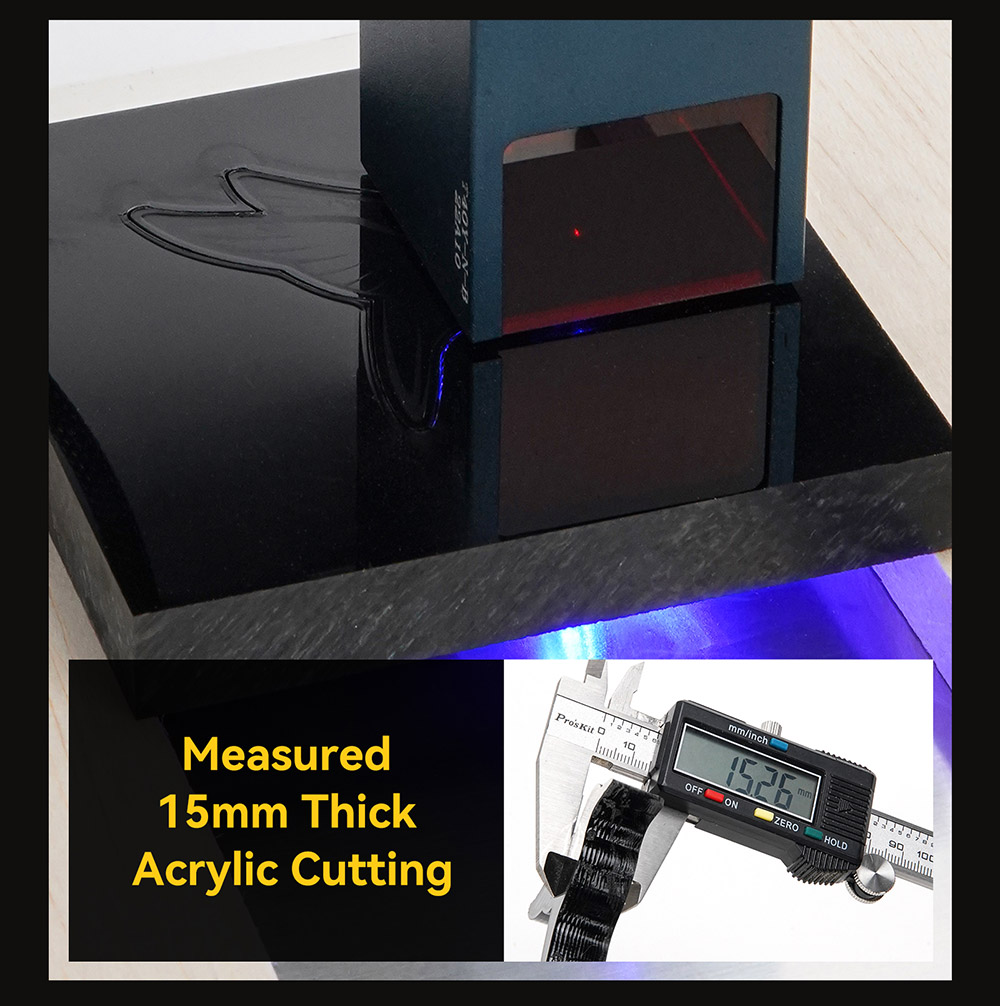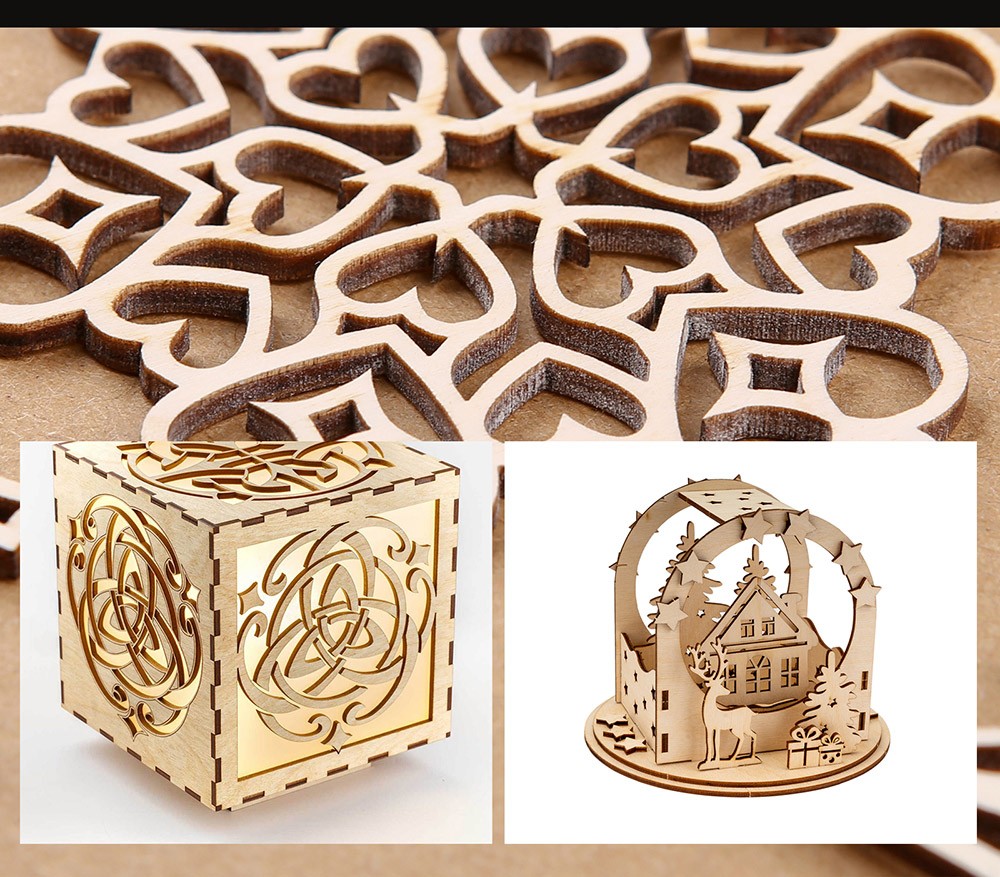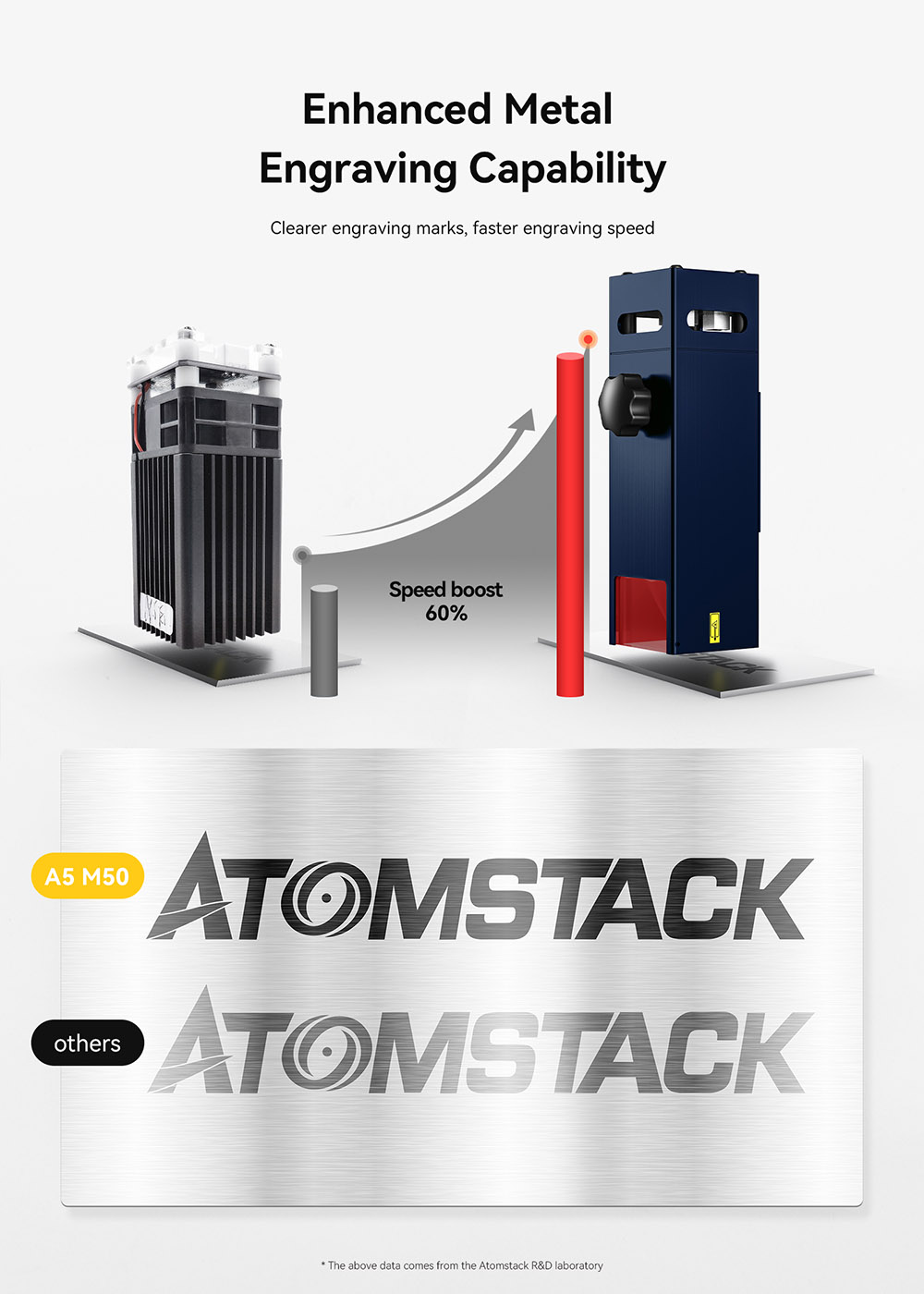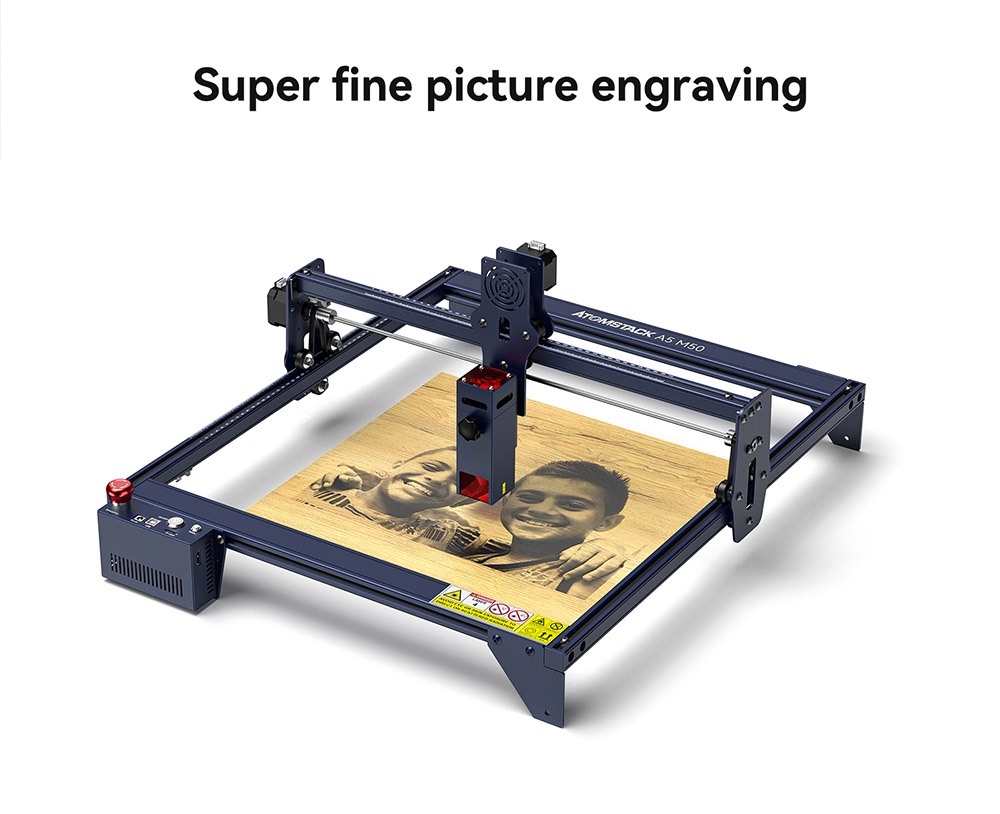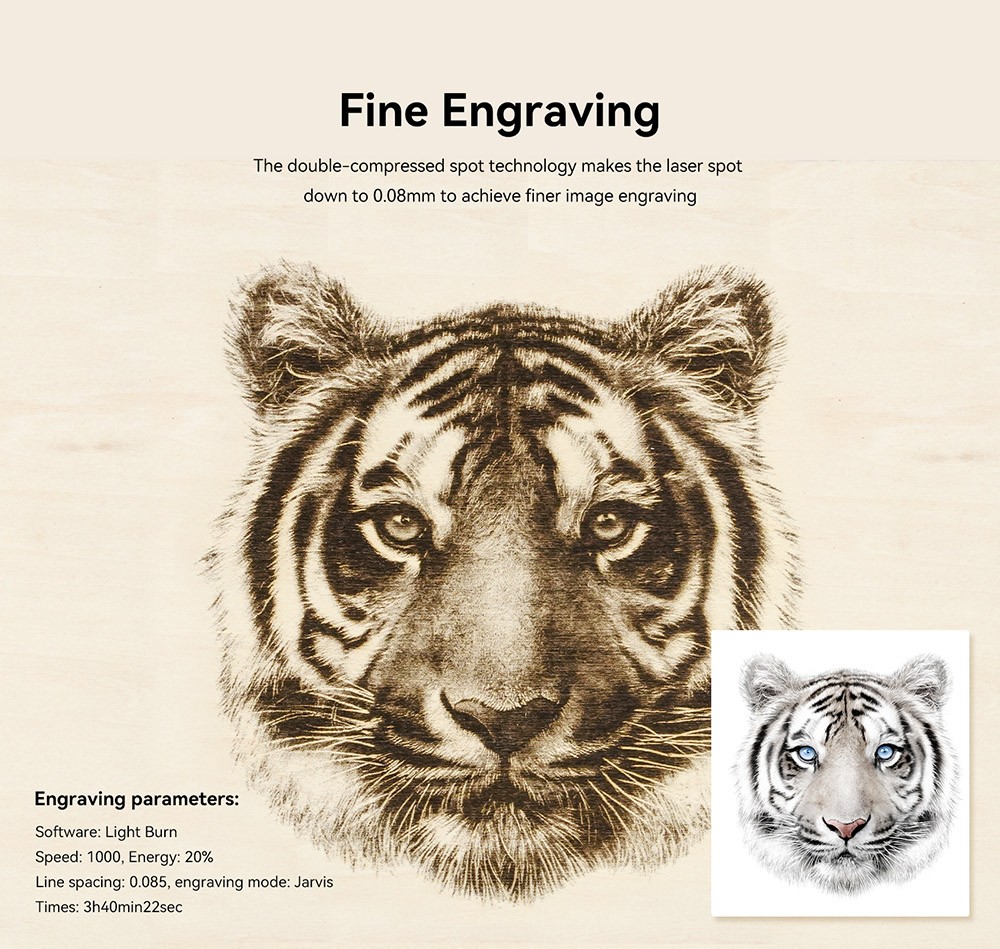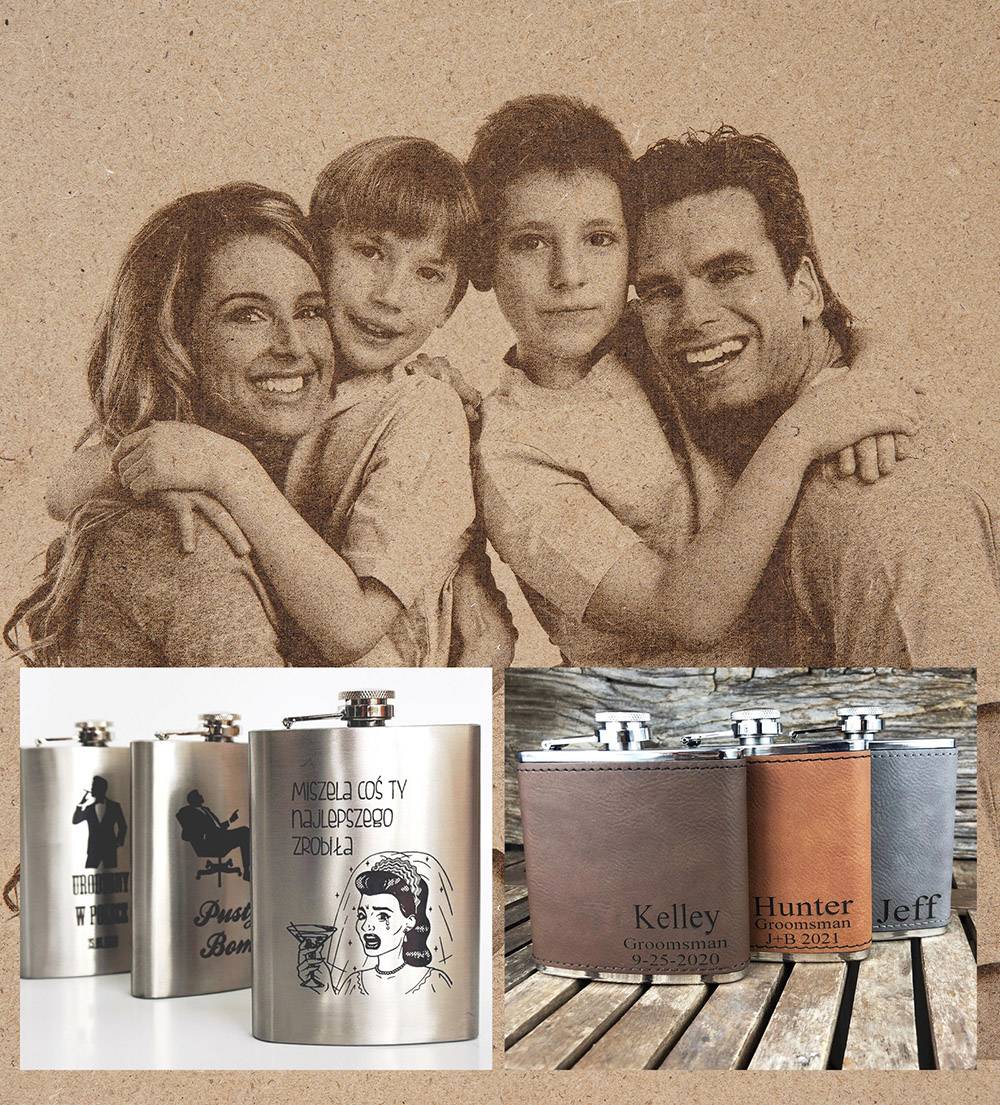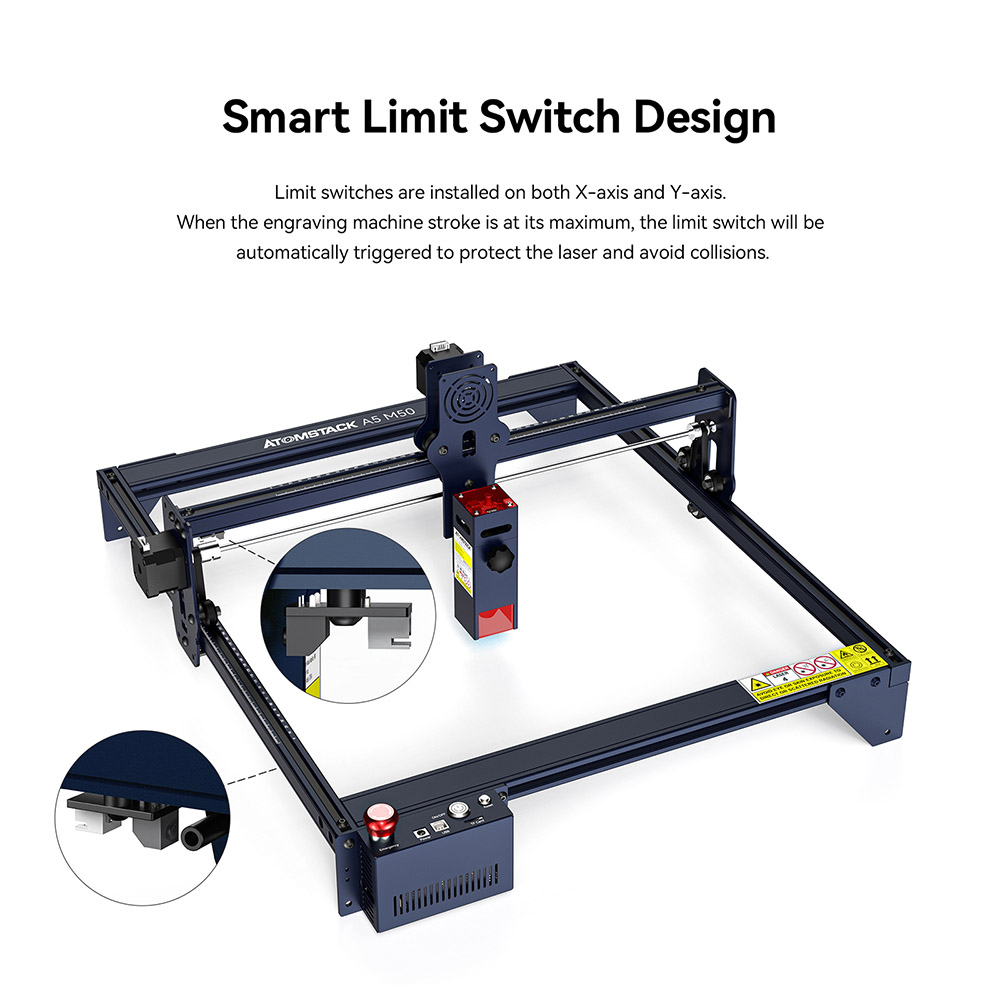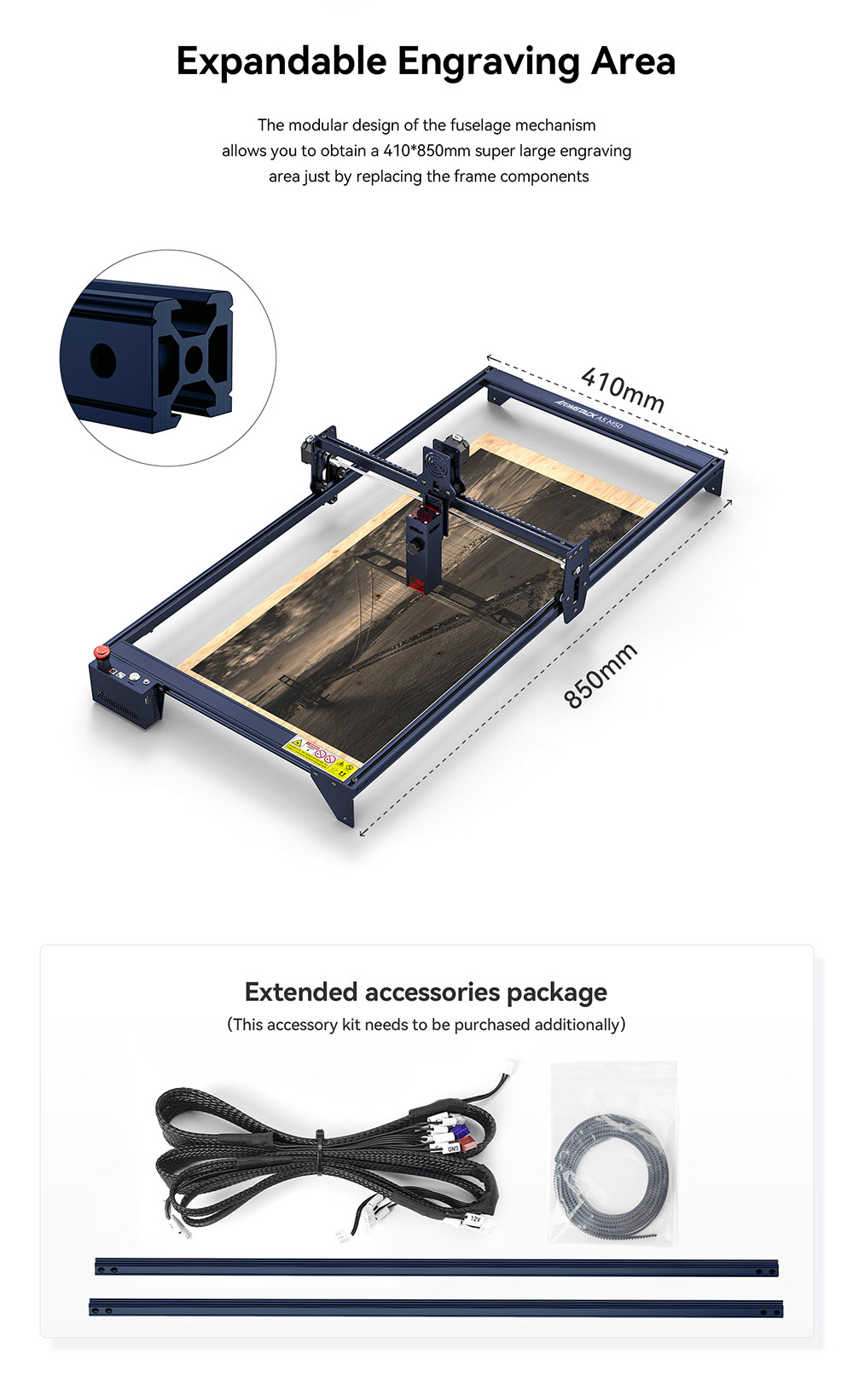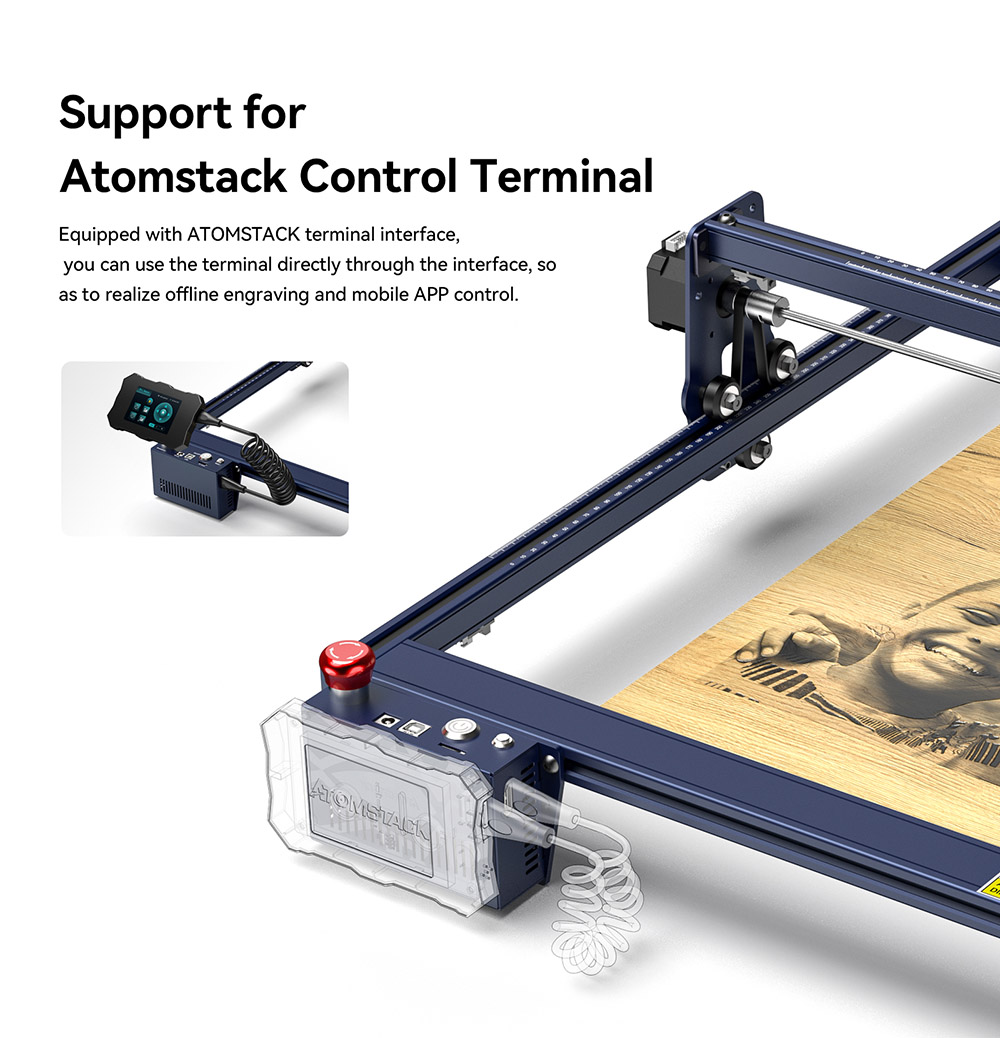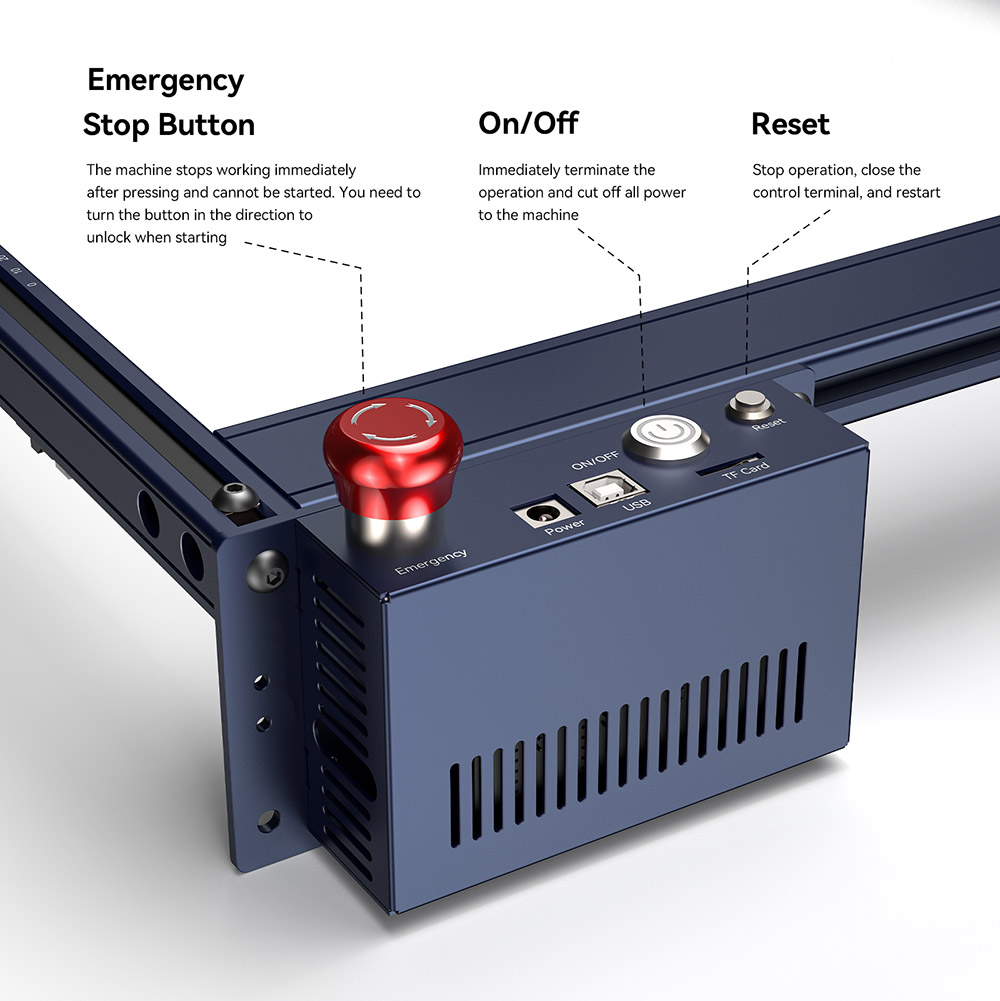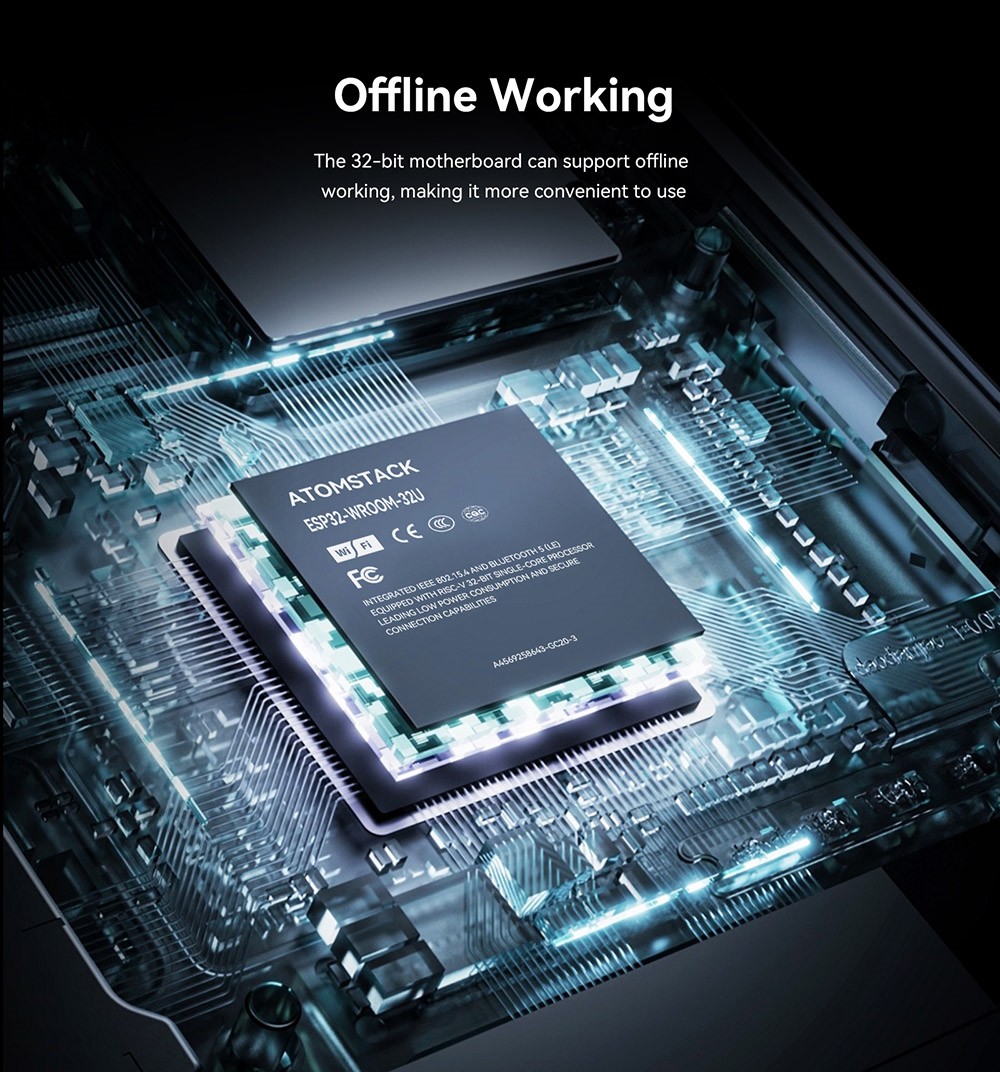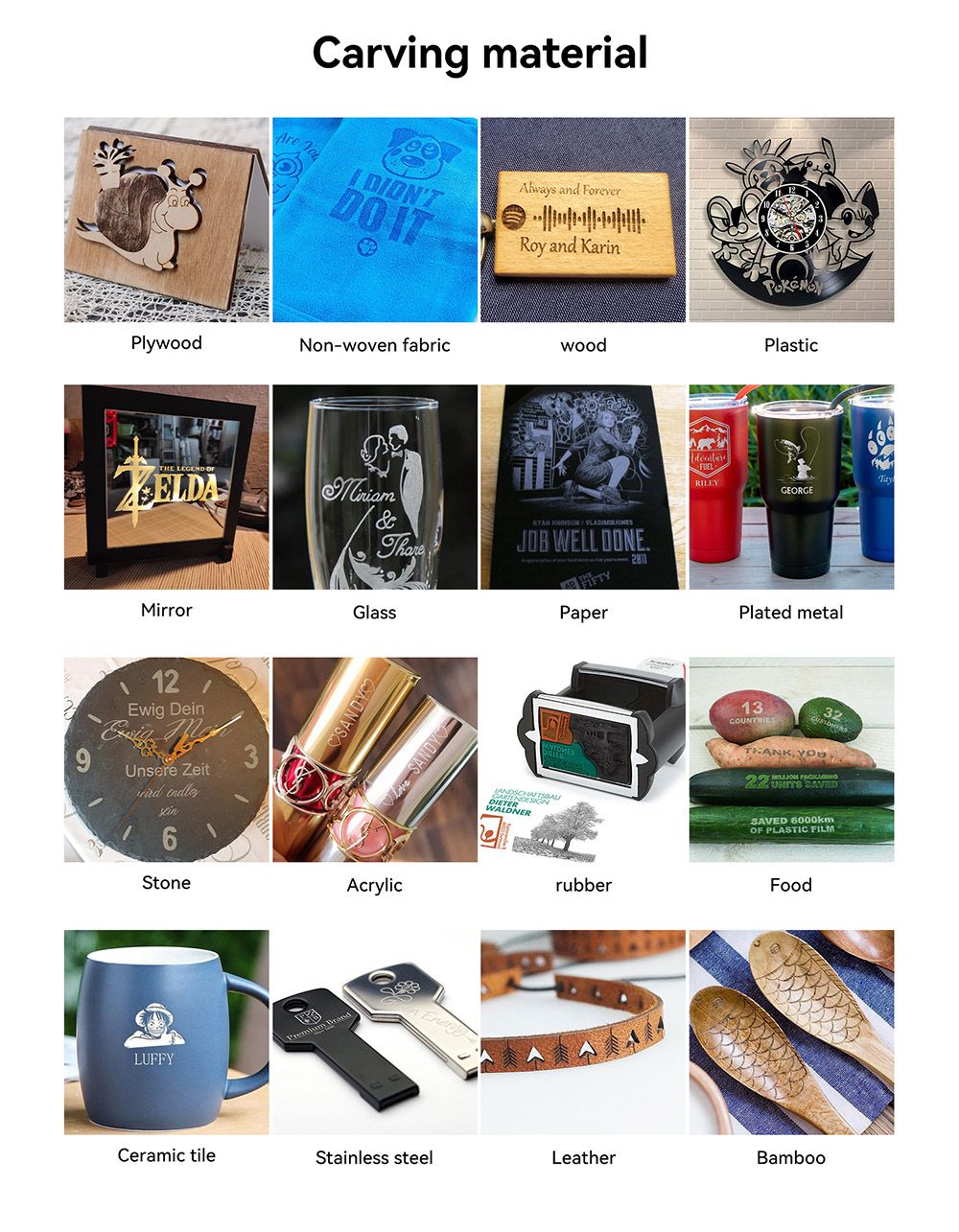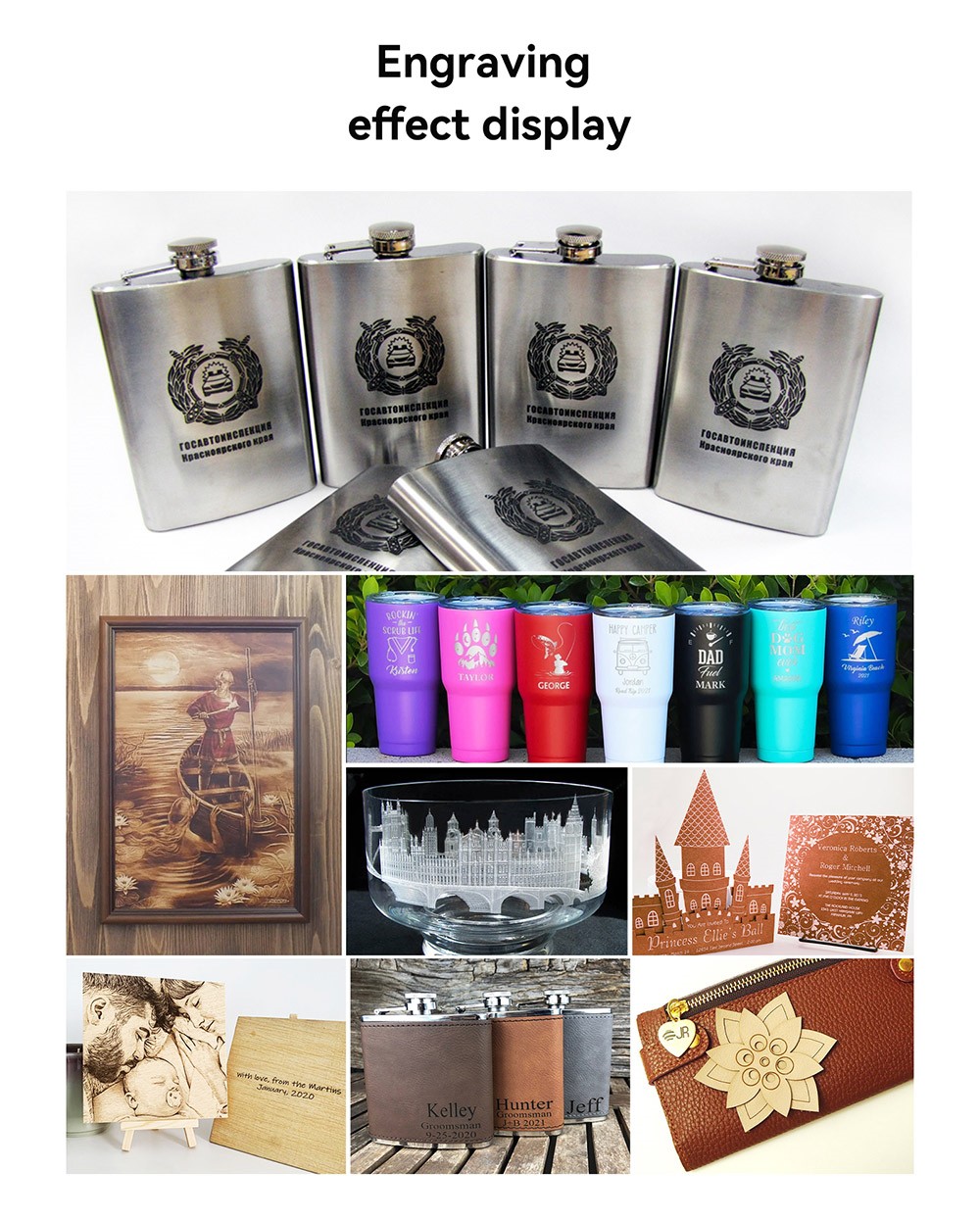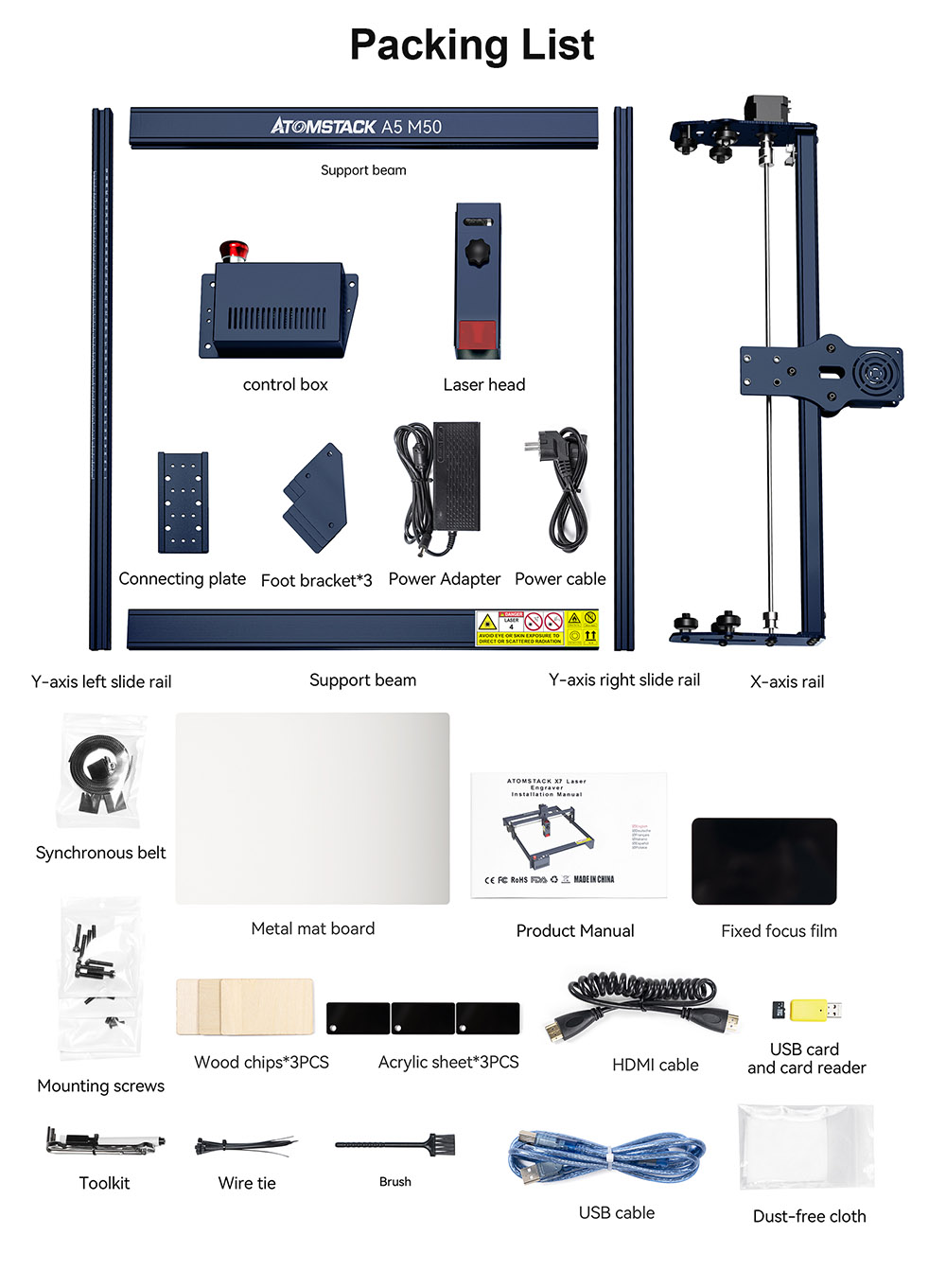 Specification
General

Brand: ATOMSTACK
Type: Laser Engraving Machine
Model: A5 M50

Specification

Item Model Number: A5 M50 40W
Engraving Area: 410x400mm
Carving Materials: wood, bamboo, cardboard, plastic, leather, MDF, slate, lacquered metal, mirror stainless steel
Cutting Material: cardboard, non-woven fabric, veneer, acrylic, some thin plastic board, sponge, MDF, leather;
Laser Power: 40W
Laser Output Power: 5-5.5W
Wave Length: 445 ± 5nm
Engraving Accuracy: 0.01mm
Focusing Method: fixed focus laser, no need to focus
Laser Protective Cover: Protect the user's eyes and prevent pets from grabbing the laser spot
Operating Software: LaserGRBL, LightBurn, support Win XP / Win 7 / Win 8 / XP / Win 10 system
Input Format: NC, BMP, JPG, PNG, DXF, etc.
Data Transmission Method: USB connection.
Input Voltage: AC100-240V, 50/60Hz
Output Voltage: DC12V, 5A

Weight & Size

Product Weight: 3.426kg
Package Weight: 5.92kg
Finished Engraver Size(L x W x H): 57x60x27cm
Package Size(L x W x H): 59x34x12.2cm

Package Contents                    

2 x Support Beam
1 x Y-axis Right Slide Rail
1 x Y-axis Left Slide Rail
1 x X-axis Rail
3 x Foot Bracket
1 x Laser Head
1 x Connecting Plate
1 x Control Box
1 x Display Screen
1 x Power Adapter
1 x Power Cable
1 x Synchronous Belt
1 x Metal Mat Board
1 x Fixed Focus Film
1 x Mounting Screws
3 x Wood Chips
3 x  Acrylic Sheet
1 x HDMI Cable
1 x USB Card and Card Reader
1 x Toolkit
1 x Wire Tie
1 x Brush
1 x USB Cable
1 x Dust-free Cloth
1 x User Manual
$("#Description img.product_lazy").lazyload({
effect: "fadeIn",
threshold: 240,
event: "scroll"
});