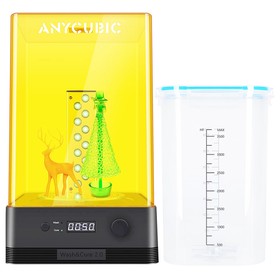 Highlights
Newest Upgraded and More Convenient: Newest Wash and Cure machine added lens to UV lamp beads, the light source intensity distribution is more uniform, and the surface of the model is smoother. With the 360° automatic rotating curing table and added bottom reflector, the bottom curing has no dead ends, so that the entire model is cured more thoroughly
2-In-1 Wash and Cure Station: Dual functions of cleaning and curing can not only remove most of the chemicals, settle scrubbing and mess issues, but also seriously streamline the whole post-processing. It's a professional solution to the messy clean up job of your fabulous prints and also helps reduce the clutter on your desk. 1-60min time adjustable, customize knob cleaning and curing time. Each layer of the 3D printer model can be better cleaned and cured according to your DIY needs
Widely Compatibility: The ANYCUBIC wash and cure machine is a great addition to most type of regular resin printer, Compatible with most LCD/DLP/SLA 3D printers such as QIDI Shadow, NOVA, Mars series and other regular resin printers with similar build volume size as it does for photon series, this Wash & Cure machine has opened up a whole new world of 3d printing for you and greatly enhance your workflow
Effective and Diverse Washing Modes: There is a propeller in the bottom of wash cure station, when work, it spins the solution like a little tornado and changes spin direction halfway through the wash , which creates the perfect flow to clean every inch of the print. 2 modes of Cleaning: 1. Basket washing, Remove the model and put it into the basket for direct cleaning; 2. Suspension washing, Directly hang the print platform on the basket or cleaning stand to clean, reducing exposure to resin
Anti-UV Light Hood: The transparent cover of this wash cure machine can block up to 99.95% of ultraviolet rays with a wavelength of 405nm, thus able to be effective in high resin solidification rate; and this wash and curing box adopts sealed cleaning, which effectively prevents the cleaning agent from splashing and volatilization, and provides more safety.
UV Lamp Beads Upgrade
Lenses are added to the UV lamp beads, so UV light distribution is more uniform, model surface will cure more smoothly
Rotatable Curing Platform
the curing platform rotates 360 degrees which always has a perfect even cure when finished and ensure even coverage
Concise User Settings
The time can be adjusted: 1-60 minutes. Allows you to adjust the cleaning and curing time according to your specific needs
UV-blocking Top Cover
The use of a transparent cover can block 99.95% of ultraviolet rays and has a safety protection effect
Closed Cleaning
able to be washed thoroughly, and completely prevent the detergent from splashing, much safer
All-in-One Function
Dual functions of cleaning and curing is a professional solution to the messy clean up job of your fabulous prints
Comparison after Use
After being cleaned and cured, the material properties of the resin are significantly improved.
Specification
General
Brand: Anycubic
Type: Wash and Cure
Model: Wash and Cure2.0
Color: Yellow
Specification
Machine: Curing and washing
Control Method: Digital tube, LED indicator, Control knob
Power: 25W
Input Voltage: AC 110/220V, 50/60Hz
UV Lights: 405nm
Curing and Washing Time: 1-60min
Max Model Size for Washing: 120mm(L) *74mm(W) *165mm(H)
Max Model Size for curing: 140mm(D) *165mm(H)
Machine Size: 225mm(L) *235mm(W) *365mm(H)
Weight & Size
Product Weight: 3.7kg
Package Weight: 6kg
Product Size(L x W x H): 22.5*22*37.8cm
Package Size(L x W x H): 22.5*25*40cm
Package Contents
1 x Product
1 x User Maual
$("#Description img.product_lazy").lazyload({
effect: "fadeIn",
threshold: 240,
event: "scroll"
});